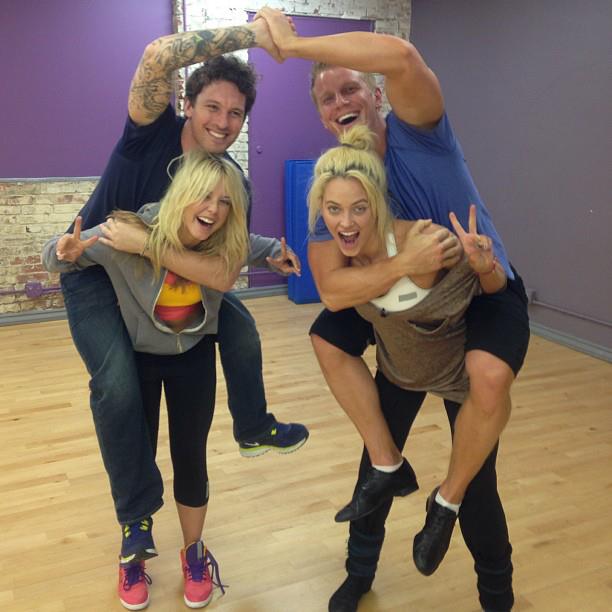 by Kylene Hamulak
All the talk leading up to this week's Dancing With the Stars routines has surrounded the return of some of our favorite dancers. Maks is back, Tony and Anna are too, Chelsie's returned, but mostly? Tristan is there! The show opens with a massive routine that begins with all the pros but also features solos from all of the competing pairs.
Len's Side by Side Challenge: Apparently we have a new feature in the competition this week, as each of the teams is paired with a set of pros who will join them on the dance floor. Everyone will be dancing the same choreography in the routine, setting a higher standard for everyone.
THE BEST:
Jacoby and Karina, Jive with Maks and Anna
Jacoby's goal is to do the encore this week, but he's gonna have to learn to "skip the skip" if he wants to get there with the Jive. Their routine is fast and has a few neat tricks (including Jacoby absolutely flying over Karina), and the crowd is absolutely going nuts by the end. Bowing down to Jacoby, Bruno says, "It was like watching two stallions at the peak of their power" referring to Jacoby and Maks. Carrie Ann exclaims, "I love me some Jacoby!" despite some flat footedness. Though Len loves his personality, he tells Jacoby he has to work on his feet.
Total Score: 26 (9-8 (Len)-9)
Aly and Mark, Samba with Tony and Whitney
Aly enjoys working with a girl for a change, though she also notes that Mark acts a lot like a girl sometimes too. She does a great job with the routine - she seems to get more and more comfortable on the dance floor each week. Len says they were right in sync with the professional and despite a couple of small things, the performance was overall well done. Bruno thinks she's coming into her own with a stronger technique and carefree attitude. Carrie Ann noticed that she danced with more confidence when Whitney was on the floor with her, but she liked it anyway.
Total Score: 25 (8-8-9 (Bruno))
Sean and Peta, Quick Step with Tristan and Chelsie
After his disappointing routine last week, Sean is determined to do better with the side-by-side. He plans to copy everything Tristan does, from wearing a hot pink tee shirt to his stretching routine. Sean mostly delivers in the ballroom too, although they seem a little out of step with Tristan and Chelsie. Bruno calls him light on his feet and elegant, while Carrie Ann calls him bold and beautiful. She liked it, despite admitting that her critique didn't make any sense. Len calls Sean a pigeon and then it takes entirely too long for the show to get back on track enough for him to call it Sean's best dance so far.
Total Score: 24 (8-8-8)
Kellie and Derek, Fox Trot with Henry and Anna
Derek's stressed out by how much he has to teach Kellie - not only the choreography, but the technique as well. Well, sawwwwry, Derek! Kellie's not a PRO-FESH-IN-UL! Guess what though - she got it at some point, because their routine is gorgeous. The side-by-side is probably the cleanest of the night, and even their solo looks fantastic. Carrie Ann thinks working with the pros has helped the stars blossom - "I cannot believe that that is your first ballroom - that was wonderful." Len says she put the "oo" in "smooth." He predicts she'll be in the finals if she continues dancing like that. Bruno compares it to something Baz Luhrmann would use in a film.
Total Score: 27 (9-9-9)
Zendaya and Val, Argentine Tango with Maks and Anna
Zendaya isn't the only new kid when it comes to Argentine Tango - Val has never danced it either. As she sometimes does, Zendaya has some trouble at first identifying with the routine, but Anna helps her discover her inner woman. The routine is fierce, and I hate to keep saying it every week because at SOME point, Zendaya has to have a weakness, right? Yeah, this week ain't it. Bruno calls her "the ultimate femme fatale" and says she was as good and strong as Anna. Carrie Ann describes her as "watching stylized life." Len calls it "a gem of a dance." They all loved it.
Total Score: 29 (10-9 (Len)-10)
THE REST:
Ingo and Kym, Cha Cha with Tony and Emma
Initially, Ingo thinks his best chance to do well is to pay Tony off to bring down his skill level. He doesn't have great hopes for his own dancing, but he holds his own pretty well. Len commends him for his energy and stamina but wants him to work more on details. Bruno says he does the character so well that he's able to disguise some of the problems with technique. Carrie Ann thinks he carried himself with a lot of grace, and then there are (literally) some "below the belt" jokes that destroy any grace left in her critiquing.
Total Score: 21 (7-7-7)
Victor and Lindsay, Viennese Waltz with Tristan and Emma
When Victor refers to Lindsay as "prancing" while she works on the routine, you know it's gonna be a tough rehearsal. Apparently he's upset with his personal life, but Lindsay thinks having Tristan and Emma in the studio will help lift his spirits. I think a waltzing Tristan absolutely lifted mine. Carrie Ann calls it a victory and thinks he nailed the grace of the dance. Len thinks it was better than last week, and Bruno says he's back in the game and that he only lost it in a couple of places and covered it very well.
Total Score: 21 (7-7-7)
DL and Cheryl, Tango with Sasha and Chelsie
For the third week in a row, DL pulls out a joke about his hips. We get it, DL. It was worth a chuckle the first week. Cheryl warns him not to be a creepy old man, but does he listen? Well, he tries. He doesn't look terrible on the dance floor, but a lot of the time it feels like he's just walking or standing. Len says it was too mild and lacked attacked. Bruno does think he went for the disdain, but it fell apart despite a brave attempt. Carrie Ann notes that the lack of technique was evident.
Total Score: 18 (6-6-6)
Andy and Sharna, Paso Doble with Sasha and Emma
Like DL, Andy is proud to have gotten this far in the competition, but he's realistic enough to realize that lining three professionals up with him is going to mean he's got a lot of work to do. Cast in the role of Zorro, Andy enters the dance floor on a zipline and proves he's got some tricks of his own. His footwork is a little slower than a professional, but he delivers a fairly good Paso Doble and some great cape work. Carrie Ann calls his entrance the best she's ever seen but says something was off. Len says it was more Pasadena than Paso Doble, but still great fun. Bruno thought it was indescribable - though not necessarily in a good way.
Total Score: 18 (6-6-6)
Final Thoughts: Zendaya and Kellie are really coming into their own as dancers, and not just as stars. They consistently give entertaining, exciting, beautiful routines, and I think it's going to be tough to imagine a finale without these two on it. Bottom three will likely look familiar - Andy and Sharna, Victor and Lindsay, and DL and Cheryl - and I think it'll be hard for Victor to hold on for yet another week.
The Standings:
29: Zendaya and Val
27: Kellie and Derek
26: Jacoby and Karina
25: Aly and Mark
24: Sean and Peta
21: Ingo and Kym, Victor and Lindsay
18: DL and Cheryl, Andy and Sharna
Which group would you like to see encore tomorrow night? Which Pro would you like to see back on the dance floor? And who do you think is going home? Let us know in the comments below!
Dancing With The Stars airs every Monday at 8/7c with Results every Tuesday on ABC!
(Images courtesy of ABC)
Follow Kylene on Twitter @keepingupwithky!