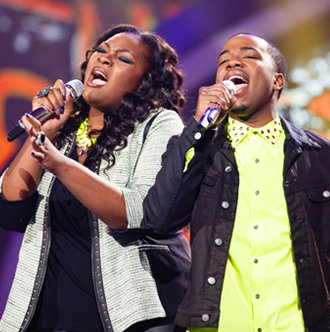 by Kylene Hamulak
Seven finalists remain on American Idol, and they wanna ROCK! I'm super stoked when Ryan says "NO BALLADS," and the mentor this week is Orianthi.
THE GOOD:
Kree Harrison, "Piece of My Heart" by Janis Joplin
Apparently Kree's not only the den mother, but she knows (and hugs) everyone. "She makes us feel bad, we're like, gosh, well...we suck as a person," says Candice. I'm glad her voice works on a more up-tempo song, and you know what else works? The red lipstick! Her style is a little (just a little!) more rock this week, and the performance is effortless as usual. Oh hey, and guess what? Randy says she's IN IT TO WIN IT! Mariah commends her innate ability to choose her songs and says this was her favorite performance from Kree so far. Keith asks how she feels in her stiletto boots, which is a convenient place for Kree to tell us that she performed with a pinched nerve that kept her more restrained than usual. Nicki doesn't care - "That was magnificent, Miss Lady," she says.
Janelle Arthur, "You May Be Right" by Billy Joel
Janelle's intro package is all about how dramatic she is, and Lazaro describes her as the girl you see standing in the corn when you take a road trip. I describe Janelle as awesome. She's got some kick ass sparkle cowboy boots tonight, and she sparkles in her performance too. Keith didn't think it was her best song, but notes that she has gotten better every week. Nicki asks to borrow her boots and says that Janelle will make it because she's relatable. "You feel like every girl's best friend." Um....she's totally right. And I totally fell for it. I love this girl. Randy felt like it was "Concert Janelle" and declares her "The Great Contender." Mariah enjoyed watching her, but she also liked her choices in the song. And then she starts babbling, and I have no idea what else she said.
Candice Glover, "(I Can't Get No) Satisfaction" by The Rolling Stones
Candice broke her toe this week when Burnell's April Fool's joke on Lazaro backfired! Candice and Burnell have a very sibling like relationship - sometimes she wants to punch him in the face, and he tells her mean things, like maybe they gave her her own room cause they think she's going home soon. Her performance is strong as ever, though her movement is a bit restricted. Mariah is mesmerized by Candice's evolution, but she's still waiting to hear some gospel. Keith loves that her power never wanes. "Lazaro got special powers," Nicki says - that's what she gets for playing a trick on him! Despite Candice's voice, however, she hated the song choice. Randy compares her to Tina Turner in her attitude, even though he didn't like the song choice either.
Amber Holcomb, "What About Love" by Heart
Amber talks to herself and likes to take selfies, and apparently Burnell has a crush on her, which Janelle doesn't blame him for. Oh gosh - she's got steps and fog again! Why do you keep doing this to yourself, Amber! Great performance from Amber - she reminds me of Whitney sometimes, and if this was another season, she'd probably be one of my favorites. Keith thinks it was a great song choice that brought out the best in her voice. Nicki says the set, her clothes, and everything about the performance was striking - it's her favorite of the night. Randy loves the song choice and thinks she really found herself in it. Mariah calls it "A-may-zing." She notes how she's grown as an artist and hopes America will recognize her star quality.
Angie Miller, "Bring Me To Life" by Evanescence
The Idols tell us that Angie gets hand-clappy excited about EVERYTHING...and then there's a montage to prove it! She's playing piano for this one, so the judges should be hand-clappy excited about THAT, except she only lasts like fifteen seconds before taking the mic front and center. She's still theatric, but she sounds great, and there's so much going on around her (including a wind fan threatening to blow her shirt into a wardrobe malfunction) that she actually benefits from the BIG performance. Nicki thought it was the perfect choice, but she'd still rather hear her more in the vein of Colton Dixon.  Randy loves the edgy side of things for her and says she did an amazing job. Mariah wants her to make every song she sings her own and says this song was a perfect match for her dramatics. Keith loves her voice but thinks she can "fall into the song" more and not be so self-conscious.
Candice and Burnell, "The Letter" by the Box Tops
Burnell is fine (and remembers the words) but Candice is so much better than fine, it's not even fair. Mariah gives them an "A+ amazing", even though she would've preferred they do an R&B duet (which, of course, doesn't really work on ROCK NIGHT, Mariah!). Keith loved it and says to Burnell, "You're like the shining star, and then Candice starts singing and it's like this whole GALAXY showed up." Nicki has run out of words to describe Candice's voice and liked Burnell's performance a lot more than his solo. Randy agrees this was better too, but he, like everyone else, thinks Candice was brilliant.
THE NOT-AS-GOOD:
Burnell Taylor, "You Give Love A Bad Name" by Bon Jovi
Ok, here's the thing. Remember when Blake Lewis performed this back in Season 6? It was one of my favorite Idol performances of all time. This rendition doesn't quite match it. To borrow one of Simon's favorite comparisons, it sounds rather karaoke. It's not bad, but it's not particularly memorable either. Keith says he's never seen Burnell more uncomfortable with a song, and Nicki is reminded of a "little Teddy Ruxpin bear". She wanted to hug him, despite the fact that rock is clearly not his thing. Randy gives him some timing tips for performing up-tempo songs (which he's never going to sing again), and Mariah shares that she used to listen to this song all the time growing up. She thought he did a great job, but it was just sort of like, "I'm gonna do this, they told me it's rock week, whatever, here we go." Which is the best attitude to have when you're competing to be American Idol.
Angie and Lazaro, "Crazy Little Thing Called Love" by Queen
Idol should not pair any of the guys with girls this season. Ever. Especially when they don't know the words they're supposed to sing. "I think that was a nice twist for you, Lazaro. You seemed to be comfortable up there until you forgot the lyrics again," says Nicki. I appreciate her snark. Everyone agrees that Angie is great and Lazaro is not great, but he's super lucky not to get slammed by the judges.
Lazaro Arbos, "We Are the Champions" by Queen
The Idols point out two things about Lazaro: his bright colors and his dramatic "Elvis" pose. Performing Queen, he's muted the colors, but I'm sure we'll get the pose. He seems nervous as it begins (and is sweating like crazy), but - somewhat surprisingly - he hits his stride vocally and sounds stronger than he has in weeks. Bonus? He remembers his words! Guess he's heard this one before. Nicki calls it "crack juice" and thinks he did it justice. Randy gives him props too, despite expecting a train wreck. Mariah was concerned too, but she says he did a good job on a song that was an anthem that everyone knows (apparently a true fact since Lazaro knows it.) Keith thinks it was a great choice that played into his strengths.
Kree, Janelle, and Amber, "Still Rock 'n Roll to Me" by Billy Joel
Except for Amber's outfit (what the hell was with the almost-not-there jeans and the flannel around her waist?), this performance is decent. Not the highlight of the night (maybe we should have fewer group numbers?) but it's not a trainwreck. Randy thought they sounded REALLY good together and had fun. Mariah liked the blending in the song, and Keith agreed too. Nicki refers to them as Jem and the Holograms before saying the song choice kind of put her to sleep. She says none of them stood out, but then proceeds to single out Amber for her look, sooo....apparently that's not totally accurate.
HIGHLIGHTS:
It's Gotta Be Said: A stutter does NOT make you deaf, Lazaro. How is it possible that this is now the THIRD week in a row you're claiming not to know these songs? Ok, sure, not every musician knows every song ever made, but these are not obscure tracks. If you've lived two decades and you're not familiar with Crazy Little Thing Called Love, I'm calling shenanigans on your campaign for Idoldom.
And on Wednesdays We Wear...Blue? For the second week in a row, Mariah and Nicki are wearing coordinating outfits. Is this a thing now?
Quote of the Night: "I thought they'd fit the whole rock theme, cause they're stoned," says Janelle, describing her colorful sparkly boots. Those boots ended up on Nicki during the commercial.
Final Thoughts: Kree, Candice and Janelle are doing everything right for me, and but neither Angie nor Amber seems to be slowing down anytime soon. Bottom three will definitely be Lazaro and Burnell, but who will fill the third spot? I'll reluctantly say Amber, but it could just as easily be Angie. The judge's lukewarm comments towards Lazaro may keep some viewers from voting to defend him and will likely send him home.
Did the Idols rock YOUR world? Will we be down to one guy next week? Let us know what you think in the comments below!
Catch American Idol every Wednesday and Thursday at 8/7C on Fox!
(Images courtesy of Fox)
Follow Kylene on Twitter @keepingupwithky!