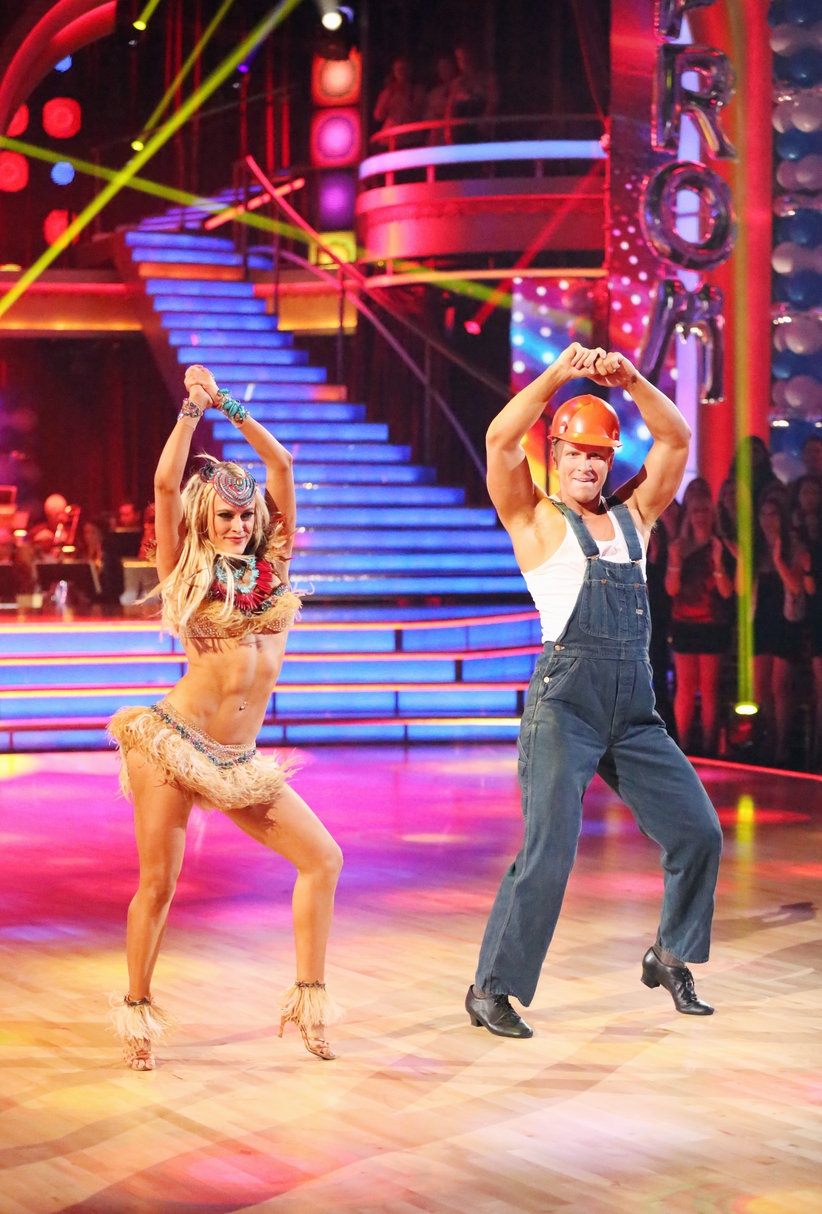 by Kylene Hamulak
Like all the best high school experiences, Prom Night on Dancing With The Stars is nothing but a memory now - it's all over but the results!
DWTS Royalty: Zendaya and Jacoby are chosen as the Prom Queen and King, and both teams are declared SAFE before the show is even five minutes old. Congrats to Val and Karina, even if they don't get to sit on the thrones with their partners!
Back to the Future: Huey Lewis (and, yes, The News) performs "Heart of Rock 'n Roll" while the dance floor is filled with a lot of pastel colored dancers. If Marty and the Pinheads were playing THIS room? I bet Len would've said they were "too darn loud."
Village People of the Ballroom: The encore performance is chosen by the judges tonight, so it's no surprise when Sean and Peta are joined by Bruno for the YMCA. The man looooooves his spiked and sparkly leather jacket!
See Ya Next Week: Kellie, who opened her routine sitting in the audience, made some new friends last night - not only in the crowd, but with viewers as well. Kellie and Derek are SAFE. DL thinks Len was hard on him last night, but Len stands by his judgments. Doesn't matter though - DL and Cheryl are SAFE.
When You're a Jet: The men of Season 16 are ready to rumble on the dance floor in a special routine to highlight their skills. I could've done with a little more highlighting of my dearly missed Tristan, but their dance battle is pretty cool.
Half 'n Half: Lindsay and Victor, Lisa and Gleb, Sean and Peta, Andy and Sharna are next to find out their fates. Peta predicts that Sean will be voted Prom Queen - he wasn't, but Sean and Peta are SAFE. Lisa and Gleb are the first couple to learn they're in jeopardy, but Victor and Lindsay are SAFE, too. Andy and Sharna join Lisa and Gleb in jeopardy.
Stats Don't Lie: In a segment that debates who has it is easier, celebrity men or women, we learn some interesting things. For example, 47% of the perfect scores have gone to male celebrities, leaving 53% for the women. Average scores? For men, 7.8, while the women come in at 8.1. The only category the men have the edge in is total mirror balls - 8 wins to 7.
Rewind: The Macy's Stars of Dance routine is next, and the entire thing is done in reverse - literally. I'm not even sure what I'm watching for a lot of it, but it's really neat to see. There are parts that make me question my eyes, and not just because of the checkerboard patterns on their clothes.
The X Factor: Demi Lovato crosses over from that other talent show to perform "Heart Attack," the new single from her latest album, amid an elaborate stage set up.
April Fools:  In their recap, Ingo and Kym discuss how the wardrobe malfunction took the energy out of their routine. It wasn't a major issue, of course, but Ingo was thrown off after so many perfect rehearsals. He thinks it was messy and cost them at least a point. Wynonna and Tony didn't have any excuses for their performance, and Aly and Mark were not amused by Len's April Fool. Aly and Mark, are, however, the next couple declared SAFE, followed quickly by Ingo and Kym. That puts Wynonna and Tony in jeopardy.
Bottom Two: Lisa and Gleb are the next couple to be declared SAFE, leaving Andy and Sharna and Wynonna and Tony in danger. Carrie Ann tells Andy to continue growing every week, while Wynonna needs to let loose more. So who will get the chance to take her advice? Andy and Sharna are coming back!
Wynonna and Tony are ELIMINATED.
Final Thoughts: Called this one, not that it was hard to guess. It's too bad because it seemed to mean a lot to her, but she didn't seem to be making any progress. The surprise, however, is that DL escaped the bottom AGAIN. It's not a shock that fans are neutralizing the judge's low scores, but he doesn't seem to be a particularly endearing personality. It'll be interesting to see how long he can sneak by.
Next Week: The Stars celebrate the best year of their lives!
Dancing With The Stars airs every Monday at 8/7c with Results every Tuesday at 9/8c on ABC!
(Images courtesy of ABC)
Follow Kylene on Twitter @keepingupwithky!