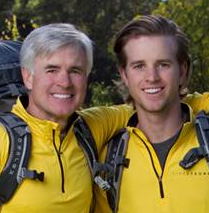 by Gina Scarpa
From speeding through legs to speeding around on crutches, Dave and Connor O'Leary proved that they were frontrunners to make it to the finish line this season on The Amazing Race. That made Dave's injury all the more heartbreaking to watch. After a few legs on crutches, he accepted that he couldn't continue on and he and Connor dropped out at the start of the fifth leg in Vietnam. We talked to them today about their experience on The Amazing Race and how they deal with having to walk away from a very good shot at the million dollars.
Q. Gina, RealityWanted: Was doing The Amazing Race something you two have thought about for a long time or was this more of a spontaneous decision to audition?
A. Connor: I've watched the show since I was a little kid and always thought how awesome it would be to be on the show. I told my dad once we would apply and he said okay, not thinking I'd take action. We made a video, sent it in, and lo and behold, we got on the show.
A. Dave: I didn't think there was a prayer we'd ever get on the show!
Q. Gina, RealityWanted: What preparation did you both do for the race?
A. Connor: We watched virtually every episode of any Amazing Race season there's ever been, hours and hours. We tried to stay in physical shape. My dad made spreadsheets after every episode.
A. Dave: We had a map of everywhere they'd been, just for fun more than anything. Fall season, spring season, we were just trying to guess where we might go.
Q. Gina, RealityWanted: Alliances are being targeted this season, and we saw that in this week's episode. Was it your idea to join forces with other teams or were you approached about it?
A. Dave: Actually I think it was Idries and Jamil. It was the first five teams on the flight into Tahiti. We were waiting for the flight to Bora Bora and at that point, we had no idea who would win. We thought we could just benefit by one of the other teams getting the Express Pass and it happened to be us. Connor had some lengthy discussions with John where he created all these conditions for the Express Pass though.
Q. Gina, RealityWanted: On the show, it really seemed like Jessica and John were not going to give you guys the Express Pass but when I talked to them, they said they were always going to. What's your take on that situation?
A. Connor: Quite honestly, I feel like us getting hurt kind of made that decision a lot easier for them. They kind of figured we weren't as big of a threat. They would look absolutely terrible if they didn't give it to us. They said they would give it to us and on top of that, we're injured. I think the injury helped make that decision.
Q. Gina, RealityWanted: I have to say, it was super impressive how well you moved on those crutches, Dave! How did you do that?
A. Dave: Well, I've been on crutches before. I broke my leg in high school and kids learn stupid things and I learned to run on crutches. I remember sitting on the plane in New Zealand and getting off and asking someone to tie the straps around the crutches. We came outta that airplane and I think the other teams were surprised I could run on them.
Q. Gina, RealityWanted: It seemed like you were going to drop out of the race earlier than you did, so what made you decide to leave at this point?
A. Dave: When we first got the diagnosis in Bora Bora, they didn't have a sonogram machine. We thought we were out but we knew we had to go to Tahiti and we were able to see a doctor there who confirmed that the tendon was really gone and the calf muscle was also torn. They put me in a boot and then I felt great. I finished the leg in New Zealand and thought we might pull out after that. When it wasn't a pit stop, we kept going until there was a stop. We won the next leg and it was really hard to leave after that.
Q. Gina, RealityWanted: Connor, can you talk a little bit about that decision to leave and how you dealt with it?
A. Connor: It was definitely hard to leave. It was a lifelong goal to get on the race and take part. To have it cut short was a bummer but it would've been more of a bummer to prolong the injury and not have my dad around to do what he wanted to do.
Q. Gina, RealityWanted: I have a good feeling this isn't the last we've seen of you. Would you go back for another shot on The Amazing Race, if you were physically able to?
A. Connor: Oh yeah, we're gonna be physically able in a few months. If they do invite us back, we'll jump at it.
A. Dave: We would love it! Give me another 60 days so I can be running.

The Amazing Race airs Sundays at 8/7c on CBS.
(Image courtesy of CBS)

Follow Gina @ginascarpa