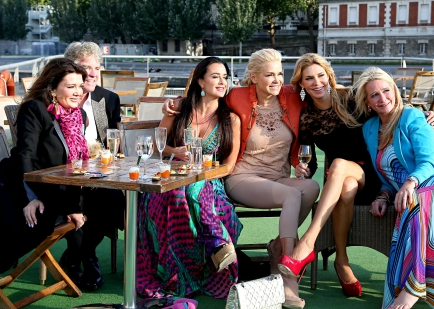 by Gina Scarpa
The trip to Paris is about to come to a close on The Real Housewives of Beverly Hills and things wind down with a beautiful river cruise. Yolanda, feeling bad that Brandi didn't have anyone back home missing her, gave her a "just because" gift of a pair of shoes, which she absolutely loved. Where's Kim's gift? I have to say, despite a few small arguments, it's pretty impressive the ladies were able to go on a trip without all hell breaking loose.
Back home, there's no rest for the weary - everyone gets right back to their busy lives. Yolanda does a photo shoot for a magazine with her husband, who literally only has an hour to spare before going to perform with Barbra Streisand. Kyle prepares for the opening of her store, while Mauricio teams up with Marisa to sell her father in law's house after his passing. Meanwhile, Lisa invites over the top party planner Kevin Lee to her house to plan a housewarming. Per Ken's wish, she begrudgingly agrees to renew her vows with him at the event. Why does she always need so much arm twisting to show some love and affection for her husband?
Now, I've seen a lot of train wrecks in my years of watching and writing about reality tv but Taylor's friend Dana may take the cake. She's gone through a bad breakup and asks Taylor for drinks but it appears the party started without her. Dana is already drunk, carrying on about her ex taking her Lamborghini and her extreme (and seemingly random) hatred for Brandi. She also preaches to Taylor about being careful in regards to who she trusts and has close relationships with. Run, Taylor. Run!!
At the grand opening of Kyle by Alene Too, Taylor tries to speak to Yolanda about their rocky start and admits to really having the issue with David, who was once married to her good friend. Yolanda says she accepts the apology but I'm not even sure she heard it, since she just talked over Taylor the whole time. That Yolanda can be so condescending sometimes! If I were Taylor, I would've thrown my hands up and said, "You know what? Forget it!" but I guess she's a more patient person than I am.
Kyle and Kim sit down at the party to get to the bottom of whether Kim was drinking or on something in Paris. Not really the time or the place but okay. Kim says she just mixed up her meds and promises she's strong enough to handle her sobriety. That being said, she can't promise that she'll be able to maintain it, but if she runs into trouble, she knows who to call. Seeing these two repair their relationship has definitely been a highlight this season and we're all keeping our fingers crossed for Kim to stay on a healthy path!
The Real Housewives of Beverly Hills airs Mondays at 8/7c on Bravo.
(Image courtesy of Bravo)
Follow Gina @ginascarpa