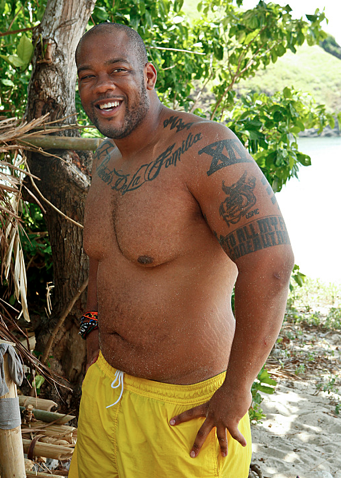 by Gina Scarpa
Shamar Thomas seemed like he would be an asset to his tribe this season on Survivor. The 27 year old Marine served two tours in Iraq and clearly looked like a physical force to be reckoned with in challenges. Yet, his lack of contribution around camp and outspoken nature ended up rubbing just about everyone the wrong way. Before his tribe could vote him out, he suffered an eye injury that forced him out of the game. We talked to Shamar following his elimination in an exclusive interview about being misunderstood and whether the Marines or Survivor was a tougher challenge for him to overcome.
Q. Gina, RealityWanted: Right in the very beginning, I was feeling good about your chances in the game. You seemed excited to be there and you're a big, strong guy. Were you surprised to see how quickly your tribe turned on you and tried to get you out?
A. Shamar: Totally surprised me! I really, really appreciated the opportunity to play Survivor. I'm a positive activist in my real life. I tried to bring that to the game. I was a little disheartened that people didn't take to me as much as I'd hoped.
Q. Gina, RealityWanted: Hope and Allie both said that you didn't treat them well and yelled at them in challenges. Is there any truth to that?
A. Shamar: Well, I think it was that I wasn't in their alliance. Honestly, besides trying to persuade her to vote for an alliance member, I don't remember ever talking to Hope. I was the only one that spoke up to their alliance. I don't think I was really as bad as they say but if I am, I am!
Q. Gina, RealityWanted: Sherri was one of your closest allies but to the cameras, she acted as if you were a burden and if she had to constantly keep you focused or calm. Did anything she said bother you?
A. Shamar: The only thing that really botherd me was what she said about the people who worked for her. Sherri owns all of these businesses and said she was the boss but she was working for me! She was up in the shelter, giving me water, giving me food. I'm like, "Sherri, how are you calling yourself the boss out here?" That's the way I saw it.
Q. Gina, RealityWanted: Your injury and removal from the game happened so quickly. One minute you were there, and the next you were gone. What happened after you left?
A. Shamar: My eye injury was an immediate quick fix when I got to the hospital. They gave me some medicine in my eye. I had a piece of bamboo in my finger and I had to have surgery three hours after I got to the hospital. I have a permanent scar on my finger and that was a three month rehab to get it functioning right.
Q. Gina, RealityWanted: You've done two tours in Iraq, and I can only imagine how challenging that was. How did Survivor test you in comparison to what you went through in the Marines?
A. Shamar: I mean, I tell Marines all the time and they get mad at me but Survivor was tougher than the Marines. Without the war fighting, of course. Seeing your brothers die is something you can't take back or belittle that experience. Outside of serving my country, this is the hardest thing I've ever done. In the Marines, they preach hydration. You have to be hydrated to fight infection and be out there. In Survivor, that was the hardest thing. I just wanted water! I wanted fire in the beginning to boil water, because water was my lifeline. It was the hardest game but I'm so thankful for the opportunity.
Q. Gina, RealityWanted: Is there anything else you want Survivor fans to know about you?
A. Shamar: There were a lot of moments you didn't see and hopefully, people can see what kind of person I really am. It's just a game, people!
Survivor: Caramoan airs Wednesdays at 8/7c on CBS.
(Image courtesy of CBS)
Follow Gina @ginascarpa