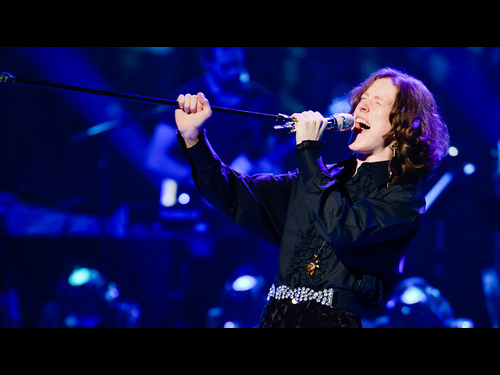 by Kylene Hamulak
The second round of the Vegas Week Sudden Death on American Idol brings the guys to the stage, and I'm wondering if I'll recognize more of them than I did the girls. Ryan says the guys are gonna have to impress the crowd of 1500 people in the live audience, but really? Let's be honest. They really only have to impress four people. Actually, they only REALLY have to impress three of those judges.
When Ryan asks Mariah what she wants the guys to know about the girls, she tells us that last night was filled with SO MUCH RAW TALENT. Bring your A-game, guys.
HITS:
Devin Velez, "Listen" by Beyonce
Devin has a terrific voice, and, like Kree last night, doesn't try to be flashy in any other way. Except when the little show off started singing in Spanish about halfway through. All of a sudden, I couldn't understand the words - I thought I was having a stroke! The performance is lovely, and Keith commends him for doing nothing more than BEING in the song. Nicki thinks he was smart to sing partially in Spanish so that he opened himself up to a whole new market. Mariah can't wait to see what a producer does when he gets into the studio.
Charlie Askew, "Rocket Man" by Elton John
Charlie is a character, but for someone so socially awkward, he's got a lot of confidence. His outfit is part vintage, part JDA and ALL Charlie. His performance hits some really nice notes, and he adds a couple very "Charlie" moves, but not all of it is great. He's got potential, but I also think he's so damn likeable that the rough parts sort of get overlooked. And maybe that's ok at this point in the competition, but it won't carry him forever. Keith thinks somehow he made it work (you know, despite not having a great vocal), and Nicki - SURPRISE - loves his weirdness. Randy is a bit more critical - it was a little too stage school. Mariah loves the song choice, even if she thinks he's had better performances. I'll say this about Charlie - he loves being on stage. I'll also say this - he needs to pull it back a little. The awkward turtle thing is endearing until he doesn't shut up.
Curtis Finch, Jr., "Superstar" by Luther Vandross
I've gotta say it - Curtis comes off way too arrogant for my taste. He's good, don't get me wrong - his vocal might be the best of the night. And he knows it. Keith felt parts were overperformed, but he wants to hear more. Nicki thinks he raises the bar for other contestants, and Randy calls it "kinda dope" while warning him not to be old fashioned. Mariah won't critique him because he can do that for himself, but he moved her to tears. He was great - if he tones down the ego just a notch, he could be very enjoyable to have around.
MISSES:
Johnny Keyser, "I Won't Give Up" by Jason Mraz
Disclaimer: I'm a huge Mraz fan. Not only do I love his voice, but I'm a big fan of my own voice when we duet together in my car. Johnny's a'ight, but he's no Mraz, and they totally cut out half of the middle verse and I can't lie - I'm resenting him for it. Keith thinks it's the best he's sung, and Nicki thinks he looked very relaxed. Nicki also said he looks like he's coming out at his own concert, but I'm pretty sure he's wearing a white polo shirt and jeans. So if his concert looks like an awkward family photo in Connecticut, then sure, he's ready for his own concert. Basically, Nicki and Mariah give his voice a pass because he's attractive.
Kevin Harris, "Everything I Do" by Bryan Adams
Ok...fess up. Which one of you guys dared Kevin to sing this song, and how much did you give him for it? I don't really think it fits him, and if this is the kind of musical choice he's going to make, he won't last three weeks of voting. Keith liked it, but not the over riffing, Nicki thought it was "perfection", Randy disagrees and didn't like the performance, and Mariah just wishes he had picked a song that he could've done more with. So did we cover ALL the possibilities? Favorite part of his critique? The absolute disgust Nicki throws in Randy's direction when he says they heard "the same song, just at different times in our lives" and nuzzles up to Nicki.
Chris Watson, "Sitting on the Dock of the Bay" by Otis Reddng
Chris is dressed in a rhinestone bedazzled outfit but, perhaps more importantly, he is also wearing a matching rhinestone bedazzled head scarf. Cause that's just the kind of guy he is. Keith doesn't think his voice was the best, but that the rest of it - his confidence, the way he dressed - makes up for it. Nicki is making faces at Keith, so you know she's ready to pounce - she LOVES him and realizes she might be the only one. She hears pain and struggle and God knows what else. Mariah hears it too, Randy doesn't...I don't know, this feels like a trend.
Jimmy Smith, "Raining On Sunday" by Keith Urban, originally by Radney Foster
I can't say anything bad about Jimmy, really - the vocal wasn't bad, and this night has been such a weird critique of good and bad voices I don't even know what I'm hearing anymore. But honestly? I don't know if it was song choice or because he followed Charlie, but it's not a stand out performance. I think I forgot it already. Keith says some nice things, but Nicki tells him she was kind of bored. "I guess I was thinking about something else that happened earlier in the day." Randy was bored too, while Mariah tells us that she's been fighting for Jimmy and even if it wasn't his best vocal, she's still thinks there's something about him American needs to see.
HIGHLIGHTS:
Déjà vu: Ryan first introduced the guys on stage as a group. Then they went away...only so they could rise up from the depths of the stage so he could reintroduce them invidually? Oh, Idol.  You're ridiculous.
A Sign of Things To Come: Paul Jolley opens the show with "Tonight I want to Cry" by Keith Urban. I've been calling him the Rogue Jonas for a while now, and I'll continue to do that until he proves me otherwise. I can't decide if I want to fangirl for him or be absolutely annoyed by him, so for now I'll give him the benefit of the doubt. Keith tells him not to compromise with overperforming, and Nicki agrees that he needs to watch his "theatrical eyes."  Randy, of course, offers "yo yo" and then babbles about country singers, and Mariah doesn't mind disagreeing with Nicki and Keith about his "overperforming." This seems to be indicative of what we can expect from the panel.
Best Impression of A Pop Star: Before Elijah Liu even opened his mouth to sing "Talking to the Moon" by Bruno Mars, I thought to myself - this kid IS Bruno Mars. Just on looks and attitude alone. As a Bruno fan? That didn't bother me. But then, when he DID open his mouth, it became very apparent that he was NOT Bruno Mars. It's a bit of a rough, pitchy performance with some high notes he can't quite pull off. Keith agrees that it wasn't the best vocally, but he looks like a pop star (um, yes Keith - the name you're looking for is BRUNO MARS.) Nicki calls him a SUPER DUPER STAR and wants to have his babies - she would sign him TODAY and he's her favorite boy. But, fyi - she didn't really like the voice. Randy isn't impressed, and Mariah agrees with everyone else. So basically, his critique is just like every other one.
The Idol That Idol Isn't Ready For: JDA, singing "Rumor Has It" by Adele, has an act. I don't mean he's faking any piece of it - it all seems totally genuine - but the act is far beyond anything Idol has seen. It's kind of fierce, actually. The name, the heels, the hair - Idol has, truly, never seen something like this. Well, outside of auditions anyway. And the craziest part? He's a pretty fabulous performer. He wouldn't appeal to everyone, but he'll definitely find himself an audience. Keith commends him for putting on a show, and Randy makes no sense, which is pissing Nicki off.
Five In, Five Out: Tonight's choices aren't as clear cut as the girls were last night, so there is a split decision that Jimmy Iovine will have to weigh in on. Honestly, there are only, like, two that I would definitely put through. Of course, I base my ins and outs more on performance and not whatever Nicki bases it on, so maybe it was easier on the judges.
In:
Curtis Finch, Jr (and I love that Nicki called him out for pretending he doesn't know he's going through)
Elijah Liu
Paul Jolley was the split decision - Jimmy thinks he made a bad song choice despite having a great voice. He's lucky - he's got another chance.
Charlie Askew looks like he might pass out standing there - it's a relief when Mariah stops playing with his head and just tells him the good news.
Devin Velez
Out:
Jimmy Smith
Kevin Harris
JDA (and he stands there making me wonder if he's just going to refuse to leave - WHY, Idol?)
Chris Watson
Johnny Keyser
My thoughts? I mostly agree, although I would've tried to find a way to bring JDA to voting rounds. The guys seem to have made a bigger impact on me than the girls did, but it will be interesting to see how the stories and personalities compete against the voices. Charlie's leash with America will be short once it becomes a singing competition, and Curtis's leash with American will be short if it becomes a personality competition. Devin is the breakout to watch from tonight, and Elijah could make a run based on charisma if he makes a better song choice. And then there's Paul, who SEEMS to be on the cusp of potential.
Next week, we'll complete our Top 20 before taking control of the voting. Halfway through - are the girls really stronger than the guys? Are the guys more style than substance? Let us know your favorites below!
Catch American Idol every Wednesday and Thursday at 8/7C on Fox!
(Images courtesy of Fox)
Follow Kylene on Twitter @keepingupwithky!