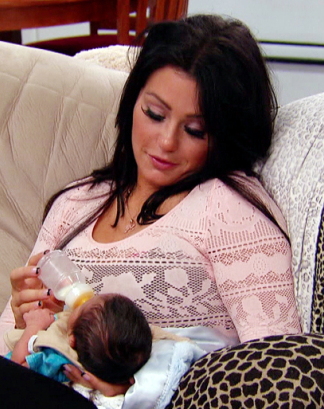 by Jessica Blackwell
Now that they returned from their Maine trip and things were getting serious, Jenni wanted to introduce Roger to her mom, but she was scared that her mom's medical condition would scare him away. I'm not sure what her actual diagnosis is, but Jenni mentioned that her mood changes like a light switch and that's it's difficult even for her to visit the assisted living community where her mom resides. Although Roger wants to meet her, he's not pressuring her, which is good. 
Snooki and Jioni went from having cutesy arguments over who gets to hold the baby , to real relationship in danger issues very quickly. Snooki felt like Jioni was controlling everything when it came to their son, and neglecting her. He felt like he's just being a dad even though he admits that things have changed. 
Watching Snooki go on her first real trip to the grocery store to shop for her family was hilarious. She didn't know that you used ground beef to make tacos and couldn't even locate the Doritos without the help of the staff. Watching her attempt to cook and almost burn the house down would have been hilarious too, but the smoke alarm went off and scared baby Lorenzo. No bueno. After all that work, she had prepared tacos with Doritos crumbled in them, and a mexican salad with Doritos in it. Uh, yum...? 
Both ladies were having relationship issues, so to de-stress Jenni took a ride down to see Snooki. After Jenni explained her issues to Snooki, Snooki suggested that she get knocked up to get Roger propose. Every now and then, I get proud of Snooki, like when she said she plans on making her own baby food. But then she goes and gives advice like that to Jenni, and I have to shake my head and sigh. Jenni gave Snooki some much better advice for she and Jioni's issues, she offered to baby-sit while they go out to dinner. 
After Jioni shouted several reminders to Roger and Jenni, he and Snooki were off to a romantic restaurant. Nicole got to have her first glass of wine in over 9 months, but she didn't like it! I never thought I would see the day that Nicole "Snooki" Polizzi would reject any kind of alcohol, but it happened! I hope the dinner helped them get their groove back! 
Next week Roger plans a "fake" proposal, and Snooki tries to smoke a cigarette without getting caught by Jioni! Stay tuned! 
Snooki and JWoww airs Tuesdays at 10/9c on MTV. 
(Image Courtesy of MTV)