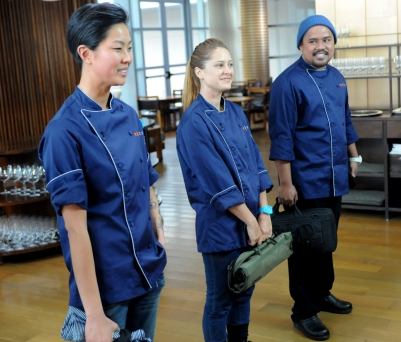 by Gina Scarpa
Was there ever any doubt about who was going to return from Last Chance Kitchen to compete in the finale of Top Chef: Seattle? After six months in Honolulu, HI and Redondo Beach, CA, Sheldon and Brooke return to the Top Chef kitchen in Los Angeles to find out who they'll be competing against. Of course, it's Kristen Kish! She took one for the team, literally, during Restaurant Wars and is looking for some serious redemption.
For their Elimination Challenge, the final three need to prepare a three course meal at Tom's restaurant, Craft. To add a little pressure, he'll be expediting the food and he'll surely have a lot of questions and critiques for them along the way. The three discuss their meals with one another, most likely to make sure they're not serving the same things but at this point, keep as much as you can to yourself! Sheldon, in particular, is really going outside of his comfort zone with a quail dish so it's either going to pay off big time or blow up in his face. There's no other possibility this late in the competition.
Judging the meals at Craft are Padma, Tom, Hugh, Emeril, chef/owner of Best Restaurant Group Josh Besh, and chef/owner of M.Y. China Martin Yan. Yan Can Cook! I love that guy! Here are some highlights from the dinner: Emeril found Sheldon's spot prawns to be perfectly cooked. Kristen's ahi tuna is perfectly seared in Martin's opinion, but John found some of it to be a bit salty. Some of the diners found Brooke's short ribs to be the most flavorful they've had thus far. Hugh didn't like Sheldon's quail egg at all and felt it wasn't him at all (uh oh). John couldn't get enough of Brooke's berry dessert, and Sheldon misfires again with raw fennel in his final course.
At Judges' Table, the panel tells Sheldon that they didn't want to see a new version of him, because they liked the old Sheldon they've come to know and love.  Padma even throws up an "Amen!" during the talking to.  Kristen takes some heat for her dessert, but earned praise for the other two dishes she served.  Brooke admits to having time management issues and if you saw her in the kitchen during this challenge, you'd wholeheartedly agree.  Still, her stress and hurried manner didn't show at all in her dishes. 
Sheldon is ultimately told to pack his knives and go.  I so wish he didn't try to change it up and impress the panel with something new.  Are you betting on Kristen or Brooke to win Top Chef: Seattle?

Top Chef: Seattle airs Wednesdays at 10/9c on Bravo.
(Image courtesy of Bravo)

Follow Gina @ginascarpa