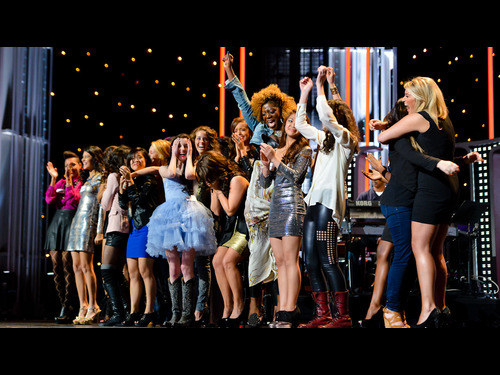 by Kylene Hamulak
The opening of tonight's American Idol makes us want to think that THIS, Season 12, is a GIRL'S YEAR! Yeah, I'll believe it when I see it.  There's a lot of talent ready to take the stage tonight, and by the end of the episode, we'll not only have our Top 20 girls (we're starting the show with 47 ladies), but also our Top 20 guys, as 8 of the remaining boys are cut.
Here are the Hits, Misses, and Highlights from Hollywood Week Girls: Part 2.
HITS:
Angela Miller chooses to sing an original song about "being set free from baggage." The judges are impressed, and rightfully so. If there was confetti falling from the ceiling and more lyrics about rainbows, this could've been a finale performance. Angela gets a standing ovation and leaves the stage beaming. (Advances)
Candice Glover sings "Girl on Fire"...and she is NOT lying. She's a girl on fire. So far, I really like Candice - she's got a big voice, but an understated personality. That doesn't normally happen, and rarely if ever on Idol. It's like she doesn't know how good she is. That ALSO rarely happens on Idol. (Advances)
Janelle Arthur and her country twang are back, singing "I Told You So". This is her THIRD time at Idol, and whatever it is that has been keeping her off our televisions in previous seasons has got to be gone now. I don't even like country music and I'm rooting for this girl! (Advances)
Shubha Vedula sings Mariah's "When You Believe", and while the diva was impressed, I really wasn't. I like you, Shubha. But I'm holding the "Shubha Dooba DOOOO" call for another day. (Advances)
Juliana Chahayed sounds very lovely on "Landslide." (Advances)
Melinda Ademi's version of "Price Tag" is entertaining, and the judges are just happy to have something uptempo. "You have such a good light about you," says Keith. I think she has the potential to get under my skin if she continues with the gesturing, but as it stands right now, she deserves to advance. (Advances)
MISSES:
Ashlee Feliciano is performing sick, and while she does hit some awesome notes, her rendition of "1000 Years" was not as impressive. (Cut)
Kez Ban performed an original song that leaves the judges looking puzzled. Nicki tells Kez Ban that they all appreciate and salute her artistry, but the journey is ending. "I'm a square peg in a round hole around here," says Kez Ban, "but my mom loves the show and I wanted to make her proud." For all her quirks, she seems to just genuinely want to be a part of something neat (even if it's as a boom operator or a runner), so good for her. She had fun. (Cut)
HIGHLIGHTS:
Most Likely to Win...Something Else: Zoanette Johnson could win a contest. I'm not sure WHAT contest, but she could win something. She decides to completely WING her solo audition - who does that? Zoanette does. On the drums, no less. Performing a song she literally made up while she was on stage the day before. Her "song" refers to each of the judges by name, and she's bumbling around onstage. She bangs the drums a few times and hits a couple notes that only dogs can hear. Mariah calls it a classic. "Seriously? I think people are going to be looking at this performance for years to come." She doesn't elaborate on WHY people would be looking at it. Zoanette advances, and I wonder when this stopped being a competition for singers.
Blink And You'll Miss 'Em: Jett Hermano barely gets her name mentioned, and you've gotta wonder what kind of chance contestants like her will stand once we reach voting rounds.
Star in the Making? Kree Harrison has the kind of backstory Idol producers drool over, unfortunately. After losing her father in a plane crash when she was 12, Kree then lost her mom when she was 19. She's singing "Stars" and her voice reminds me a little of Carrie in a very good way. Keith gets the goosies and says hers is one of his favorite voices. Mariah and Nicki both note her authentic quality. (Advance)
Sing Off: In order to get the Top 20 of each group, the judges have decided to leave four contestants in the fate of a sing off - girl vs. girl and guy vs. guy.
Girls: Stephanie Schimel vs Rachel Hale
Stephanie performs a version of "Home" with a country spin that has sort of a weird vibe to it. Rachel, on the other hand, is trying to avenge her earlier flopped performance with "Undone." So who advances? Rachel! To Stephanie, Randy says, "It's the end of the road, baby. You're not gonna make it." Eek. Seems kind of harsh, Randy.
Guys: Adam Sanders vs Josh Holiday
"Taking Chances" is Adam's final choice, and he starts off looking like he knows what he's doing. Unfortunately, he doesn't sound like it. Dear God - if he makes it, I might have to invest in sound proofing tools. Josh, performing "Georgia On My Mind," is the opposite of that. And by opposite? I mean amazing. "You tore it up, man," says Keith. It's unclear if he means the performance or his pants, which ripped during the number. It's possible he meant both - Josh is advancing, while Adam is cut.
So who is heading to Vegas for the next round?
Top 20 Girls: Adriana Latonio, Amber Holcomb, Angela Miller, Aubrey Cleland, Brandy Hotard, Breanna Steer, Candice Glover, Cristabel Clack, Isabel Pasqualone, Janelle Arthur, Jenny Beth Willis, Jett Hermano,
 Juliana Chahayed,
 Kamaria Ousley, Kree Harrison, Melinda Ademi, Rachel Hale, Shubha Vedula, Tenna Torres, and Zoanette Johnson
Top 20 Guys: Bryant Tadeo, Burnell Taylor, Charlie Askew, Chris Watson, Cortez Shaw, Curtis Finch, Jr., David Willis, Devin Velez, Elijah Liu, Gurpreet Singh Sarin, Jimmy Smith, Johnny Keyser, Josh Holiday, Jada Davila, Kevin Harris, Lazaro Arbos,
 Mathenee Treco, Nick Boddington, Paul Jolley, and Vincent Powell 
Did your favorites make the cut? Who should we be watching closely in Vegas? Let us know in the comments!
Catch American Idol every Wednesday and Thursday at 8/7C on Fox!
(Images courtesy of Fox)
Follow Kylene on Twitter @keepingupwithky!