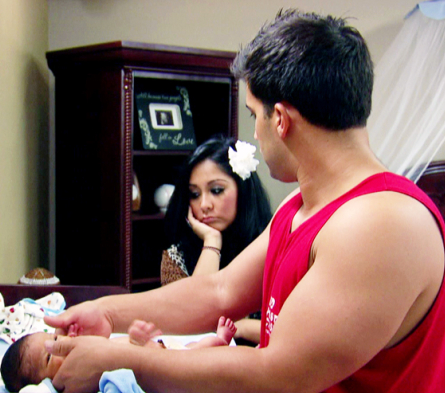 by Jessica Blackwell
Since the Maine trip was coming to a close and Roger was seriously considering proposing to Jenni, I was hoping he would do it before they left Maine butt...he didn't lol. They returned home to their brood of dogs, who were very excited to see them, but Bubba Love was a little too excited, and he peed on the floor. 
Although everything was all good in Maine, it was back to reality in Jersey when some drama with the dogs began. One of the dogs started throwing up from eating lawn seen and fertilizer, and Roger accused Jenni of not paying enough attention while he was outside. I hope everything continues to go well for these two! 
Baby Lorenzo had a slew visitors this episode. First Deena came over to meet him, and recalling her clumsiness Jioni made her sit down when she  held their son. Can you blame him? Then Snooki's childhood best friend Katie came over and choked up when she saw him for the first time. You can tell they have a really strong friendship (after all she did give Snooki her famous moniker) After that, Ron and Sammi joined the party. Everyone thought he was beautiful and Ron even held him! 
Like most new parents, Snooki and Jioni were bound to have some arguments. Sleep deprivation, body changes, combined with the new task of caring for a completely dependent little human is always a recipe for tension. This couple however, was arguing over who gets to hold the baby at any given time, and who gets alone time with him. So cute! Amusingly, they think fighting over their baby is a real problem! They should tune into MTV other franchises like Teen Mom and 16 and pregnant and see what those couples fight about.  LOLz! 
In all seriousness, although some of their problems seem trivial, Snooki revealed that she feels like they lost their spark since the baby came and that Jioni doesn't care as much about her anymore. Now those problems are cause for concern, but I'm sure they'll get it back on track soon. Well I hope...
Next week, Roger starts looking for engagement rings, and Snooki and Jioni's fighting intensifies. Stay tuned! 
Snooki and JWoww airs Tuesdays at 10/9c on MTV. 
(Image Courtesy of MTV)