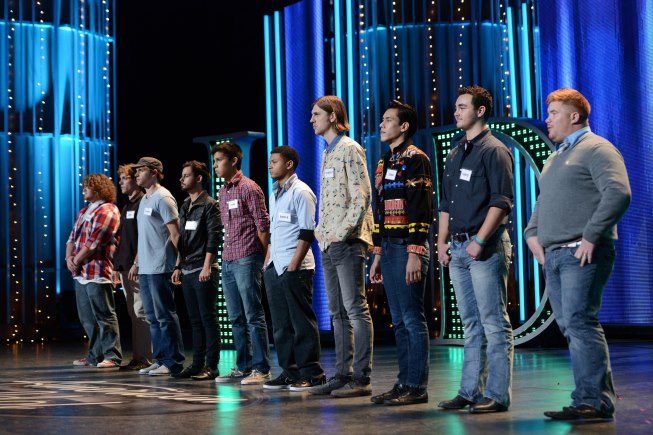 by Kylene Hamulak
Hollywood Week on American Idol has long been my favorite part of the Idol preseason. Spirits break, underdogs find a spotlight, and, mostly, we see how cranky wannabe Idols can be when sleep is stolen from them. In a twist from previous years, Hollywood week is split this season, with Part 1 featuring the boys' first round.
"It does feel a little bit like The Hunger Games, so we'll see who gets to the weaponry first." Well said, Keith.
Tonight will feature two rounds: a sudden death a cappella audition and the always dramatic group round.
Notable Advances from Round One:
Micah Johnson (aka Tonsil Guy) sings Benny & the Jets and KILLS it. I haven't heard a rendition this good since that scene in 27 Dresses.
Cortez Shaw, appearing for the first time, comes out swinging with "I Will Always Love You." At first, I thought we'd all be blown away...but then it continued, and it got a little shaky. The judges are split on Cortez - Mariah really likes him, but Nicki says she was "disgusted by it." "You ain't Whitney," agrees Randy. The panel is not unanimous, but they send him through to the next round anyway.
Lazaro Arbos (The Stutterer) takes the stage to have his speech absolutely exploited by Idol (he said more than the rest of the contestants combined in the first 20 minutes!), but his voice is what we should remember. His rendition of "Angels" earns hand hearts from Nicki. And also from me.
Memorable Cuts in Round One:
Karl Skinner (Local Yokel) is totally hyped up on coffee and soda, so if you thought he was out of control before? Ramp that up like eight notches, 'cause that's where he's at tonight. Getting cut probably dropped him a peg or two.
Dustin Watts (The Firefighter), and Calvin Peters (Dr. Idol) were both relieved of their service to Idol.
Bryan Rittenberry (Husband of Cancer Survivor) is told by Mariah, "It just seems, for now, that the whirlwind has to end here." The vote isn't unanimous, and I'm surprised they didn't at least send his big, soulful voice to the second round. Especially when he talks about being blessed with a healthy wife and a beautiful son - damn you, Idol!
Round Two: "This is the reason why I. Don't. Do. GROUPS." That clip will NEVER be retired.
Since previous seasons have had the contestants form their own groups, many of them begin forging aliances - uh, I mean, GROUPS - as soon as they know they're proceeding to Round Two. Too bad for them that Nigel Lythgoe, Idol's Executive Producer, has decided that they can no longer be trusted to create quality tv.
This year, Idol will decide who will be in what group, which will either be a fantastic failure (GOOD TV!) or an epic win (meh...I'd rather see someone get thrown in a pool).
HITS:
"The Math Heads" (Nick Boddington, Matheus Fernandes, Gabe Brown, Mathenee Trecco) performing "Somebody to Love": In case you forgot, Matheus is "The Short Guy" and Gabe is "The Screaming Baker." If you don't remember the other two, don't worry - this is our first time seeing them this year.  Rehearsals went well for this group - well, I mean, if you like screaming. They're all pretty loud, in a very controlled way. The performance is strong and rehearsed, and it's no surprise when all four are sent through by Nicki's British accent. In my opinion, they were easily among the top for the night.
"Couch Potatoes" (Curtis Finch Jr, Nick Mathis, Charlie Askew) performing "The Lazy Song": When Charlie (The Socially Awkward One) isn't feeling so great, his groupmates have two very different reactions - Nick considers him a teammate and wants to look out for him. Curtis? He volunteers to help "Shorty Doo Wop" pack. Not so fast, Curtis - all three of the guys put their spin on the song, and all three of them - runs and all - have the judges going nuts on the panel.
"The Four Tones" (Micah Johnson, Vincent Powell, Marvin Calderon, David Willis) performing "Hold On"  - The group is sent through so quickly, you barely noticed how good they were.
Unnamed (Ryan Connor Smith, Devin Velez, Devan Jones and a third guy named Adrian) perform "Payphone" a capella, the only group to take that risk. Keith thinks they should've used the band but everyone but Ryan moves forward to the next round, including Adrian without a last name.
"Mo Flo" (Tony Foster Jr, Mario Jose, Burnell Taylor, Darien Moses) performing "Some Kind of Wonderful": Burnell (Katrina Survivor) has a lot of trouble with the words, which is not going over well in rehearsal with the coaches. The ending of their performance is kind of rough, but the rest of it was pretty good. Even so, only Burnell and Tony make it through. I'm starting to wonder how many contestants eliminated in this round are home wondering how other contestants got through.
MISSES:
"Normal Hills" (Johnny Keyser, Kareem Clark, Fodder #1, Fodder #2) performing "I'll Be There": The more I'm exposed to Johnny the Handsome One, the less impressed I am by his looks. At first, all the boys (Johnny, Kareem, and the other two) are confident in their choice of song. After a "nightless sleep" (copyright Johnny Keyser), however, the words elude them. It's terrible, and I wish Simon was here to tell them so. Johnny claims he's never heard the song (then why the hell were you so cocky when you picked it?!) and Keith rightfully asks, "What planet are you from?" Maybe he can be the Idol of THAT planet! Even so, the judges send everyone but Kareem through. (That's Johnny and those other two guys, if you're keeping score.)
"The Taylors" (Paul Jolley, Will White, two other guys Season 12 will never know) performing "Don't You Wanna Stay": This group's choice, with "like, seven lyrics in this whole song" helped them all feel pretty confident. "If you don't know these lyrics, you might as well pack your bags and go right on home."  Yeah, about those bags...when Idol subtitles your performance with lines like "Dad 'n sun 'n tiiiiime" and "Doughless, sew my tiiiiiie", you know it's bad. Apparently not entirely bad though - Paul Jolley - you know, The Lost Jonas Brother? - and Will White are sent through.
"B-Side" (Mark LaDuke, Gurpreet Singh Sarin, Peter, Chris) performing "Payphone": "Never ding bat a dim dow." That's just a sampling of The Turbanator's interpretation of the song. I don't know how this group made it through - not only did they ALL completely forget the words (like, I don't even think they got three words in the right order at the right time...EVER), they sounded terrible. "Hang up the damn phone!" urges Randy. Yet all four continue on. Go figure. Nicki declares them her favorite group...we're in for a weird season, guys.
Super 55 (Josh Stevens, Scott Fleenor, Christian Lopez, Lazaro Arbos) - Poor Lazaro has his stutter showcased again. Like, I just don't understand why, if it's SO bad, no one thinks to give him a piece of paper for this exercise instead of getting pissed off at him. It's not only the stutter - it's also because he didn't grow up in America and apparently doesn't know any American songs. They choose Beach Boys and try to teach Lazaro, but you know what they should've done? Learned the words THEMSELVES. When Keith says, "Close enough" several times in your performance, you know it's probably not really close enough. Lazaro and Christian are going through, and Josh isn't happy about it. He feels Lazaro took his spot thanks to all the help Josh offered him.   
HIGHLIGHTS:
Life Lessons from Nicki Minaj: Bryant Tadeo tells Nicki that he's "kinda tired," nervously smiling at the panel. Well, that's good, Nicki tells him, because he's going to get a lot of time to sleep now that he's being sent home. His face drops and he looks like he might change his answer to "kinda sick" before Nicki tells him she's kidding. "GOOD ONE!" Nicki congratulates herself. "This is the rule - you NEVER say you're tired."
The NeXt Big Thing? Zach Birnbaum, Nate Tao, Cortez Shaw, Elijah Liu never told us the name of their group, but I think we ought to remember the names of the guys. If this was X Factor, these four would be thrown in a group as the new "One Direction." They're all through. 
Definitely NOT the Next Big Thing: "Last Minute" (Jason Jones, Dan Wood, Jessie Lawrence, and a fourth mystery guy) performing "You Don't Know You're Beautiful": Nice touch - dedicating the song to Mariah. Even though I'm POSITIVE she knows she's beautiful. Bad Move - forgetting EVERY word. "It was the WRONGEST song for you guys," Keith says. All four go home.
Too Cute to Cut: "DKSK" (David Leathers Jr., David Quinn, Kayden Stephenson, Sanni M'Mairura) performing "For the Longest Time" - The youngest group is....um....the youngest? I mean, I'm not really sure what to say. "Awww...little lambchops!" is Nicki's reaction, and that's...that's pretty much it. David and Sanni continue on, but it's not like they could slaughter the entire flock, right?
Personal Pain: "Country Queen" (Lee Pritchard, Trevor Blakney, Jada, Joel Wayman) performing "More Than Words"- By putting two flamboyant personalities in a group with an Army Sergeant and a country crooner, you know Idol expects some clash. Having trouble deciding on a song, Diva Joel (who wants "Moves Like Jagger") says to Country Crooner Lee (who wants Jason Aldean) to step outside his box. I'd just like to point out that Joel could've taken his own advice but whatever. Come performance time, it looks like Trevor's overnight concerns - that they should've been worried more about their lyrics than their line dancing - were valid, since a lot of them are missing. And, to be honest? The dancing isn't all that impressive. Joel and Jada make it through, sending Lee and Trevor home, and Trevor is having a tough time with the failure. I'm having a tough time with the fact that they butchered one of my favorite songs.
The Prophet from Season 13: "Group Oz" (Frankie Ford, Papa Peachez, Adam Sanders, Charles Allen) performing "American Boy" - They debated over song choice and after coming to an agreement on that? They argued about everything else. Well, mostly Frankie did. There's no love lost between these guys, Frankie's rambling about an asthma attack, Papa is mock bowing down to him, Adam is mumbling about octaves (and why does he puff his chest out when he walks?), and Charles? He's ready to strangle someone. Namely Frankie. Frankie starts crying just before they go onstage. Oh wow...they start singing and it's like someone turned four radios on all at the same time.  Individually, they sound ok...when they know the words. Which Frankie does not. Nicki asks Papa what he thought of the group, and he says he enjoyed it for what it is: "a hot mess." He's right about that, but Nicki tells him he has to stop being so complacent. And, despite Keith's support, Frankie is the only one not going through. Don't worry though. Frankie, through a downpour of tears, vows he'll be back, and he'll win it all when he comes back next year. He swears to God. Idol will NOT deny him. So we have that to look forward to in Season 13.
Boys Night: Part 1 is complete, and we'll catch all of their solos tomorrow. Overall? There are some impressive voices, but I'm really puzzled by how many TERRIBLE ones got through today. Call it nerves, blame it on a lack of sleep, swear they're better than they were in Rounds One and Two, but there are some definite question marks moving on while others are headed home.
Who were your favorites of the night? Which solos are you most looking forward to tomorrow? Let us know in the comments below!
Catch American Idol every Wednesday and Thursday at 8/7C on Fox!
(Images courtesy of Fox)
Follow Kylene on Twitter @keepingupwithky!