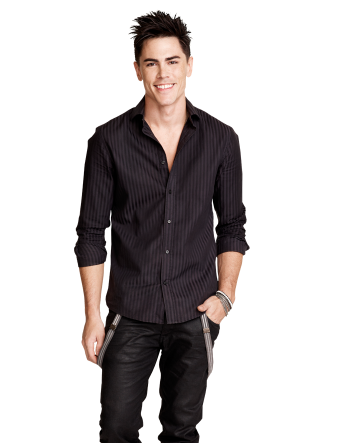 by Gina Scarpa
When it comes to the battle between exes Jax Taylor and Stassi Schroeder on Vanderpump Rules, you can be sure that Tom Sandoval is Team Jax.  After all, the two have been friends for over a decade and he introduced Tom to his girlfriend, fellow cast member Kristen Doute.  Despite the drama we've seen on the show, Tom is focused on his own career, hoping to become a successful actor and musician.  We talked to him today in an exclusive interview about his relationships with the staff at Sur, find out who really initiated the fight between Jax and Frank, and dig for details on a possible second season.
Q. Gina, RealityWanted: We know that you model, but I saw on your Twitter page that you're a musician as well. How long have you been in L.A. working and what's the ultimate goal for you?
A. Tom: For me, I definitely wanna be a lead recurring character on a show, then be doing well selected independent films, and tour in the off season. Honestly, that would be amazing.
Q. Gina, RealityWanted: When I talked to Jax last week, he said that the core group on Vanderpump Rules are actually friends and have been for a very long time. Tell us more about the relationships that you have with everyone on the show.
A. Tom: I've known Jax for roughly 10 years. It's funny, being here in New York at the moment, we talk about how we engraved our initials at the Gershwin Hotel. Every model has roughed it and stayed at the Gershwin. We were bouncing back and forth between New York and Miami. Jax went out to L.A. and then, I went out there. We stayed friends over the years. He introduced me to Kristen, who him to Stassi, and Kristen also introduced Katie to Tom Schwartz. Working at Sur, it's funny. I work at Sur and Villa Blanca and that place is a retirement home compared to the drama and BS that happens at Sur. Me and Jax have been working at Sur for a year and it's a huge adjustment. I've heard about it before and I'm like, "How can you let work get to you?" and here I am.
Q. Gina, RealityWanted: So were you concerned at all about putting your life and relationships onto a reality television show?
A. Tom: Definitely. Actually, I was really on the fence with doing the show because I'm very serious about acting and my music and my band. I know that with doing a reality show, it's a positive thing for a band but in the back of my mind, I'm worried about being blacklisted as an actor. Nowadays, it's changed a lot. You go from Real Housewives of Atlanta to Glee and it's changed a lot. I try not to air my dirty laundry. I try to keep it real.
Q. Gina, RealityWanted: With all the focus on Stassi and Jax, we haven't gotten to know you quite as well as we would like. What do you feel that the viewers don't know about you yet?
A. Tom: Well, it's funny that you bring that up. For how long we filmed, we have eight episodes and we filmed for four months. You can imagine the amount of footage and everything that they got from us! I had a surprise birthday party, I headlined at the Viper Room and the Roxy. Kristen was nominated for an award for a movie that Katie was the music supervisor for. There's all these things that happened, and constant things that happened, and unfortunately, you have eight episodes. You can't just show random footage. It can't just be a showcase, it has to have a story. It has to have a beginning, middle, and an end. There's a lot of things I wish they'd show instead of Kristen and Stassi getting their hair blown out. But what do people wanna see? Do they wanna see people patting themselves on the back? No, they wanna see people arguing! They wanna see best friends betraying each other. This summer, unfortunately, it happened. We all went through some stuff.
Q. Gina, RealityWanted: Speaking of... Last week, Frank and Jax almost came to blows in Vegas over Stassi. They were running around a parking lot with their shirts off and then, there's a shot of you with yours off as well. What the heck was going on?!
A. Tom: I actually... as much as I don't want to admit to it, I was the first person to take their shirt off and go that route. I never do, but I guess under the influence and anger and everything going on, it's one of those things when you see your friend getting hurt, and you almost get more mad than if it was yourself. I think the situation just escalated quickly. That's the thing. I kind of initiated the whole physical thing.
Q. Gina, RealityWanted: Considering everything that's happened thus far on Vanderpump Rules, would you all come back for a second season?
A. Tom: Yes we definitely would. We're in New York, doing interviews, and we're all really excited. It's been great out here. The consensus is we love New York and we don't wanna leave! It's just been a total positive experience. Really, there hasn't been much arguing or fighting. It's been nice! I think when it comes to a second season, we always have things going on all the time. Whether I have a show coming up or Jax is off to Europe for a campaign, we always have these things going on. Throughout the stresses of our lives, it creates this pressure and that makes us watchable.
Check out Tom's band Pierce The Arrow on their website and Twitter and follow Tom @TomSandoval1!
Vanderpump Rules airs Mondays at 10/9c on Bravo.
(Image courtesy of Bravo)
Follow Gina @ginascarpa