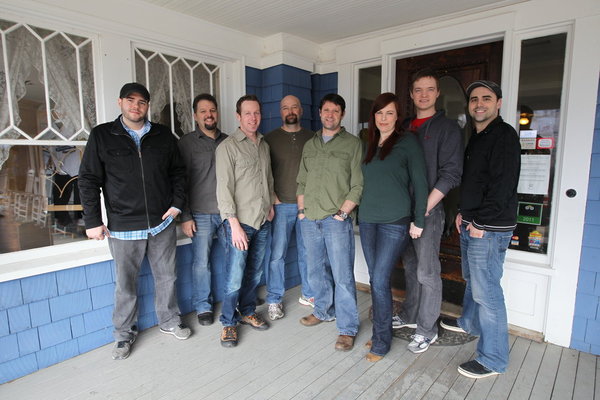 by Chad Alan
"Prescription of Fear"
Peoria Asylum - Bartonville, IL
The Peoria Asylum is being renovated by its' new owners after being left to disintegrate by father time and the cruel Midwestern weather.  Paint is peeling off the walls and anything metal is rusted out.  Since many of the windows are missing, the cold air flows freely throughout the building.  For those of you who have been paying attention, you know that nothing brings out the spirits of the past more than renovations...especially those being down in a structure with an intense past.  16,000 are said to have died at the Asylum, which opened in 1902.  Patients killed patients, staff members killed patients, and not everybody survived their lobotomies or electroshock therapy.  The current rehab staff constantly hears bangs and footsteps coming from areas that are supposed to be vacant.  People have been pushed into walls and one lady received two burn marks that resemble a scratch.  A man by the name of Dr. Zeller ran the institution for many years and he is one of the spirits said to peacefully roam the empty halls.  There is also the "Lady in White" who is more of a haunting figure with her "stringy long grey hair and crazy eyes."  While taking pictures of the building, one of the staff members was able to get a picture of the Lady in White peering out a window.  A man named "Bookbinder," who buried those that died at the asylum, appeared to the old staff at his funeral they day they buried him. 
TAPS co-founder Jason Hawes and Steve Gonsalves were the first to enter the building and Steve pushed Jason in a wheelchair down the hall screaming out that he was taking Jason to electroshock therapy, not something the residents looked forward to.  This must have stirred the pot as a female's voice caught their attention and when they played back their audio what the woman was saying could not be heard but it was a long sentence.  Another faint EVP of a deep man's voice was also muffled but still very strange to hear. The last EVP that was caught of a women sort of yelling out something.  Again, too muffled to really get a feel for what she might have been yelling for.  They would later experience some paranormal activity up in the attic that included a door slamming, footsteps, and a faint conversation occurring after they had called out for "Dr. Zeller."
Britt Griffith and K.J. McCormick set out to look for the Lady in White and see if they could find out which entity may have scratched one of the construction workers.  While in the basement, Britt seemed to be getting a lot of noises in response to his questions before something seemed to run past him, pretty much scaring him enough to jump out of the room he was in.  They decided to layout multiple pieces of their equipment around the basement, including some old shackles that were used on former patients.  They asked if there was anybody there that did not want the asylum to be renovated and right after K.J. finished this sentence, their equipment alarm went off as if it was a response stating "No."  Next stop for them was to try and make contact with Manual Bookbinder in the same cemetery where he carried out his duties of burying the people who died at the asylum.  They caught an amazing video of an apparition walking on the far side of the cemetery plots.  Maybe one of the best full figured apparitions TAPS has every caught.  Absolutely worth the price of admission.  This activity was preempted by their equipment continuing to register readings every time they asked a question, who they thought might have been Bookbinder trying to communicate with them. 
Every member of the team had some type of personal experience that they thought had to be paranormal.  TAPS was very interested in coming back for a second investigation so they were clearly impressed by the paranormal activity occurring at the asylum. 
Ghost Hunters airs Wednesdays at 9/8c on Syfy. 
Check out the archive of past show recaps here!
(Image courtesy of Syfy)
Contact Chad Alan at Chad@RealityWanted.com