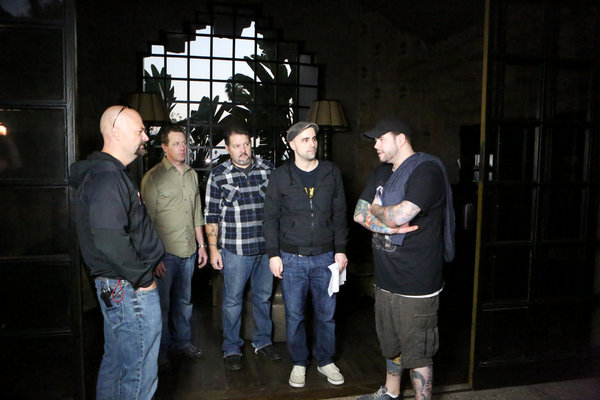 by Chad Alan
"Ghost Mission"
Mission San Juan Capistrano - San Juan Capistrano, CA
The San Juan Capistrano Mission was built 236 years ago and its architecture is straight out of the playbook of its Spanish builders.  It's actually in decent condition, although an earthquake in 1812 damaged many of the buildings and buried 40 people alive when the stone walls collapsed.  A girl named "Magdelena" was one of the people killed in this earthquake and she is the one that is believed to be seen by the staff and visitors.  Magdelena means no harm but the apparition that people refer to as the "Faceless Monk" is said to cause death to those whose path he crosses.  Note to self, stay away from the Faceless Monk.  Over 2000 bodies in unmarked graves are said to be buried around the mission so it's not hard to believe that there is a lot of paranormal activity occurring on the mission grounds.  People feel as if they are being watched and "waves of energy" are said to pass through those wondering around the courtyard.  The sounds of soldiers' footsteps are often heard outside the soldier's barracks and some have witnessed the apparition of a soldier....after getting really high.  
TAPS co-founder Jason Hawes, Steve Gonsalves, and "Destination Truth's" Josh Gates, headed to the area destroyed by the earthquake of 1812.  They hoped to make contact with "Magdelena."  Multiple times a shuffling sound, audible to the viewers, continued to surround them, as if somebody else was with them.  The staff and visitors have reported the same type of phenomenon.  Newbie investigator Michelle Tate and Adam Berry would join Josh Gates in this area.  As they were trying to make contact with the lost souls, their recording equipment started to go through battery drain and this happened right after Josh and noticed a considerable temperature change where he was standing.  Spirits do try and use whatever energy is available to try and manifest themselves.  Battery drain is an investigators worst enemy as this is usually the best time to catch EVP's or visuals. 
K.J. McCormick and Britt Griffith are kings of the spirit gadgets and they put them around the entire area where the "Faceless Monk" is said to appear.  As they began to call out for any monks that may have served at the mission, their equipment started to register a considerable amount of activity, and some type of violent sound came from down the pathway but nobody else was around and they felt they may have stirred up an angry spirit.  It sounded like somebody was shaking one of the metal gate doors, almost as if an earthquake had just happened.  When they played back their recording, they found a female voice that seemed to be saying something in Spanish but it was not audible enough to make out the words.  Just before this rattling noise, they did catch another EVP that was clearly saying "Who's that?"
Josh, while investigating with Dave Tango, thought he saw a female figure in one of the corridors. They ran over to the area, and of course found nothing, but there was a strong hint of perfume.   The rest of the team also had multiple experiences through the night that they simply could not explain and they hoped some of it was caught on their audio and video equipment. 
TAPS felt there was paranormal activity going on at the mission but did not feel there were any harmful spirits for its workers or visitors to be worried about. 
Ghost Hunters airs Wednesdays at 9/8c on Syfy. 
Check out the archive of past show recaps here!
(Image courtesy of Syfy)
Contact Chad Alan at Chad@RealityWanted.com