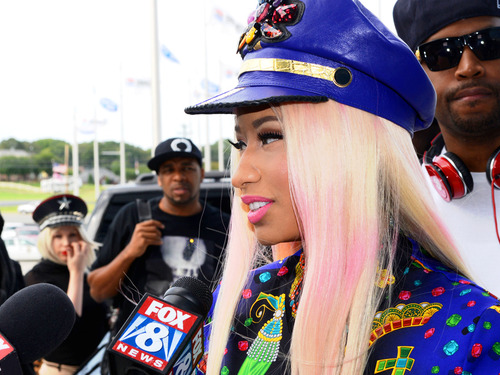 by Kylene Hamulak
So if the first two minutes of American Idol's Charlotte auditions are any indication, this episode - and perhaps this season - will be more about Nicki vs. Mariah than about any of the contestants. Charlotte, the scene of the huge blow out between AI's new judges, sparked the controversy that dominated headlines, so let's just start with that and get it out of the way.
Towards the end of day one of auditions, in walks Summer Cunningham, 20. She's a pretty girl who had a decent audition with Lean On Me, but things went off course when Keith asked where she sees herself as an artist. "Well, I did the country thing," Summer tells them, which not only irritates Keith, but also sets off a conversation about who she is as an artist vs who she SHOULD be. Interestingly, though she initially backed away from the - ahem - country "thing," she aligned herself more closely with the genre when it seemed the panel would've preferred that she went that route. And then the moment we've been hearing about for months...
...the panel begins making decisions, with Randy, Mariah, and Keith all deciding to give her a chance in Hollywood. Nicki, who liked Summer from the get go, questions why there had to be a "country debate" at all, noting that it seemed like the panel was "trying to scare her into lying." I've gotta agree with Nicki on this one - Summer clearly backed off her comments when she saw Keith bristle at what she said.
Summer leaves the room with her golden ticket, but the conversation between our judges doesn't end. Randy makes a sarcastic comment about his "30 years" of experience being able to help Summer figure out who she is as an artist, and Nicki responds with, "Oh, you're right, I'm sorry, I can't help her," as she storms off the panel.
Production was shut down for the day but resumed the following morning, amid tabloid buzz about the giant feud between Mariah and Nicki. I'm not sure why Randy was left out of the catfight headlines, since he was partially responsible for instigating it with his stupid "insight," but there you have it.
And now for our regularly scheduled audition Hits, Misses, and Highlights.
HITS:
Bryan Rittenberry, 27
When the soft music starts playing and a contestant mentions both his young child and his wife's cancer, you know you've got an Idol contender. This one's got the miracle angle - Bryan's wife not only exceeded the two years doctors expected her to have, but is now healthy and well and, even though she sends him to the basement to sing, she's here to support her husband. And also to maybe see Keith Urban, who is her "pass," if ya get my drift. When her husband gets his own pass - to Hollywood! - she promises he can sing anywhere he wants now that she's met Keith.
Jimmy Smith, 25 
A huge Keith Urban fan, Jimmy submitted his audition online. He'll be an interesting one to watch - he's got a great voice, though I could do without so man runs. Nicki says, "Your voice is the voice I was waitin' to hear today."
Isabelle Gonzales, 16 
Another Idol ambush (Randy surprised her at her high school), she's adorable in a Selena Gomez kind of way, and all the judges agree that she's a natural. When she leaves the room with a golden ticket, she's ambushed again - this time by her family, friends, and four cans of silly string.
Taisha Bethea, 21
Taisha says she was the girl in high school who used to just sing really loud all the time, which means she was also the girl in high school we wanted to drown during swim practice. She sings in a band now, and her band mates support her audition - she wants to be a rock 'n roll singer. The panel wonders if she's more suited to a band than as a solo artist. Nicki and Keith give her yeses anyway, and when Mariah and Randy say no, we've got a split panel. What happens when the panel splits? Do we have to call Simon back and ask what he thinks? Nope - apparently each city has a deciding vote, and in Charlotte, it's Keith. Taisha is going to Hollywood.
Brandy Hamilton, 25
Brandy is a Navy Reservist with a habit of singing. Always. And that's not so popular in the Navy. Not sure why though, it's not like she's bad. Randy calls her "infectious" and says she lit up the room. She's full of genuine emotion, and the entire panel is rooting for her. After they all send her to Hollywood, she leaves saying, "Please don't fight, it makes us sad!" Yeah, well, bad ratings make Nigel sad, so....
Ashley Smith, 22
I don't really know what to say about her. Or her very Britney hairstyle. Or her frosty pink lips. Or her crunchy (what the hell was she eating?) sandwich. You know what was the craziest thing about her? I didn't wish I was deaf when she sang. "All the juxtapositions were thoroughly entertaining to me," says Keith. I'm not sure why she came in with the schtick, cause her voice would've been enough to get her through.
Janelle Arthur, 22
Janelle played a young Dolly Parton as a child in a theme park show, and she impresses the judges with her rendition of Keith's "Where the Blacktop Ends". Nicki tells her, "I think you're really really special, and you already seem like a star." They're sending her to Hollywood, but only if she can escape the audition room - the girl can't get through the locked door. I used to think this bit on Idol would never get old, but...it's kind of getting old.
Rodney Barber, 27
Rodney sings around the streets of Charlotte, donating half his proceeds to the city's homeless. He arrives claiming to be the "Voice of Charlotte." It's a great story of paying it forward, and the judges are inspired by it, sending him to Hollywood.
Candice Glover, 22
Candice is an Idol veteran. She's made it through the auditions in a couple seasons, most recently to Las Vegas last year, where she was cut. Randy calls it the best audition he's heard all season - are you surprised that she made it back to Hollywood? No. Are you surprised that Nicki told her, and I quote, "I'm obsessed with you. I want to skin you and wear you."? Be honest - you're at least a little surprised at that.
MISSES:
Joel Nemoyer, 20, claimed his nerves are telling him to run, but I'm wondering if what he's actually hearing are the voices of anyone within earshot of his singing. He insists he can lay on the ground and sing with "high clarity", a technique he actually learned from Season 5 of AI. I'll ruin the experiment for you: the technique is bunk.
Matthew Muse, 23, promises he's gonna do whatever he has to to get a golden ticket. Apparently that includes laughing very creepily, making hawk noises, and moving around a lot. You know what's funny about singing country music? It's almost hard to hear how bad someone is. Cause Matthew is not good. But he's almost able to trick you. Nicki suggests he try modeling instead, and the panel declares him "Cool Dude." He's not cool either, by the way. But, again - he's tricky. And tall.
OTHER HIGHLIGHTS:
Best Evidence to Support Extracurricular Funding in Schools: Brad Harris, 28, didn't have a wrestling team in high school, so he and his friends made videos. No big deal, right? Sometimes, he'd just get so into it, he'd start banging his head on locker doors. Aaaand there it is. The crazy has arrived, and he thinks Idol is part of some big plan for him. Spoiler Alert: It's not. He seems ready to retire from singing and maybe pursue something else. Like hosting.
The Thing I Wish I Didn't Know: Ja'Bria Barber, 16, is on the show to tell us about "frog gigging", and I could have done without the lesson. Let me just tell you that the words "Tastes like chicken!" came out of her mouth. That's all you need to know. I'm still trying to forget that I ever learned what frog gigging was. She's adorable and her singing was good, so I say, more singin', less giggin'!
Favorite Audition Song: Seretha Guinn, 26, introduces herself by sharing that her boyfriend was in a "very serious incident" that left him unresponsive for two days. He's gone through eight surgeries and he's got two more to go, so you might be thinking (if you're me), "is it REALLY the best thing for you to be secretly auditioning for Idol right now?" Turns out, realizing how short life is has inspired her. She's brought a little mascot - their 3-year-old daughter, London - who has given Nicki the nickname "Dun Dun". How the tables have turned, Miss Minaj! Seretha pulls out the theme from "Fresh Prince of Bel-Air" for her audition, and that's awesome. I will never question your choices again, Seretha. See you in Hollywood.
So what's your take on the judges' feud - are you Team Nicki or Team Mariah? Sound off in the comments below!
Catch American Idol every Wednesday and Thursday at 8/7C on Fox!
(Images courtesy of Fox)
Follow Kylene on Twitter @keepingupwithky!