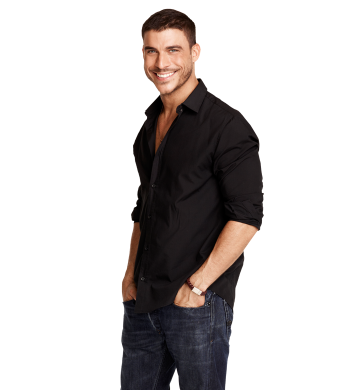 by Gina Scarpa
It's been a rough few episodes for Jax Taylor on Bravo's newest reality show, Vanderpump Rules. He and his girlfriend of two years, Stassi Schroeder, have broken up and on next week's episode, things come to a head between him and fellow Sur bartender Frank Herlihy. Frank has been moving in on Stassi and telling her that Jax has cheated on her and gotten another girl pregnant, which may or may not be true. We talked to Jax in an exclusive interview today to try to get more of that story, talk career goals, and find out how Vanderpump Rules has impacted his life.
Q. Gina, RealityWanted: Everyone at Sur is a model, an actor, a performer, a something! What is your goal, career wise?
A. Jax: Well, obviously, I was doing the modeling thing. That's been picking back up again. I've only been working at the restaurant one day a week. But my goal is to start an agency with a friend of mine. We've been doing this for ten years and we want to specialize in working with guys. It's just in the talking stage and putting away money.
Q. Gina, RealityWanted: When you found out Bravo wanted to make a reality show about the staff at Sur, what was your reaction?
A. Jax: At the time, Stassi and I were together and she was like, "You're doing it!" Stassi kind of runs the show. She thought it was a good opportunity and we should jump on it. It's great. Obviously, it's had its ups and downs. It's very emotional but all in all, it's been a great experience.
Q. Gina, RealityWanted: The girls at Sur seem to have a big problem with Scheana. How do the guys, including you, feel about her?
A. Jax: She was great during filming! I wouldn't consider her my great friend or that close but when we're around each other, we talk. It's not like I give her a call and say, "Hey, let's go out."
Q. Gina, RealityWanted: How is Lisa Vanderpump as a boss?
A. Jax: She's awesome, I love Lisa. I almost consider her like a mother figure. Obviously on the show, she's firm but when the cameras aren't around, she's always coming around and asking how things are going. Honestly, she doesn't even have to do that but she does it anyway. She's very sincere and cares about my well being.
Q. Gina, RealityWanted: Do you feel like the cameras added a strain on your relationship with Stassi, or did the issues exist prior to filming?
A. Jax: The issues were there, yes. Did they intensify it? Yes. I mean, Stassi is really good at this whole reality game. She definitely knows how to play it really well. So I would say, yeah, the cameras added a lot. It's hard to explain. All the issues and friendships, that's all real. People always ask if it's scripted and I really wish it was scripted. It would be easier to watch. It's hard to watch. It's that bad or emotional for me. We've all been friends for over ten years, it wasn't like, "Oh let's throw all these people together." Tom Sandoval and Tom Schwartz have been my best friends for ten years! We're like the tv show Friends with a little mixture of The Hills in there. All we do is hang out with each other. It's 100% real and I wish was some of it was fake. It would be easier to deal with, it really would, even as a guy.
Q. Gina, RealityWanted: Right now, there's a lot of questions about whether or not you cheated on Stassi and got another girl pregnant. Will it be proven one way or the other sometime during the season?
A. Jax: I really can't say!
Q. Gina, RealityWanted: Fair enough, I tried! Well, you're about to have it out with Frank on next week's episode. What upset you the most about his behavior?
A. Jax: It's just like a guy code! I mean, I get it. She's a pretty girl and single at the moment. But I would've had more respect if he came up with me and said, "Listen, you're not dating. Do you mind?" I would've been upset but at least he would've come up to me. He was new at the restaurant and I took him in and showed him around. It kind of hurt. Guys don't really get emotional. I'd rather just fight it out. I don't have the patience for stuff like that. If I see him again, it would happen again.
Q. Gina, RealityWanted: What's the fan reaction been like for you?
A. Jax: It's been amazing! I've been traveling a lot lately for modeling. I've been to New York, Miami, and even in small towns, people recognize me. It's great, people are loving the show. People are amped up and ask questions about me and Stassi, if we're all really like that, all that kind of stuff. Everyone seems really nice. I'm taking a lot of pictures with people and I'm just glad people love the show. I just tell them to keep watching.
Q. Gina, RealityWanted: Do you see yourself doing another season of the show, if Bravo picks it up?
A. Jax: Yes, I would. I think me, Stassi, Tom, Tom, Kristen, and Katie really need to sit down and talk. I'm on board. It was a great experience, I just hope things would go a little differently. This is our lives. As far as experience and crew, it's great. Emotionally, though, it's tough. I went through a lot this summer. Yes, I would but I don't know how much more I can take!
Follow Jax on Instagram and Twitter @mrjaxtaylor!
Vanderpump Rules airs Mondays at 10/9c on Bravo.
(Image courtesy of Bravo)
Follow Gina @ginascarpa