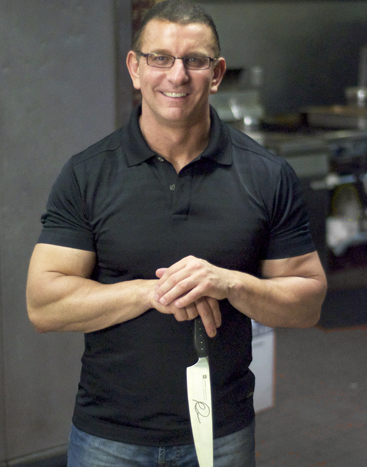 by Gina Scarpa
With Restaurant Impossible in full swing on Food Network, a tour that just wrapped up, cookbooks, and appearances at various food and wine events throughout the year, it's safe to say Robert Irvine is a busy guy. Yet, despite his success, he remains accessible to fans, easy to talk to, and always fun to watch. This weekend, he'll appear at the Mohegan Sun WineFest and we caught up with him beforehand to talk about his plans for the event and what 2013 has in store for him.
Q. Gina, RealityWanted: When we last spoke, we talked about what a busy schedule you have. How did you find time to do a live tour in 2012?
A. Robert: That's a good question! I took a year to develop a live show because guests and fans were saying they wanted to see me but couldn't travel to North or South Carolina. We developed that to give them access to me and what a great show it's been. We also shoot one Restaurant Impossible episode every week.
Q. Gina, RealityWanted: Your show is different than other live cooking shows that have toured in the past. What's the biggest surprise that people get when they come see you?
A. Robert: I think they realized that it's not a cooking show. We did cook but there was so much audience participation. It was just a whole lot of fun!
Q. Gina, RealityWanted: Now, besides the tour, you've made appearances at different food and wine festivals and the next one for you is the Sun WineFest coming up next week. How far in advance do you decide what you're going to make?
A. Robert: I don't decide until I actually walk in the door and the chef puts stuff on the table. That's much more fun. I think it's more fun to show the intricacies of cooking when you don't know what you're going to get. I think it's more fun to show that knowledge, taking products and showing what you can do.
Q. Gina, RealityWanted: At the Sun WineFest, you do a live demonstration on stage and you also participate in the Celebrity Chef Dine Around, where people can try the food you prepared and talk to you as well. Which of those two events do you enjoy more?
A. Robert: I like being with people, I like the dine around. I like the people to taste the food. Obviously, I can be the showman and I'm not afraid of that. When people say they like my show, I like to know why.
Q. Gina, RealityWanted: When all these Food Network personalities and chefs from around the country get together at an event like this, do you talk food or do you just hang out and enjoy each other's company?
A. Robert: We talk food, we talk about life and we talk about what's been going on. We've all got busy schedules - chefs in general. We sit down, have a drink, and talk about it.
Q. Gina, RealityWanted: You're very active on Twitter, running contests, raising awareness about important issues, and giving fans a glimpse into your everyday life. What is that level of interaction like with fans?
A. Robert: For me, one thing triggered my interest in Twitter. I did a Dinner Impossible show at a golf tournament with Kevin Nealon many years ago. He was such a good chatter with fans and then all the golfers I saw at that tournament, at the time, didn't want to interact with fans. For me, I wouldn't be where I am without my fans. I do my own Twitter because I believe in talking. I know most of my Twitter followers. I know what's going on in their lives. It's 140 characters of quickness, you can do it on the run. For me, it's the better way of communicating. You said it very nicely, thank you. I do raise awareness of things that I believe are important. Health, fitness, children, education of both kids and food.

Q. Gina, RealityWanted: What's coming up for you in 2013 - more tv, more cookbooks, all of the above?
A. Robert: I'm working on a new cookbook, I have a new protein bar coming out, more television, 26 more episodes of Restaurant Impossible, and a few other projects. I'm very busy! And the live show is coming back! We're retooling that now.
Restaurant Impossible airs Wednesdays at 9/8c on Food Network
(Image courtesy of ChefIrvine.com)
Follow Gina @ginascarpa