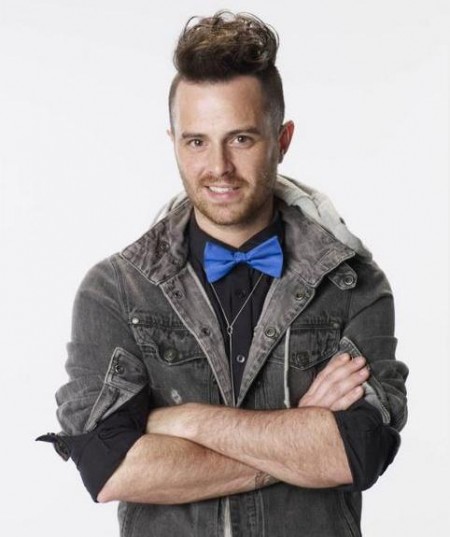 by Todd Betzold
There were 13 designers that started Project Runway All Stars Season 2, but it was down to the final three designers last night. They each had to create mini collections in just four days! The stress was heavy, but all of the designers sent some amazing collections down the runway. The judges were impressed by each of them, but they thought the best collection belonged to Anthony Ryan Auld and he was announced the winner of Season 2. Today he spoke to RealityWanted about Joshua turning him down during the finale, his favorite challenge of the season, what's next for him and more.
Q. Todd, RealityWanted: What made you come back for All Stars?
A. Anthony Ryan: I mean, who passes that up? For me, I didn't make it that far on my season, so I really wanted to come back and show the world a little bit more of who I was as an individual and as a designer. My aesthetic had evolved already. I felt like I did a complete 180 from what I was showing on my season, but you don't pass up the exposure that Project Runway brings. For me, it was a no-brainer. When they did ask me, I was like did you call the right person? I made sure I said yes before they said oh wait, we made a mistake.
Q. Todd, RealityWanted: Speaking of that, you did finish in seventh during your season and both Uli and Emilio were runner-ups in their seasons. Did you feel like an underdog going into the finale?
A. Anthony Ryan: If you look at the one before that, I was up against Joshua McKinley who was second in his season too. It is very intimidating and not even from a design standpoint. They've all been there before. They have been in that Top 3 or Top 4 and created collections under the pressure and under the stress and I didn't know what to really expect. It was kind of like unchartered waters. I really just had to not think about the end goal and that prize and how it could change your life. If I was to make it to that spot and not win, to be "disappointed" about it. There was really no reason to be disappointed because it was such a great opportunity to come back and I should be appreciative of that period. I didn't want to be disappointed from the experience because I knew I was going to get so much more from it. Going up against Uli and Emilio, I was shaking in my boots a little bit, but I just tried to do me in the end and show the judges that.
Q. Todd, RealityWanted: How were you feeling when Joshua turned you down during the finale?
A. Anthony Ryan: I was fine. Joshua turned me down because literally we just got done with the couture challenge the day before from our filming schedule. Literally, we went to France, did Valentino, came back from France, did the challenge. They had that one-hour challenge that went until 1:00 in the morning and turn around and come back at 6:00 in the morning because we had to start filming for the finale collection. We really only had a little bit of sleep and he was tired. He did me a favor and it just showed how much of a true friend he is because I knew he couldn't put 100% into it. It didn't faze me one bit and I was glad he was honest enough with me to say he was tired.
Q. Todd, RealityWanted: What was going through your mind when you were standing on the runway waiting to hear who won?
A. Anthony Ryan: I honestly don't remember, it was such a blur (laughs). I can remember sweating a lot. I think that was the moment that it really hit me that this could happen. It really could change everything and that just made me really anxious. Up until that point, I really hadn't given much thought as to what the prize could do and what I would do with it and how it would allow me to do more, not only from a design standpoint but in life. It was a very humbling experience.
Q. Todd, RealityWanted: What was it like working with Joanna Coles as a mentor?
A. Anthony Ryan: She is one of my favorite people from this entire series and I'm not just saying Project Runway All Stars, but I am saying Project Runway Season 9 too. She is one of the coolest people I have met from this whirlwind that we have done. She just takes the time to understand and know you a little bit more. I never really got that from the other judges or even Tim, per se. I love everyone that I have met, Michael and Nina and Heidi, especially Tim. There was something else just drawn to her and it wasn't just me. It was a lot of the other designers. She is very personable and she really knows her stuff. It was really great to get that feedback from someone of her caliber in the industry.
Q. Todd, RealityWanted: What was your favorite challenge of the season?
A. Anthony Ryan: This is going to sound funny, but I really enjoyed the real woman challenge. I didn't do that hot, but at the same time I really enjoyed the interaction that I had. The idea of dressing these heroes. It was really great to interact and hear their story. They all have their own story, their stories are truly inspiring. That was one of my favorites and not necessarily from a design standpoint, but from overall experience from the whole season.
Q. Todd, RealityWanted: You won five challenges this season and eventually won the final challenge. What has this whole experience meant to you?
A. Anthony Ryan: Looking back, it really did help me channel who I am aesthetically. I knew what I was doing on Season 9 wasn't working when I came back to do this. I really wasn't sure what direction I was going to move in coming back on All Stars. I really had to thank them because they made me question and think and understand a little bit more about who I am. I really didn't think that would be possible. In a nutshell, it helped me grow as a designer.
Q. Todd, RealityWanted: What can our readers expect to see next from you?
A. Anthony Ryan: Oh lord, clearly they can expect to see the capsule collection with Nine West, which I am excited about and get to work with them on. They'll see me on a beach for a hot second because I really need to take a little vacation (laughs). I am going to do various fashion weeks across the south. This is where I am based right now, so everything from NOLA Fashion Week to Birmingham and all the way to California and Palm Springs. I'm going to stay busy and start pushing things out there. It is still going to be a lot of hard work and a whole process, but they'll see me. I'll be in stores soon and you'll be able to buy it.
Q. Todd, RealityWanted: What you like to say to your fans out there supporting you that might be reading this?
A. Anthony Ryan: Thank you for believing in me. It is something possible regardless of where you stood in the competition. I really couldn't have done it without the huge support system I had behind me. I really need to thank them. They give me the inspiration to do what I do and they basically are the people I want to dress, so thank you.
(Image courtesy of Lifetime)
Follow Todd on Twitter @TopicalTodd