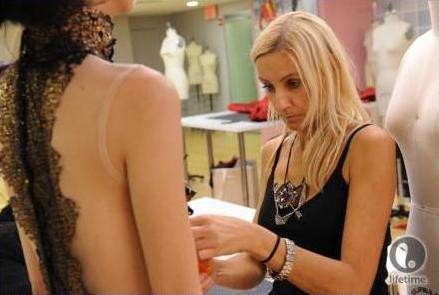 by Todd Betzold
The three remaining designers on Project Runway All Stars have fought through some hard challenges and a little tension in the workroom, but they now have their biggest challenge in front of them. They must create their final collection in four days! Will Uli, Anthony Ryan or Emilio pass the test and become the winner of Season 2?
For the final challenge, Carolyn Murphy comes out to tell the designers they will create a mini collection in four days and with a $3,000 budget. They have full reign on their collection and the number of pieces! This could be interesting.
For their themes, Uli is going Winter Wonderland with lots of white (her signature color), Emilio is doing Urban Plantation and designing for the working woman and Anthony Ryan has Thin Line (a thin line between dark and light). They do some shopping and head back to the workroom to get started, or so they thought.
Carolyn Murphy surprises them and brings with her the ten eliminated designers from this season. They can pick one person to help them out. Anthony Ryan asks Joshua, but he declines and said he would be no help right now after just getting eliminated. How do you feel about that? He then picks Kayne, Uli picks Casanova and Emilio picks Althea.
They all get started on their looks, but Emilio is feeling worried as Day One ends because Anthony Ryan and Uli have fabric cut and he has nothing done!
Day Two begins and the designers get back to work, besides Casanova who is on the couch napping! Joanna Coles has arrived for her critique and she loves Uli's looks, but she needs something to wow the judges on the runway. Anthony Ryan seems to have a lot of similar looks and Joanna is excited for Emilio's looks. Casanova is still napping and Day Two is now completed!
Day Three and both Emilio and Anthony Ryan are happy with their designer choices to help them, but I think Uli is regretting that choice now! The assistants head out though, so now it is on the designers all on their own! Anthony Ryan said he wins or he is done because he doesn't have the resources to continue to do it on his own!
The designers arrive at Gotham Hall for the runway show and have three hours to complete their looks! They are all freaking out and Emilio said he is cutting corners just to get the designs on his models.
Time runs out and Carolyn comes out to get the show started. The judges tonight are Carolyn, Georgina Chapman, Isaac Mizrahi and the guest judges tonight are Liv Tyler and Margherita Missoni.
Emilio is first and his collection is Urban Plantation. While he claimed to be inspired by the working woman, none of his looks seemed to be for the working woman. They were cohesive, but I think it was because they all seemed to be the same thing. How many times were we going to see a jacket in that same bold fabric?
Anthony Ryan created The Thin Line collection and I am in love. The looks all went together so well and he constructed them nicely. They had the line theme going and it was a very good collection, especially in four days time.
For her collection, Uli does Mystical Winter and it is typical Uli...feathers and white. They all looked great together, but the models were slow and weird and I couldn't get past that!
Time for the judges' critiques, as the designers get back on the runway and Emilio is first. For Emilio, Georgina said she finally saw his point of view this season. Isaac thought it was beautiful. Liv loved the colors. Margherita said there is not much experimentation in the collection. Isaac said it was junior.
For Anthony Ryan, the judges loved the whole collection. Georgina said he let them down on the final look. Isaac needs to see some repetition of some lengths. For Uli, Isaac can't believe how great the collection is. Georgina is astonished with what she did in four days. Liv said the dress is an Oscar dress, but Georgina thinks the faux fur looks inexpensive.
The judges do their deliberation and they loved all the collections, so this should be interesting. They like them all, but have an issue with all of them as well. I think it will be Uli for the victory, even though I want Anthony Ryan to win! The second runner-up is Uli, so it is down to Emilio and Anthony Ryan and I am shocked! The winner of Season 2 is Anthony Ryan! I am so happy, but what do you think?
(Image courtesy of Lifetime)
Follow Todd on Twitter @TopicalTodd