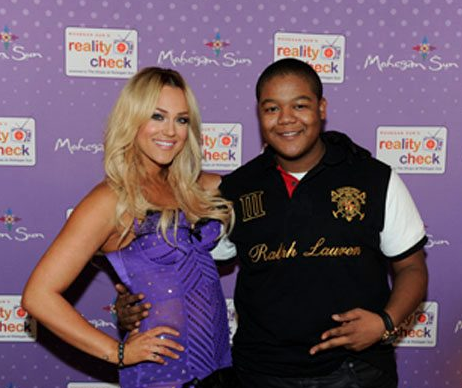 by Gina Scarpa
Two years ago, Lacey Schwimmer was paired with Kyle Massey for season 11 of Dancing With The Stars. Their energetic personalities and performances were infectious, earning them fans that supported and voted them all the way into the finale. The pair lost to Jennifer Grey and Derek Hough but they've stayed in touch and reunited this year for the Dancing With The Stars live show in Vegas. When they dropped in to Mohegan Sun Casino in Connecticut just before the New Year for a performance, Q&A session, and meet and greet with fans, they took some time to chat with RealityWanted about Dancing With The Stars, and what 2013 has in store for them!
Q. Gina, RealityWanted: I've been watching you since So You Think You Can Dance. I was wondering how doing Dancing With The Stars has helped you grow as both a dancer and a choreographer.
A. Lacey: Well, starting out with So You Think You Can Dance, it was me learning how to work with other choreographers which I had never really done before, other than my family. My family taught me how to dance, so doing that what really cool. I got to learn a lot about what I was capable of doing and what I could push myself to do as a dancer. So then doing Dancing With The Stars, I've been choreographing my dance routines since I was 11 years old, so choreography is nothing new to me. But learning how to choreograph for people who have never danced a step in their life was super challenging my first season. You learn really quickly different tricks and how to work with different kinds of people because everyone is a different learner. Some people learn by watching, some people learn by doing it over and over again, some people want to be creative. It's like mini psychology lessons every time you walk into another season! It's been really cool and interesting to learn how to choreograph for every different kind of person. I had Steve-O from Jackass who I don't know how I got him to remember anything. I had Kyle who, at the time, was a little 19 year old ball of energy that you couldn't keep any control on! But it's been interesting. I've learned a lot about what I can do as a choreographer and teacher, and it's been a lot of fun.
Q. Gina, RealityWanted: On Dancing With The Stars, you have people of all different abilities. You have people who have clearly danced before and then those who have no experience with it. Which type of partner do you prefer? Do you like someone who's more advanced, and you can throw harder things at, or do you like the challenge of someone who hasn't really danced before and turning them into a dancer?
A. Lacey: Both! I like the challenge and the acknowledgment of my challenge, and me being successful at it. But sometimes, you're not successful at it so it's not that fun. WIth people who have dance training, it's easier to teach them and you can throw harder things at them. I tend to get people who do not dance very well and so I have to have a lot of patience. With Kyle, I was rehearsing with him one hour a day. It was super easy because he picked it up so fast. Same with Lance, we rehearsed a couple hours here and there but other than that, most of my partners were not the quickest learners in the world.

Q. Gina, RealityWanted: In the Q&A session with fans earlier in the night, you said that you don't like competition, but you've done six seasons of Dancing With The Stars. What is it about that type of competition that brings you back each year?
A. Lacey: Well, it's not really me competing. It's the celebrity competing and my job is to get them as best as they can look. It's not about being better than anyone else. It's getting someone who has never danced a step in their life to look like they've done it for years. I had Chaz Bono, who was a huge, huge challenge, not only with his mental restrictions with the show because there was so much drama surrounding his situation. I felt so bad for the guy because he was so insecure about stepping out onto the floor. It takes a lot of courage to do what he did. For me, it was making sure he felt comfortable. It wasn't about the scores. I just wanted him to feel good about what he did. And then with someone like Steve-O, it was like, "Please just get through the dance!" I had another guy named Mark Dacascos, who was fairly well. We kinda just went out there and did fun stuff so people would enjoy it.
Q. Gina, RealityWanted: I'm wondering what your future is with the show. What goals do you have beyond Dancing With The Stars? Do you want to do television and movies?
A. Lacey: I'm actually choreographing a show right now for the Stratosphere, it's called Pin-Up. It's going to open in February of next year. We have Claire Sinclair, who was Playmate of the Year, hosting and music and production by Frankie Moreno, who is the headliner of the year in Vegas right now. It's been cool being able to team up with an insane musician and say, "This is what I want in the song." It's been a lot of fun doing that. Choreography has always been a huge passion of mine, but I also have a clothing line through Discount Dance Supply. It's oversold, most items are out of stock. They weren't going to do any new items for a year and they've already asked me to do brand new stuff starting in January. I've always loved doing that, I design all my costumes on the show. That's a really cool outlet for me. If I break both my legs, I can still design! I also sing. I'm working with Frankie Moreno actually on some stuff so that'll be fun too. We're doing dance themed music. One will be a tango beat, one will be a cha cha, and we have all these different styles, which is cool.
Q. Gina, RealityWanted: You went right from So You Think You Can Dance to Dancing With The Stars, and you've been competing all these years. Is it nice to get out to events like this, where there's no pressure and you can just interact with fans and enjoy it?
A. Lacey: I love doing Dancing With The Stars and performing with celebrities but my favorite thing is performing with artists. It's more fun than anything. I've choreographed for everybody - Backstreet Boys, Taylor Swift, Train, Kelly Clarkson, LMFAO... without Dancing With The Stars, I never would've done that. So that's my favorite part about it, and then coming out here and meeting people across America is really cool too. You get to see how dance influences people's lives in different ways. People might think it's lame but you don't actually understand how it affects certain people. It's really great to feel the love and the appreciation.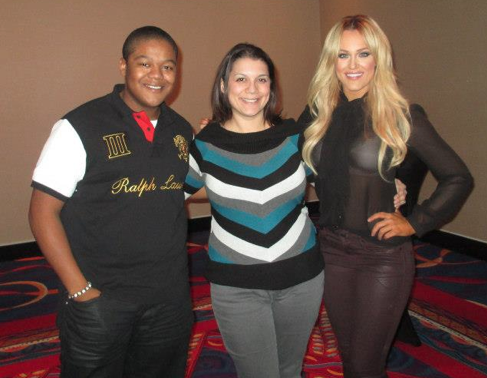 Q. Gina, RealityWanted: Lacey was saying that you guys practiced for about an hour a day when you were on Dancing With The Stars. You were able to pick it up in that amount of time?
A. Kyle: You know what? I feel like it just wasn't as hard for us as it was for everyone else. People were spending 12-13 hours in the studio. Michael Bolton told us he spent 12 hours in the rehearsal studio. Lacey and I would be in and out of there. We would do multiple dances in an hour. We handled it, we were fine!
Q. Gina, RealityWanted: Being a Disney Channel kid, did you have dance experience?
A. Kyle: No dance experience at all. The first time I ever danced was with Lacey in our rehearsal. The more time that we spent, the better I got. It wasn't as hard towards the end but in the beginning, it was crazy. I didn't know what I was getting into!
Q. Gina, RealityWanted: And you got a lot of love from the fans during season 11. Did it surprise you, were you expecting it, what were you feeling?
A. Kyle: To tell you the truth, I didn't know what to expect from the fans. You never really know but the first time I went out there, I got a standing ovation which was pretty cool, and we got like six standing ovations throughout the season. Just to have the support you know? People you've never met before and seen, they're supporting you. It's cool to have that worldwide support.
Q. Gina, RealityWanted: Was it tough to get back into it for this performance or did you just fall right back into it?
A. Kyle: It just kinda fell into place. Lacey and I rehearsed 30 minutes for this show. I didn't even know the dance when I came here but it only took us 30 minutes! We were like, "Okay, we're good. Thanks!"
Q. Gina, RealityWanted: What are you up to now and what's coming up for you in 2013?
A. Kyle: I'm writing and doing a voice on the animated show Fish Hooks on Disney. Comes on every day at 4:30 so watch that! I play Milo. I'm hosting a Dancing With The Stars after show on their official website. I'm starting a skateboard company. I'm producing another tv show that I can't tell you about just yet but look for it on TruTV or Spike. You'll see it soon. I have a lot of stuff in the works, I have some movies I'm doing as well, and I'm just trying to do it all!
Keep up with Lacey and Kyle @laceyschwimmer and @kylemassey!
(Image courtesy of Mohegan Sun)
Follow Gina @ginascarpa