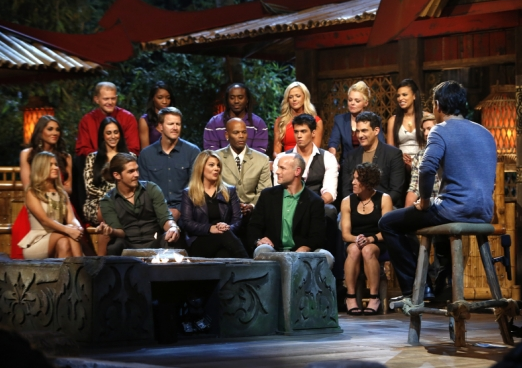 by Gina Scarpa
After two semi-unpredictable hours of Survivor: Philippines, we finally reached the live reunion show where Denise Stapley was declared the winner. She told Jeff Probst that she felt like an underdog, though I don't know why, because several people predicted her win throughout the season. Getting rid of Malcolm was her biggest move but apparently, even if he made it to the end, he still wasn't winning against her. Only two people from the jury said they'd choose him over her. Ouch.
When asked why he didn't take the final four deal that Lisa proposed, Penner said he didn't realize that that was the end of his game. It's amazing how some people don't see their demise in the game coming until it's way too late. Jeff Kent defends the times he went after Penner because even though he did, he never wrote his name down. Fair enough. Skupin was feeling, coming in to the reunion, that he was going to win hands down. Lisa was more realistic, saying she wasn't sure that she'd win but the best thing she took from the game was how to trust and accept herself. It's definitely safe to say that no one underwent more of a transformation in the 39 days out there than she did.
Apparently, when it rains in the Philippines, it RAINS. For 21 straight days, the castaways were pounded with storms and Russell said it was just as miserable as it looked. There's no such thing as dry in the game, no tents that pop up when the cameras stop rolling. You're out there, whether you like it or not. Dana, who had an especially tough time out there, says she doesn't remember much the day she was evacuated but she's hoping to play again because she never even got to see a tribal council or have her name written down.
On to Malcolm, who knew he was done the minute he saw that final immunity challenge, because as he said, he's never had the steadiest of hands. Even with a hundred chances, he still doest think he would've won. Despite not winning, he still draws a lot of comparisons to another Survivor great, Ozzy Lusth (who never won in his three seasons of playing). Malcolm says the reason why he was so good in the outdoors and in challenges was because he had swagger. Let me tell you, I could have swagger all day long, I'm not making it up a tree to get a coconut!  Oh by the way ladies, he's single.
This seems hard to believe but apparently, no one has ever told Abi-Maria that she can come across (or just be) unlikeable. Still, she says she learned a lot and realizes she needs to calm down a bit and do some growing up. When her alliance member Pete pats himself on the back for creating chaos around camp, RC intervenes to say it was an absolutely horrible move, which it was.
The voting was so close for the Sprint Player of the Season that the difference between the winner and the runner up was just 0.7%! Poor Malcolm, always a bridesmaid and never a bride. He loses to Lisa and even though I think he hands down deserved it, she rocked the final tribal council.
Let's check in on a few Survivors who left the game early on. Angie says she had a great time, Zane swears up and down that he never wanted to quit, and Roxy says she was happy to be able to show who she really was. Katie isn't mad at Probst for constantly calling her out in challenges and says she had a blast, while Artis maintains that he wasn't angry the entire time he was out there. Probst says that Carter was funny and bubbly in his interview (whaaaa?) and he says that in the game, he was just hungry. Was he hungry during the taping of this as well? When Probst tries to ask Dawson a question, she rushes up to him and get him right on the lips this time. He reacts by saying his wife is a much better kisser. While Dawson's kiss attack was funny, it was a little much. Am I right or am I right?
Finally, Jeff gives us a look at next season, premiering in February of 2013. YES! Survivor: Caramoan - Fans vs. Favorites 2, enough said. Oh you know Malcolm is coming back. Just give me that official press release, CBS. Who would you love to see return? Check out this sneak peek!
And check out our red carpet interviews with the final four:

(Image courtesy of CBS)

Follow Gina @ginascarpa