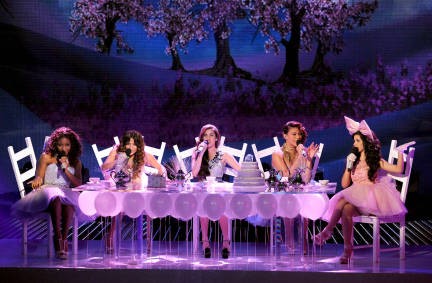 by Todd Betzold
One more act leaves us tonight on The X Factor, as the final three acts are announced for the finale next week! It is a big night for these remaining four acts and everything is in the hands of America now, as the judges have no say in who goes home. The act with the lowest number of votes is heading home, but who will it be?
Things kick off with the final four acts taking the stage to sing "Coming Home" by Diddy. They sounded good, but Emblem 3 tried to steal the show with their rapping and I am just over Drew. Anyone else? Fifth Harmony seemed to work it out during the performance though!
A look back at last night's performances and a look at the singers from behind the stage. I saw this all last night and I just want to see new stuff FOX!
The Top 4 acts take the stage with their mentors and the first act safe tonight is Fifth Harmony! That is unbelievable and I cannot believe it. I thought for sure they were going home. Who will go home now? I am praying Emblem 3!
Next attempt to waste time: have Bridgit Mendler (who knows who she is) singing "Ready Or Not." I like the song, but have no clue who she is.
Mario and Khloe bring out the remaining three acts and their mentors to find out the next act that is safe tonight. That act would be Tate Stevens! I love him and so happy for him. He will win it all this season because he deserves it most!
I am so nervous for these results I can't even pay attention to Bruno Mars perform his #1 song "Locked Out of Heaven." Bring the last two acts and give me the results please!
The last two acts take the stage and the final act safe tonight is Carly! Someone was listening to me and Emblem 3 is headed home. Can you believe the results tonight?
The X Factor airs on Wednesdays and Thursdays at 8/7c on FOX.
(Image courtesy of FOX)
Follow Todd on Twitter @TopicalTodd