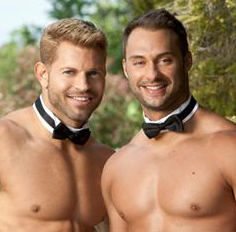 by Gina Scarpa
The Amazing Race, for Chippendales dancers Jaymes and James, was almost over before the first leg even ended. They barely escaped elimination in China, then went on to become both frontrunners and fan favorites. Competitive and charismatic, they proved that nice guys can finish... well, second. We caught up with the pair to talk about their Amazing Race finish on Sunday night's finale, and their experiences along the way.
Q. Gina, RealityWanted: How did it come to be that you were part of The Amazing Race this season?
A. Jaymes: The power of Facebook, seriously! They had the idea to have a Chippendales on the show and they found me on Facebook because I guess they had read some articles talking about me. They asked if I was interested and I thought they were joking. I made them call me from their CBS phone. I said if "I'm doing this, I only have one choice. I'm not doing this with anybody else." I wanted somebody who had the same philosophy as me, that could have a good time no matter what.
A. James: We weren't sure how we were going to be received. We were nervous about diving in.
A. Jaymes: We wanted to maintain that we're not the stereotype. So we weren't going to do it but then my dad was diagnosed with cancer and we didn't know what to do. How were they going to pay for everything? There was a chance for a million dollars right in front of us.
Q. Gina, RealityWanted: You almost went home during the first leg! How worried were you, in China, that your journey was going to be over before it really even began?
A. Jaymes: How worried were we?! Oh my gosh! We were looking for that woman with the abacus. We weren't thinking to look for a lady, with a child, with an abacus on her lap. Lo and behold, the first step towards becoming friends with Trey and Lexi was telling them where the pit stop was and they showed us where the woman with the abacus was. Thank god for them, we love them to death!

Q. Gina, RealityWanted: You were battling some injuries along the way, especially during that dancing challenge in Russia. How bad was it?
A. Jaymes: I wear a size 14 shoe, James wears a size 10 1/2. His foot was so swollen, I had to give him my shoe and it still didn't fit. He looked like he had a clown foot. It was ridiculous. I have no idea how we battled through that. I was so proud of him!
Q. Gina, RealityWanted: Why were you so interested in running the final leg with Trey and Lexi, and Natalie and Nadiya?
A. James: From day one, we wanted to race with fun people that were going to be competitive and not be negative. That's who we wanted to race for the million dollars with. For the most part, it worked out pretty well. Ultimately, it's still a race and you still have to get your team to the final leg and complete those challenges as fast as you can.
A. Jaymes: I know the twins don't come across well... that's just a small portion. A lot of what they said was in jest, and in response to someone else. They were hilarious. They're our Amazing Race family. Their energy was infectious. Trey and Lexi, just their goodwill, was infectious. We thought, "Why not have a good time with these people?"
Q. Gina, RealityWanted: Going into that last leg, you were in first, you had won the cars... how confident were you feeling?
A. Jaymes: James' first goal was to win a car for his mom and to achieve that, you feel like your'e at the top of the world. When you're in first place, going into the final leg...
A. James: You're riding an all-time high! All the momentum was in our favor. We were at the home stretch and we were like, "Let's take this million home."

Q. Gina, RealityWanted: You guys had one of the best attitudes of any team I've seen over the years and that's won you a lot of fans. What's that support and feedback been like for you?
A. Jaymes: Listen, the most amazing thing, I think, is that we get so many kids sending us fan mail, parents sending us Tweets thanking us for showing that you can be polite, and you never know who's watching. I have nieces and nephews who watch. You can still be successful by being nice. We played fair, we played honest, and that's a great feeling to leave with and a great example to set for the next generation of people.
A. James: I never imagined myself as a role model but it's cool to see these people looking up to us. It feels really good to have someone younger saying, "I watched the show because of you and I look up to you."

Visit forgetcancernow.com, and follow Jaymes @JaymesV and James @james_mne!
(Image courtesy of CBS)

Follow Gina @ginascarpa