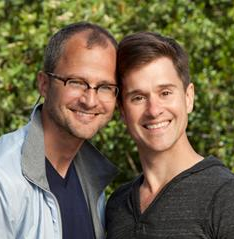 by Gina Scarpa
Going into last night's finale of The Amazing Race, it was safe to say that Beekman Boys Josh Kilmer-Purcell and Brent Ridge were the underdogs.  For much of the race, they arrived at the pit stops in the middle of the pack, but a missed flight in Germany pushed them to the bottom of the group.  They narrowly escaped elimination more than once but pulled it together when it mattered most, in the last two legs in France and New York.  Brent's courageous and calm demeanor during a bungee challenge and Josh's analytical approach to the final task led them to victory and they got their one and only first place victory this season when they claimed the million dollar prize.  We talked to the couple today about their journey, their successes and failures along the way, and what's next for them!
Q. Gina, RealityWanted: Whose idea was it to do The Amazing Race?
A. Brent: I kind of pulled Josh kicking and screaming, I think.
A. Josh: It's hard! We're both longtime fans and I can tell by watching, it was hard. Then I found out it was five times harder than I thought it was!
Q. Gina, RealityWanted: When I interviewed Ryan and Abbie and asked them about you, he said, "What they lack in brawn, they make up for in brain." Your intelligence certainly came into play many times during the race, but especially in this last leg. Did you look at your abilities as an advantage or a disadvantage, coming in?
A. Brent: I think every team that was in the race came in with some skill that they had that was better than any other team. Some were stronger, some were more charismatic... maybe we had an advantage because of our life experience and nerdiness.
Q. Gina, RealityWanted: How much did you overhear from the other teams on that train ride to France and did you realize everything that was being said about you?
A. Brent: When we watched it back, obviously, we look through that veil of competitive spirit. I don't think we take anything personally. I do hope that, when the other teams look back, they realize some things about themselves and about how it might come across to people. I was having a conversation with Abbie, we watched the show together this weekend in New York with some other racers. Abbie told her dance students, "We're so quick to judge something when we see it on tv and now, I'm on the receiving end of that." I think that's a great learning lesson for anyone. We can see that some of Natalie and Nadiya's comments out of context, or maybe in context, was just their competitive spirit. They didn't mean anything in a derogatory way.

Q. Gina, RealityWanted: You had some tough moments throughout the race. Would you say one of the most difficult was that swimming challenge in Russia?
A. Brent: Yeah, the first half of Russia was probably our lowest moment. Up until that point, we had kinda been running middle of the road. That missed connection in Frankfurt put us way into another realm. By the time we landed in Moscow, the other teams had already finished that leg of the race. We were so exhausted and of course, Josh wanted to choose the library challenge but they had already closed. We got to the pool and that was a really hard task. I'm not saying I was the best swimmer but it was just not our best moment. After that, we got up the next day and rallied through the tasks and made up a lot of ground.
Q. Gina, RealityWanted: Brent, you said you came close to panicking during the Houdini challenge in New York, but you seemed pretty cool up there! How did you stay focused?
A. Brent: One of the things I always do in any situation when I'm feeling like I could be panicky, is say, "I'm not the first person to have ever done this." That's the attitude I had going into this. "Houdini found a way to do it, I can find a way to do it." I was laying there and I almost fell asleep while I was waiting to do that challenge. I was just being calm, focused, and centered.
Q. Gina, RealityWanted: Josh, you talked about how that final challenge became more of a math problem to solve, than a language problem. Tell us more about your strategy.
A. Josh: Well, I knew going in that I could figure out three right away, maybe even four. After that, I knew that it would be a process of elimination and I figured out the fastest way of doing combinations of different flags. There were over 1500 possible combinations and every time you got one right, that number would lessen dramatically and I kept that in my mind. Worst case scenario, I'd have to hoist those flags up 1500 times. If the other teams didn't figure it out, I knew I'd be good.
Q. Gina, RealityWanted: One of the reasons it was so important for you to win was so that you could be together more on the farm. How is that going?
A. Josh: Well, we are living together for the first time in five years.
A. Brent: We're at the farm full time. We have this opportunity to really work on our Beekman business. We're working on the next book now, which will come out in September. It's just onward and upward. What we really want to say is to thank everybody who cheered us on. There's no doubt that there was an incredible amount of support and camaraderie among the other racers. To all the people at The Amazing Race, having come from a reality show, the level of production and detail, was unbelievable.
(Image courtesy of CBS)

Follow Gina @ginascarpa