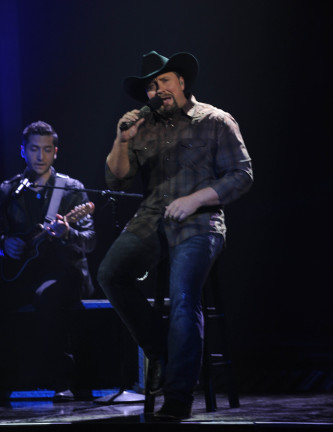 by Todd Betzold
With only six acts remaining on The X Factor, they will each be taking on two songs a piece to fill up two hours of the show. Tonight it is all about the Pepsi Challenge performance, which is chosen completely by the fans, and an Unplugged performance, which is stripping the contestants down and just letting them get up there and sing. I am super pumped for the Unplugged songs because that is where we will see who the true singers are.
CeCe Frey (Young Adults) - "Edge Of Glory" by Lady Gaga
For her Unplugged song, she is worried about laying it all out there because it is just her and a piano. This is the CeCe that I started to like earlier in the season. It was simple and raw and she sounded great. I enjoyed it. L.A. said he is starting to become a fan and that was really good. Britney said it should be great and it was just good to me. Simon said she is a nice person, but she is not worth a $5 million recording contract. Demi said this was one of her best vocal performances and there is a reason why she has stayed so long in this competition.
Emblem3 (Groups) - "Just The Way You Are" by Bruno Mars
They were #3 last week and want to keep moving up the leader board and Demi wants to see more than them just standing there and singing, so here it is. When you strip it all down for these guys, they can't sing. Hate me, fine, but these guys are here based on their looks and the girls. This was acoustic and I am not a fan. L.A. said it was pretty good and he is most impressed that one of Simon's groups can sing harmony. Britney said this was their best performance in the competition. Demi said they did great, but it wasn't the best and it is a downgraded version of the Jonas Brothers five years ago. Simon said that is dumb what Demi just said and they did amazing.
Carly Rose Sonenclar (Teens) - "As Long As You Love Me" by Justin Bieber
Carly Rose is surprised by this song choice and it is not an acoustic song, so she is worried. I am a huge fan of Carly Rose, but this was not a good song choice. It is too much of a known song and you compare her to Justin. She has a great voice and sings it well, but I just can't get on board with this one. L.A. said she showed some restraint and her best for his taste. Demi said she sang it better than Justin did and she reminds her of Jo Jo. Simon said this is why he loves working in this country because we find people like you. Britney said each week she continues to make each song her own and that is very good.
Fifth Harmony (Groups) - "Set Fire To The Rain" by Adele
Ally went back to Texas for her grandfather's funeral, so the girls are worried she will be ready tonight. This was supposed to show how they harmonize well together and it did not do that for me. Yes, these girls can sing, but sing together as a group, not as individuals please. L.A. said he still didn't hear any harmony and they should have called them Fifth Unison. Britney said it is a nice rendition, but what separates them from other girl groups. Demi said the group thing hasn't clicked for them and a couple of them should be solo artists. Simon said that was unfair criticism and there aren't any girl groups out there right now.
Diamond White (Teens) - "It's A Man's Man's World" by James Brown
She is worried after being in the bottom two last week, but needs to bring it big this week. I think she did that tonight and I like how Diamond sings. She has a strong voice and I enjoyed it. L.A. said this week you brought attitude and I love attitude and it was great. Demi said you pulled it off. Simon said it was a little bit screechy in parts, but she made up for it at the end. Britney said this song is incredibly to pull off and she nailed it.
Tate Steven (Over 25s) - "Living On A Prayer" by Bon Jovi
Tate is worried about what is next for him, in case this doesn't work out for him. He may have lost his job, but L.A. told him this is his destiny. I love Tate and this was a great performance. I think he has a strong country voice and he does put the country twist on a rock classic and I enjoyed it. Britney said he is getting away from what he does best, which is down-the-middle country. Demi said she will be buying his album someday, but this performance was a little boring. Simon said he can't do Bon Jovi for Unplugged week and he must choose the material next week. L.A. said he did a really good job with the song and I stand behind you.
CeCe Frey (Young Adults) - "Part Of Me" by Katy Perry
The Pepsi Challenge song, so America chose it for her tonight. She has a Katy Perry voice and I think she nails this performance. She has her confidence back on that stage and the sass I first hated, but then lost as the competition moved on. I am a fan of CeCe tonight. L.A. said he is not loving it and that was karaoke. Britney said she found it very entertaining and she always looks like she is having fun on stage. Simon said if she does go home he will miss her because she is a tryer. Demi said if the Princess of Pop is saying she did a good job then she did a good job.
Emblem3 (Groups) - "Forever Young" by Alphaville
First of all, Drew cannot sing. Both songs he sucked it up, but the brothers can sing. This was a bad song choice for me, but America did pick it. It was boring and never went anywhere for me. L.A. said tonight they nailed it and he is a huge fan. Britney said it was a superstar performance. Demi said I am a fan, but she wants to see them command the stage more and much better than the first performance. Simon said they were really, really good tonight.
Carly Rose Sonenclar (Teens) - "If I Were A Boy" by Beyonce
Now America gets it dead on with this song choice for Carly. This was a great song choice and her performance was perfect. This girl is 13 years old is all I keep telling myself while she is singing. She is amazing. L.A. said as a fan she never lets me down because she is so talented. Demi said that was a phenomenal vocal. Simon said it was a slightly odd lyric for her to sing, but she has had a phenomenal night. Britney said she is the definition of the X Factor and it was stunning.
Fifth Harmony (Groups) - "Give Your Heart A Break" by Demi Lovato
Simon is upset they are singing a Demi song, but America chose it. It is a rare occasion, but this was another moment that I liked these girls. They sounded great together and it was a perfect song for them. They looked and sounded young and it was enjoyable. L.A. said he actually heard harmony and it was really good. Britney said a friend of mine does this song very good and so did they. Demi said this should have been their song and they felt like a girl group. Simon said they have been trying to show them they are a legitimate girl group and the show wouldn't be the same without them.
Diamond White (Teens) - "Diamonds" by Rihanna
Her name is Diamond, America wanted her to sing "Diamonds" and she came down to the stage in a diamond. It was too much for me to handle and the song is too popular right now for her to sing. It was rough for me and didn't seem to fit her vocals. L.A. said he really likes her and that song, but he didn't love her rendition. Demi said she definitely did it justice and she looked like a star on stage. Simon said it is just her luck that she is in a very competitive Top 6. Britney said the song was made for her and her voice was spectacular.
Tate Stevens (Over 25s) - "If Tomorrow Never Comes" by Garth Brooks
Tate has the look of a Garth Brooks and this song was perfect for him. America seemed to be back and forth with the song choices, but it was an excellent choice for Tate. He was dead-on and this is what I like hearing from him the most...excellent job. Britney said that felt like a Tate Stevens performance. Demi said he has a really bright future ahead of him. Simon said welcome back to the competition Tate Stevens. L.A. said that was great.
The X Factor airs on Wednesdays and Thursdays at 8/7c on FOX.
(Image courtesy of FOX)
Follow Todd on Twitter @TopicalTodd