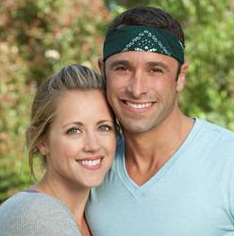 by Gina Scarpa
Abbie and Ryan started out The Amazing Race strong, finishing the first leg in first place, earning them a shot at winning an unprecedented $2 million grand prize. Combine that with their strong racing skills for the next few legs, and they found themselves the number one target of a few teams. When the opportunity to U-Turn them arose, Jaymes and James just couldn't pass up the opportunity, costing them their shot at reaching the finish line. We talked to Abbie and Ryan today to find out whether or not they're holding a grudge, their opinion on some of the other teams, and what kept them going when so many things were going wrong for them.
Q. Gina, RealityWanted: Do you feel like winning that first leg ended up being more of a curse than a blessing?
A. Ryan: No, because let's just say we came in second. Then, we would've been at the top until Turkey. We were already averaging second place overall.
Q. Gina, RealityWanted: Natalie and Nadiya, and Trey and Lexi, were obviously looking to get you out of the race. What did you think when you saw what they did to James and Abba, taking their money in Bangladesh?
A. Abbie: Well, we didn't see that until it played out on television. Are you asking if it surprised us? No.
A. Ryan: We had our own issue the first leg of the race with Daniel and Amy, that in the moment decision. It has some social issues. Do you pass a girl with prosthetic legs? Everyone thought they were going to get a penalty. We were thinking of these issues while running and there were consequences. Some people were upset with that. When we saw the money thing pop up, we had no idea it had happened. You get into real, moral issues. Between Abbie and I, we said we would not have taken the money. We were in such a poor country that day, it wouldn't have crossed our minds to think, "How can we take this money?" Each leg, you get a certain amount to run it efficiently. Think about the goodwill you could build up by giving that money back. And it's wrong. I gotta say, I think from all the editing we've gotten as an uber-competitive, alpha team, we treated each other very well. We haven't embarrassed ourselves, our families, or the places where we worked. We wouldn't have taken the money for that reason alone. This is a show that 10 million people watch in the U.S. alone, and we wouldn't have risked that public scorn. I don't think Texas though that through at all, and I don't think the twins really care.
Q. Gina, RealityWanted: Whenever you were at the bottom of the pack with Josh and Brent, you opted to run with them instead of against them. If Russia was an elimination leg, and James and Abba had stayed, what would you have done when it came time for the pit stop?
A. Ryan: Before we even got to Russia, we had spent 8 hours overnight in the Frankfurt airport overnight with them. We were strategizing legs and legs ahead. What they lack in brawn, they make up for in brain. We were days and legs ahead of other teams. The strategy was, going into Russia and running together, we were going to wait and see what happened at each Detour and Road Block and go from there. When we saw there would be a penalty with the swimming, it didn't matter.
A. Abbie: Running at night, on no sleep, we didn't know what the Road Block would've been. As you can see, we helped each other out a lot. I'm grateful for Josh for helping me when I had kind of a mental breakdown. I think it did more good than bad. It was worth running with them for the emotional support.
Q. Gina, RealityWanted: Obviously, you were very disappointed in Jaymes and James for U-Turning you. Did you feel any better when you watched the episode and saw that they struggled with it or do you feel like they shouldn't have let other teams sway them?
A. Abbie: Watching it, we understand it's part of the game. U-Turns are part of it. We were surprised when it happened that it was them out of the teams remaining. We knew the twins and Texans would do it in a heartbeat, so it stung a little bit. We built an alliance with them from LAX and it caught us off guard. I'm sympathetic to their situation as well. Everyone is racing for a million dollars. We all have our motives and our reasons.
Q. Gina, RealityWanted: Despite everything you went through in the last few legs, you really did maintain as much of a positive attitude as anyone could ask for. What kept your spirits up?
A. Ryan: I gotta be honest, there were moments leading up to the U-Turn and after, I don't think I kept my spirits up. I was done! We had so much bad luck, people were conspiring against us, I wanted to be done. I shut down. I watched Abbie do the organ grinding fundraising, dancing around, with a smile on her face, and I was moved by that. When we watched it together last night, the race to us is so much more than about two million dollars or the world travel. It's the personal connections we made along the way, the times we were running through the spice markets in Indonesia, and everyone was hugging us, hugging Pam on the bridge, we have this amazing friendship with the Beekmans, that's what the race is about. We'll make two million in our lifetime and even if we don't, we got so much more that it was priceless.
A. Abbie: We're so lucky to be one of 11 teams. It's the experience that has been rich and the feedback from friends, family, and people telling us how proud they are of us and how classy we are, that far outweighs winning at the end of the day. There will be emotional highs and lows, it's human!
A. Ryan: But to have bad luck end our race was a tough pill to swallow.
The Amazing Race airs Sundays at 8/7c on CBS.
(Image courtesy of CBS)

Follow Gina @ginascarpa