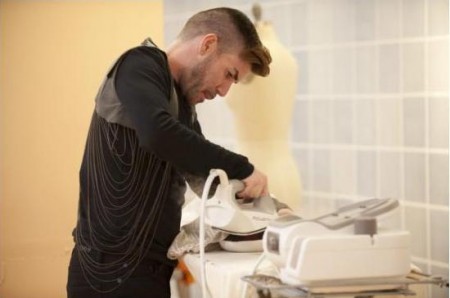 by Todd Betzold
For the first time ever, the fans are going to be able to call the shots on Project Runway All Stars. Fans were asked to submit images to USA Today for the designers to use as inspirations for their looks tonight. This could be interesting, but I want more details Project Runway!
Carolyn Murphy meets the designers on the runway to get things started this week. The fans have been asked to take part in this challenge and Joanna Coles is waiting in the workroom to give them the details. She is with Sandra Micek, the Senior Vice President of Marketing at USA Today. The theme this week is every picture tells a story. They have asked fans to tweet pictures and now the designers must select one of those pictures and turn it into a fashion design perfect for the runway. The winning designer will be featured in USA Today.
There are two computers set-up in the workroom, so Emilio gets to pick a picture first since he won last week's challenge and he chooses Casanova to select with him. Ivy and Althea are next then Uli and Kayne then Joshua and Anthony Ryan then Laura Kathleen and Andrae. Laura Kathleen is upset no one picked her, but she is not going to act like they all come from the same place.
The designers start sketching and they are all excited about the photo that they selected. Laura Kathleen is doing something associated with water. Althea is not doing a dress for the first time. They head to Mood and do some shopping.
They head back to the workroom and they have one day to get their look completed. Laura Kathleen was on the bottom last week and wants to come back strong this week. If I have to hear about her "privileged life" one more time I may slap her. Joshua and her talk and he tells her to watch how she talks to people and he is noticing it.
Joshua starts working on his top first since he thinks that will be the most time consuming. Andrae is reluctant to think he is an outsider and has created a second desk under his work area for him to do his own thing.
Joanna arrives for her critique and she is joined by Alison Maxwell, Style Editor at USA Today. For Andrae, Joanna said she can't tell if it is bonkers or brilliant. Joanna said Laura Kathleen's look is beautiful, but wonders when people wear long gowns and she said she is not trying to make clothes for the farmers of America. They are not sure of the headline Emilio chose for his look, "Sophie's Choice." For Joshua, they don't want his look to turn into something too arts and crafty. Uli's is perfect and Kayne needs to be careful with black lace and red, which can read very hookery. Joanna thinks Ivy is finding a place this season and finding herself. Joanna wonders if Althea's look is as special as the photo is.
Althea decides to do a drape in the pant to do something different and stand out on the All Stars season. They are showing Althea a lot this episode, so I think she is going home tonight. The designers are all scrambling as the time is running out for the day.
It is runway day and the designers head into the workroom to finish their looks. Anthony Ryan said Andrae has the worst time management skills and doesn't know how he ever finishes anything. Althea said Joshua's garment looks like Rainbow Brite and Althea's pants are not flattering at all.
Time for the runway show and Carolyn Murphy hits the runway. The judges tonight are Carolyn, Georgina Chapman, Isaac Mizrahi and guest judges tonight are Tavi Gevinson, a 16-year-old fashion blogger, and fashion designer Charlotte Ronson. The looks I liked: Laura Kathleen (great pattern and a very nice dress and goes great with photo), Andrae (kind of simple, but goes with photo well), Casanova (pants are amazing) and Ivy (goes great with the photo). The looks I did not like: Kayne (simple red dress that is nothing like his photo), Althea (the pants are baggy and look hideous), Joshua (it is Rainbow Brite) and Emilio (I don't know what he created and who would wear that look).
Carolyn asks Laura Kathleen, Andrae, Joshua, Anthony Ryan, Emilio and Althea to step forward and they are the high and low scores this week. The others are all safe. For Althea, Isaac said he is not getting the pants at all. Carolyn said it is a bit drab. Charlotte said the jacket is done very nicely, but the trousers throw her off. For Anthony Ryan, Isaac said the dress and the photo reference each other. Georgina said she has seen these colors and dress from him and wants to see a bigger risk. For Joshua, Georgina said it is costumey. Isaac said he loves the idea of the color, but in this design it is too much. Tavi can't picture the two pieces together, but she can't imagine them working with anything else.
For Andrae, Isaac said he gets nothing of the look. Charlotte said she likes the punch of colors and if he had more time he could have been more successful. For Laura Kathleen, Isaac said it is really good as a dress and wonderful that it is inspired by the photo. Georgina loves the dress and the fact she did the print herself. Carolyn said it stood out to her and really organic. For Emilio, Isaac said it is light as a feather and she looks modern. Charlotte said it is fun and playful, but it could have been pushed out a little bit more. Georgina said she loves the creativity.
The judges discuss the looks and I am picking Laura Kathleen as the winner, even though I don't want her to win and I want her to go home, and I think Andrae finally gets the boot. The designers come back to the runway and Emilio is safe. The winner of this challenge is Anthony Ryan, which shocks me because they said they wanted something different. Laura Kathleen and Althea are safe, so that leaves Andrae and Joshua as the final two. Joshua is in, so Andrae is headed home...I think he was over his head this season.
Project Runway All Stars airs Thursdays at 9/8c on Lifetime.
(Image courtesy of Lifetime)
Follow Todd on Twitter @TopicalTodd