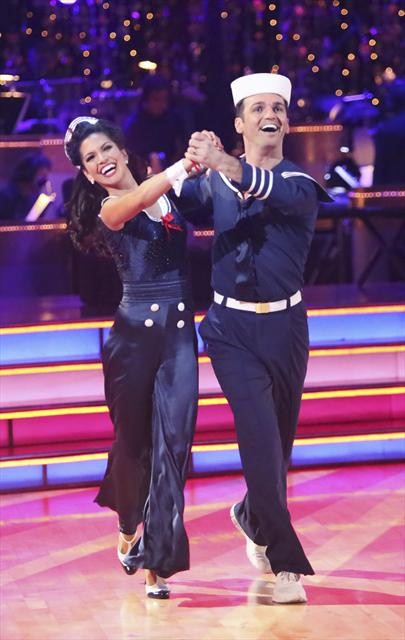 by Kylene Hamulak
Tonight's episode of Dancing With the Stars: All Stars has a lot to offer. It's kind of like a Thanksgiving feast. Of all the wonderful things that will be served up on the dance floor, however, there's one I'm looking forward to more than any other. It's not Kylie Minogue or Ne Yo. It's not whatever wacky challenge for next week will be introduced. It's not even the double elimination that will keep two of our All-Stars from reaching the finals.
Ladies and gentlemen, we have dancing newsboys in the ballroom.
Before we get to the main event (for me), Kylie Minogue does the loco-motion with Kym, Tristan (in suspenders - squee!), the troupe and WAIT A MINUTE. She's wearing a shirt! And NO PANTS! That's not a dress, Kylie! She looks great, but I mean...when someone shows up on the dance floor wearing less than Kym, it needs to be mentioned!
Checking in on results for the two highest scoring couples over the past two weeks, Melissa and Tony and Shawn and Derek are the first up. Melissa and Tony are just one point away from total perfection with Shawn and Derek close behind, but we're reminded of Len's warning after Shawn's trio with Derek and Mark: "If you go home...don't blame me, blame those two."
With 99 out of 100 possible points, it's no surprise when Melissa and Tony are the first couple to reach the semi-finals. Shawn and Derek are declared safe quickly too, and we're almost halfway to next week's cast. No need to blame anyone but ourselves, Len.
Gilles, Emmitt, and Apolo and their partners are with Brooke, where Gilles crosses his fingers that he'll get through to dance the Michael Jackson theme. Emmitt says it'll be disappointing for anyone who doesn't make it past this week, and Apolo tells us that if Tom calls his name, he's just gonna stay right where he is. Sorry to break it to you Apolo, but if elimination is coming for ya, becoming a ballroom squatter really isn't going to be effective.
NOW, my friends, it is time. This week's Macy's Stars of Dance performance comes from the Broadway cast of Disney's hit musical, NEWSIES! I'm not going to pretend I'm not a total fan girl for this show, and the Tony winning choreography is only a small part of the reason why. Performing "Seize the Day", the guys give us just a sneak preview of the show stopping talent they bring to the stage every night. No matter how many times I see them rip those papers, the energy is never short of electric, and I'll admit it - I will never ever grow bored of watching Ryan Steele's pirouettes. Like, ever. If you can make it to Broadway, make it to Newsies.
Despite being nearly halfway through results, we have another performance before we learn either of the couples who have been eliminated. This one is from Ne-Yo, performing "Let Me Love You." Things I learned: Ne-Yo's new album is named R.E.D. Not to be confused with Taylor Swift's new album, which is titled Red. I feel really bad for the parent who gets those two confused when Christmas shopping for their teens this year. Ne-Yo does a pretty good Usher impersonation, by the way.
Back with the All-Stars, Kelly is looking somber when Brooke asks her how much she wants to have another chance at the mirror ball trophy. Val cracks an optimistic smile, Kirstie and Maks can muster hopeful grins, but Kelly? Not so much. They'll all be next up for results, so maybe she'll look a little less sour if she's safe.
My second favorite part of this episode is Kirstie's trio, sitting with Maks and Tristan. She tells Tristan that he's already been voted off, so they can't kill him off twice. Oh, if only that were true, Kirstie! Unfortunately, Kirstie and Maks, with the lowest total of scores are eliminated. Kelly and Val, however, make it to the semi-finals, so at least we have one dancing Chmerkovskiy!
After a brief look into how stressful the season has been on the pros this season, the remaining pairs are on the dance floor to pick the theme of next week's dances for each other. This is another one of those challenges the producers think is amazing, but really makes no sense. With the lowest cumulative score, Kelly and Val choose for Melissa and Tony, the highest scorers, and so forth down the line. The styles and themes are as follows:
Kelly and Val choose "Caveman" Hustle for Melissa and Tony
Emmitt and Cheryl choose "Knight Rider" Banghra for Shawn and Derek. (Note: Banghra is apparently an Indian folk dance...which is news to absolutely everyone in the ballroom. Including Derek.)
Apolo and Karina choose "Mad Monk" Merengue for Gilles and Peta
Gilles and Peta choose "Big Top" Jazz for Apolo and Karina
Shawn and Derek choose "Espionage" Lindy Hop for Emmitt and Cheryl
Kelly and Val are assigned "Surfer" Flamenco, which is the final dance.
Before we get our final elimination results, Anna, Val, and principal dancers from the New York City Ballet perform a really lovely routine. I mean, it's no Newsies, but....it's gorgeous. Even Tom noted the serene expressions on the judges as they watched the dancers in front of them.
The three remaining pairs await their results - Apolo and Karina, Gilles and Peta, and Emmitt and Cheryl. Recapping the performances, Apolo's trio makes an *NSYNC/Backstreet Boys joke that did not amuse me. Gilles tells us he's ready for the semifinals, and Emmitt is excited about his perfect 10. Unfortunately, we do know that one of them will be going home, so who will it be?
First we know who it won't be - Emmitt and Cheryl are declared safe, and Tom invites Gilles and Peta and Apolo and Karina to join him at the bottom of the stairs. Len tells both pairs how much he enjoys them as dancers and will be sad to see them go. So who is going home?
Gilles and Peta are eliminated from the competition, which means Apolo and Karina will continue to the semifinals. Gilles thanks everyone for the opportunity, with special thanks to Peta for all she taught him and to his wife for her support.
Next week's performances will showcase music from Michael Jackson, as well as those wacky themes chosen by our couples for each other, so don't miss out - semifinals means the fiercest part of the competition is yet to come!
Don't miss Dancing With The Stars: All Stars Monday at 8/7c on ABC!

(Image courtesy of ABC)