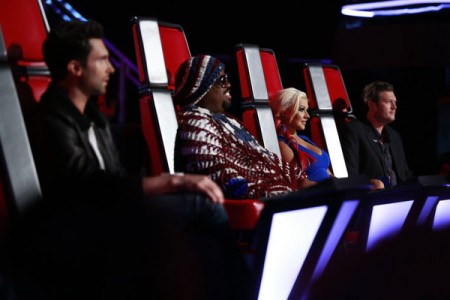 by Todd Betzold
After the Top 20 performed this week from all the teams on The Voice, America voted and tonight we get to find out the results. Two singers will be saved by America and one singer saved by their coach, so we will see two singers from each team leaves us tonight. Besides all that good fun, we get to see Maroon 5 and Season 2 winner Jermaine Paul perform!
Things kick off with a look back at the road to tonight and then we get to see Team Blake and Team Adam singing "Stronger (What Doesn't Kill You)" by Kelly Clarkson. It's good, but I don't care...let's get some results!
Here are some results and up first is Team Adam. First one safe is Amanda Brown, no big shocker there. The next one safe is Bryan Keith, so that leaves Melanie Martinez, Joselyn Rivera and Loren Allred. Adam has one save left and after he gives a speech, he saves Melanie! That means Joselyn and Loren are headed home.
Maroon 5 hits the stage to sing their new song "Daylight." Again, I want results! Apparently we aren't going to get to the results, so Jermaine Paul comes out to sing his new single "I Believe In This Life."
Time for Team Blake and the first name saved by America is Terry McDermott. The second person America saved is Cassadee Pope, so that means Michaela Paige, Julio Cesar Castillo and Liz Davis. He can only pick one to save and he wants to bring a country singer to the finals, so who do you think he will pick? In a huge shocker, he picks Michaela and Liz and Julio head home.
Team Cee Lo and Team Christina take the stage and sing "Drive By" by Train. Wasting time, but now time to get to Team Christina's results. The first singer saved is Dez Duron (no shocker there). The second singer saved is Sylvia Yacoub, so that leaves us with De'Borah, Adriana Louise and Devyn DeLoera. Christina uses her save on Adriana, so De'Borah and Devyn are headed home.
The final team of the night is Team Cee Lo. The first save by America is Trevin Hunte and again, no shocker there. The second person saved is Nicholas David (I am shocked, but so happy for him). That leaves us with MacKenzie Bourg, Cody Belew and Diego Val. Cee Lo gives his speech and then saves Cody Belew...yes!!! That means Diego and MacKenzie are going home.
The Top 12 are:
Team Adam: Amanda Brown, Bryan Keith and Melanie Martinez
Team Blake: Terry McDermott, Cassadee Pope and Michaela Paige
Team Christina: Dez Duron, Sylvia Yacoub and Adriana Louise
Team Cee Lo: Trevin Hunte, Nicholas David and Cody Belew
The Voice airs Mondays and Tuesdays at 8/7c on NBC.
(Image courtesy of NBC)
Follow Todd on Twitter @TopicalTodd