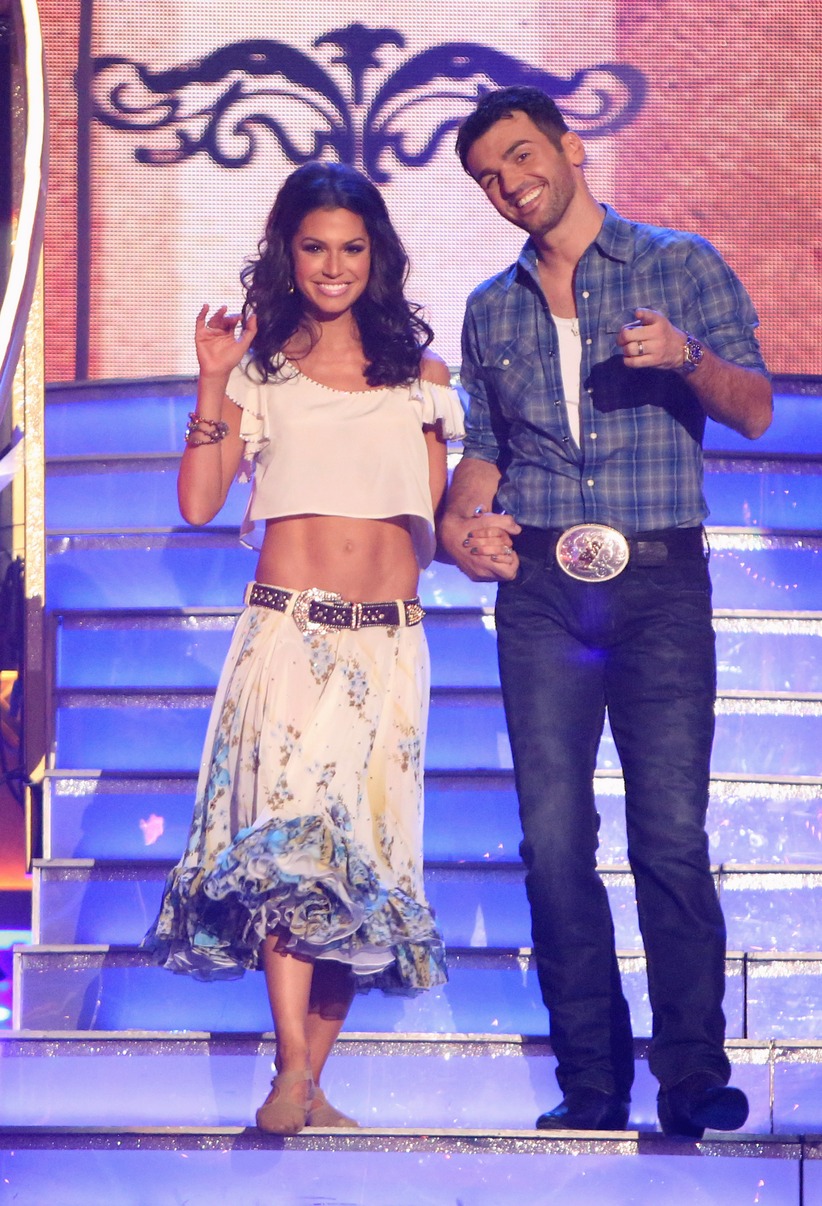 by Kylene Hamulak
Due to the election, Dancing With The Stars: All Stars will have only one episode this week with no elimination. That usually bodes well for the routines - with a little less stress, the stars typically shine in the ballroom. The challenge this week is to perform two different styles of dance with one piece of music for their solo routines before participating in the Swing Dance Marathon. Down to the final seven couples, the show has treats us to a sample of the fusion dances, a routine performed by both the pros and the troupe. You know what that means, right?
Hellooooo, Tristan! Can't we bring him back? Just for the eye candy?
First up for the couples are their fusion dances. The judges agree that that the biggest challenge will be to maintain the character of the dance with distinct choices that mix together to be recognizable as a fusion. Let's see how they do.
Team: Apolo and Karina
Dance: Cha Cha - Paso Doble
At their rehearsal, Apolo makes it clear that he's ready to make his move for the top. For their fusion, Karina notes that it's hard to mix the cheeky fun of the Cha Cha with the intensity of the Paso Doble. Their routine is a fusion of a lot of things, including a wind machine, smoke, and shirtless Apolo. It's kind of weird to see these two dances in one routine, but the crowd loves it. Judges said:
9.0 - Len says there was nothing safe about the routine and that they really came out and attacked it. "Apolo Ohno? I'm saying Apolo Oh-YES!"
9.0 - Bruno calls it "triumphant" after telling Apolo he should be in Twilight as the new leader of the pack. "Wonderful."
9.0 - Carrie Ann liked the approach of the two numbers - "It started off strong and it ended stronger."
TOTAL: 27.0
Team: Emmitt and Cheryl
Dance: Rhumba-Samba
Emmitt's having a hard time with the timing of his two styles, but seems a lot happier home in Dallas with his family. He assures them that he WILL get it, but does he? Dressed head to toe in Pepto pink, I'd have to say he does. And he's smiling throughout the entire performance, so if he didn't get it, at least he had fun. Judges said:
9.5 - Bruno calls it a "smooth and balanced blend" that he did with ease. "That was wonderful."
8.5 - Carrie Ann applauds their ability to go back and forth between the two dances, but she thinks he lost it a little bit in his upper body.
9.5 - Len, who is also wearing a lot of pink, says he doesn't think he could've done the routine as well as Emmitt did.
And then, as they bounced up the stairs to get their scores, Tom announced that next week's show will include a performance from Broadway's Newsies, at which time I had a total complete fangirl meltdown and forgot I was supposed to be writing a recap. I love me some dancing newsboys, guys. I can't wait for next week!!
TOTAL: 27.5
Team: Kirstie and Maks
Dance: Quick Step-Samba
Speaking about her chances to win, Kirstie notes that "at least half the time" the winner of the mirror ball trophy was NOT the best dancer. She does have a point - being technically perfect isn't always the most important thing, and Kirstie thinks she can inspire people. Over the past week, she's been inspiring people to try to help the victims of Hurricane Sandy, along with Maks and her fans. Her dancing is fun to watch as usual, but I'm not sure how much longer it will be enough to keep her around. Judges said:
8.0 - Carrie Ann thinks she lost it a little bit in the second half of her dance and that the Samba just fell apart.
8.0 - Len says it was a nice mix and an admirable effort.
8.0 - Bruno tells her, "Technique apart, whatever you do is always entertaining. Only you could turn Cinderella into a stripper!"
TOTAL: 24.0
Team: Kelly and Val
Dance: Fox Trot - Cha Cha Cha
So in case you haven't noticed, DWTS is using their resident soap star to give us our own ballroom soap opera. The steamy chemistry between Kelly and Val is showcased on a weekly basis, and this week it goes a bit further, with a candlelit talk about how life-changing the experience has been. Despite some tough rehearsals, their routine is quick and clean and looks great. The fusion of the two dances isn't awkward at all, and the audience is on their feet. Judges said:
9.0 - Len is happy that they "captured the smoothness of the Fox Trot with the crispness of the Cha Cha Cha." He calls it lovely and well done.
9.0 - Bruno says they maintained sophistication and cheekiness throughout and calls it a great improvement. "Well done."
9.0 - Carrie Ann also loved the way they balanced elegance and says overall it was very beautiful.
TOTAL: 27.0
Team: Melissa and Tony
Dance: Tango - Cha Cha Cha
Coming off a very strong week, Melissa and Tony are tasked with dance styles that are, as Melissa points out, complete opposites. During a rehearsal break, Tony connects with his family on the east coast, giving Melissa some extra motivation to make him proud. Their performance is terrific, but don't take my word for it - I really have no idea how it was technically, I just know it looked good. Judges said:
9.5 - Bruno tells Melissa, "you were on fire!"
10.0 - Carrie Ann says, "Tonight, you are a STAR!" She loved the transition.
9.5 - Len loved the way it was all put together - "Well done."
TOTAL: 29.0
Team: Shawn and Mark (Derek)
Dance: Tango - Paso Doble
With Derek out this week due to his injury, Shawn is back with her original partner, Mark. Not only are her rehearsals a fusion of two dances, but with both Derek and Mark training her, it's also a fusion of coaches. They definitely figured it out by the time Mark and Shawn are in the ballroom, however - it's another fusion that really works, as Shawn and Mark are fierce on the dance floor. Judges said:
10.0 - Carrie Ann is squealing with delight. She exclaims that if there is a definition of what dance fusion should look like, their routine is it. "Fantastico!"
10.0 - Len says "That was a firecracker - the Tango was the fizz, and then the Paso Doble was the explosion."
10.0 - Bruno calls Shawn "The queen of the night" and says that as fusions go, theirs was flawless.
TOTAL: 37.0
In other news, Derek reveals that he WILL be dancing next week.
Team: Gilles and Peta
Dance: Argentine Tango - Samba
Frustrations are high at rehearsals with the team as Gilles is having some problems with the steps of their fusion. Taking a break from dancing to shoot a magazine cover with a close friend, he gets some advice that helps him to refocus. Gilles and Peta consistently give strong performances, and tonight is no different. I don't think the fusion was as natural as the last couple of pairs, but no one's gonna complain when he's finishing the routine with his shirt off. Judges said:
9.5 - Len says, "You were nipping around South America!" He calls the Tango fabulous and the Samba fantastic.
9.5 - Bruno calls it sultry and intense, exciting and erotic, and says he had great presence and command.
9.5 - Carrie Ann thinks it was a fantastic fusion, but the audience books her when she criticizes his "arm thingies." That's a technical term, by the way. "Arm thingies."
TOTAL: 28.5
Before the Swing Dance Marathon begins, Macy's Stars of Dance presents a fusion performance with some young dancers from Utah, where so many Dancing With the Stars pros have connections, including Derek, Chelsie, Julianne, Louis, and Mark. The future stars present a high-energy routine that brings an incredible mix of styles to the ballroom, including Contemporary and Hip Hop.
To end the evening, the All Stars couples are back for the marathon. Each couple will have a spot on the floor, with the judges tapping the dancers out as they judge them. The pairs will earn between 4 and 10 points to be added to their scores, depending on when they are tapped out, so the marathon can (and most likely will) have a significant impact on standings. The biggest challenge in the marathon will be stamina, which some couples have more of than others. Everyone is trying to stand out in hopes they'll get to stay in.
The first couple tapped out for 4 points is Kirstie and Maks, with Gilles and Peta a surprising early exit next for 5 points. Apolo and Karina are the third to leave the marathon for 6 points, opening up the entire dance floor for the remaining four couples.
Emmitt's slide across the floor isn't enough to keep him and Cheryl in the competition, but they leave with an extra 7 points. The teams start pulling out all kinds of tricks, including a cool...well, I don't even know how to explain it with Kelly and Val, but it was neat. Shawn and Mark, flipping around, are tapped out next with 8 points, leaving it down to just Kelly and Val and Melissa and Tony. After a moment of head to head competition, Melissa and Tony's high energy ultimately outlasts Kelly and Val to win the marathon.
Because there is no elimination this week, next week's results will combine this week's scores with next week's for a DOUBLE elimination. The pressure will be on for a lot of our stars!

Catch Dancing With The Stars Mondays and Tuesdays at 8/7c on ABC!
(Image courtesy of ABC)