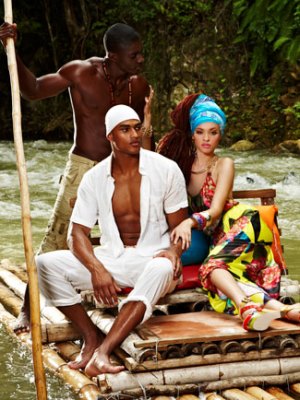 by Kylene Hamulak
Last week's America's Next Top Model: College Edition cliffhanger left us wondering which eliminated girl would be the one invited back into the competition, and the lucky model is revealed right away before hopping on a plane to Jamaica. So who will be packing her bags to continue in the competition?
One by one, the eligible girls are eliminated - Destiny is the first to go, followed by Darian. Yvonne and Jessie are next before poor Brittany is eliminated for the second time at the same panel. It comes down to Allyssa and Leila, and it's not really a shocker when Leila comes out on top by less than half a point.
Guess who's a little pissed about it - Laura! Yeah, she didn't expect that have any competition from another high-fashion model. "I wasn't expecting a super warm welcome," says Leila, "and I definitely didn't get a super warm welcome from all the girls."
Getting ready for Jamaica, the girls are very excited to be going to a beach that will be, in the words of Kristin, "like California times a million." Laura is stoked that they'll get to be in the sun again, which makes me wonder if the girls have been locked away in some dark cell when they're not at a shoot.
Arriving in Jamaica, the models board a bus full of male models that serve as their tour guides. Wait - is that how it works in Jamaica? Is the male model tour guide a "thing"? Because if so...book me a ticket! Of all the girls, Kiara is the most smitten, though Kristin thinks she's making a fool of herself.
They get to a party on the beach, and Tyra comes out to tell them this is the house they'll be staying at. She also tells them that Jamaica is where she shot her first self-produced swimsuit calendar. There's a new Tyra Suite at the villa, and Laura is the lucky resident after winning the most recent Best Photo.
At dinner - with the male models, by the way - Tyra shares her theory that every female model is either a "Smizer" or a "Toocher", but the top girls are both. Victoria thinks she's a mixture of both, but she wants to be less theatrical. Tyra bursts her bubble, though, and tells her she's all body and no face. As she gives them all advice on how to be a great model, it's like she's holding court with all her admiring minions. Oh, and in other news - Kiara is totally crushing on the Jamaican guy.
For their first challenge, Jonte is joined by dance hall musician Konshens. The girls are given the task of creating a dance hall routine and are split into three groups. Leila knows she's going to be teamed with Victoria based on cliques and the reactions to her return, and she's right - Kristin and Laura team up, as do Nastasia and Kiara.
As the teams rehearse, Nastasia is pretty confident because she considers herself a pop-lock dancer, so this should be in her comfort zone. Laura is focused on also being a model as they learn the moves, and Victoria? Well, she danced in a Siamese ballet once. So....yeah, I have no idea why that's relevant, but she has no real dance experience.
Kristin and Laura go first and Laura is yelling out moves as if she knows what's going on while Kristin looks completely out of her element. Victoria and Leila are just as bad, but they're having more fun. Nastasia and Kiara get the moves down better, and the boys like what they see. Victoria and Leila get an 8 for their routine, which annoys Kristin and Laura (who got a 7), but they are beaten in the challenge by Nastasia and Kiara's 9.
Back at the house, Laura and Kristin are once again completely obsessed with getting Leila out of the competition. They're hoping the photo shoot is commercial and not high fashion because they don't think she's good at anything but taking high fashion pictures. They might have a point, but something about the double-team confessional is really desperate and annoying from these two.
So what IS the theme of the photo shoot? They're challenged to tell a story in a single image - a woman caught in a love triangle between Rob (her "husband") and her river raft guide, played by the models from the bus, including Kiara's crush.
Victoria shoots first, naturally with some dramatic backstory to go along with her poses. As Laura takes her turn, Leila tells us that she thinks Laura is scared to have her back in the competition. How astute, Leila! On the flipside, Laura admits to being really frustrated with Leila being back because the judges have always liked her.
Nastasia has a great shoot, meriting a high five from Johnny. Kristin, on the other hand, needs a lot of direction. Johnny is a little surprised that she's still in the competition. And then there's Kiara. Dressed like a bride on the river. Flirting with her bus boyfriend and, as Victoria observes, coming off as distracted during the shoot.
At judges panel, we hear the following:
Nastasia: Kelly thinks Nastasia is getting better every week, and Bryanboy reveals that people love her, calling her "Queen of the Jungle." Rob thinks she looks great, but Tyra criticizes the "hootch" in her "tootch." Quit makin' stuff up, Tyra.
Judges Scores: 8 (Kelly) + 7 (Tyra) + 10 (Rob)
Leila: Rob thinks that both her face and her body could make her a top model, but Bryanboy says her photo disappointed some of her fans. Kelly says it's a beautiful shot, and Tyra makes some confusing comment I can't tell whether it is positive or not, except that Laura is smiling, so I assume...no?
Judges Scores: 8 (Kelly) + 6 (Tyra) + 8 (Rob)
Kiara: Kelly's first reaction to her photo: "What is going on here?" Rob doesn't feel like she's connecting with her models, and Tyra says she doesn't even recognize her face. Fans on social media weren't kind either.
Judges Scores: 6 (Kelly) + 6 (Tyra) + 7 (Rob)
Victoria: Kelly describes her photo as an ad for a "Celine Dion concert in Atlantic City." I don't think that's what Victoria was going for. Rob thinks it's a little dead in her face and says she overthinks everything. Social media doesn't really get a "model" feel from her either.
Judges Scores: 6 (Kelly) + 7 (Tyra) + 6 (Rob)
Kristin: Tyra says she "kinda" likes the picture, but Kelly says it looks lap dancing. Rob defends her at first, saying that she can't help that she looks sexy, but he also tells her that it still seems like she's too cool to act like a fool. And then Tyra acts the fool. And it's ridiculous, but everyone falls all over themselves to fawn all over her because she's Tyra.
Judges Scores: 6 (Kelly) + 8 (Tyra) + 7 (Rob)
Laura: Kelly thinks her photo is a little "Barbie Rapunzel", and notes that Laura is not making any eye contact with the camera. Rob loves the shot, and Bryanboy reveals that social media loves it, too. Tyra thinks it's "slammin'."
Judges Scores: 8 (Kelly) + 9 (Tyra) + 9 (Rob)
Now that Leila is back, the eliminated model will no longer have the second chance that previous girls have had, making this elimination even more stressful for the remaining contestants. When all the scores are added up, Best Photo goes to Nastasia with the highest total score. Runner up is announced as Laura, with Leila right behind her.
With three girls left, Kristin is the next model to be called, leaving Kiara and Victoria in danger for elimination. By just over one point, Kiara's scores lead Victoria's, eliminating Victoria from the competition.
Victoria is crying and disappointed. She's frustrated because she wanted it so badly for her mom and to be a role model for the quirky girls who are different from everyone else.
America's Next Top Model: College Edition airs Fridays at 8/7c on the CW.
(Image Courtesy of the CW)