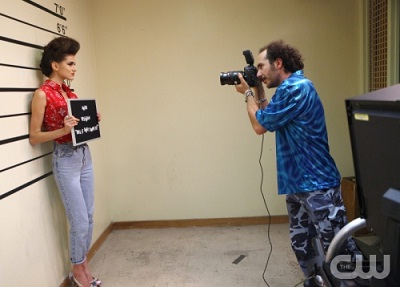 by Gina Scarpa
Following last week's panel on America's Next Top Model, Victoria feels uncomfortable around the other girls - understandably. Over dinner, Kristin tells her flat out that she doesn't feel Victoria can handle the stress of the competition and shuts her down when she tries to defend herself. Kiara jumps in too, prompting Victoria to ask for a truce, then break down and say she can't handle this conversation. Yeah, this is exactly what the girls mean!
At Smashbox, the girls meet up with Kelly Cutrone and Markus Barrington from LA Models. They'll be going to five castings in five hours - Guess, Whitney Port, Cecilia Cassini, I Heart Ronson, and Lulu Guinness. Side note: Did you know Cecilia is only 13?! And she knows what the heck she's talking about, too! Each designer can only book one girl, but one girl can book more than one job. Whoever books the most jobs will be the challenge winner.
Brittany was viewed as the girls next door by almost every designer, which was a good and a bad thing. Over all the designers, Lulu seemed to like her the most. At the Whitney Port casting, Victoria kept trying to talk over Kiara to try to make a good impression, but it pretty much backfired. Charlotte Ronson felt Victoria was too skinny and Laura was too big. Is there really that much of a difference? Laura and Nastasia basically run out of time for Guess, which brings Laura to tears, but they decide to go anyway and risk being late to meet up with Kelly and Markus.
If they WERE late, it wasn't addressed by the judges. Kristin's feedback from the designers was that she's beautiful, but comes across as uptight. They loved Brittany's energy, but didn't feel her modeling skills were as strong as some of the others. Laura had a look that won a lot of positive feedback, but her walk is too stiff at times. Nastasia came across better in her photos than she did in person, and the designers loved Kiara's positive energy, but felt she needed to improve her overall look. Victoria had good manners (I guess, if talking over people is good manners) but overall, they felt she didn't fit their brand.
When the results are read, only Brittany and Victoria do not book a job. Cecilia Cassini chooses Kiara, Lulu Guinness books Nastasia, I Heart Ronson casts Kristin, and both Whitney Port and Guess go with Laura, making her the challenge winner.
Over dinner, Tyra Mail is delivered and the girls find out the following day that their photo shoot this week will take place in a prison. Johnny meets them there and the girls go through the entire booking process, just to try to get them into character. They'll be portraying 50s retro bad girls, photographed by (yes, this is his name) Mark "The Cobra Snake" Hunter. Kiara has an immediate, emotional reaction to being there because she was once arrested for shoplifting. Victoria, on the other hand, goes into a full and ridiculous character and Johnny has to spend a lot of time trying to reel her back in. Kristin had good poses in her shots, but she wouldn't open her eyes enough. Brittany was lacking the edge that she needed in order to really pull off this photo - because no matter how you slice it, she really is the girl next door. When Kiara's time in front of the camera came, she held back a little until she let her feelings and frustrations out. After a lot of yelling and cursing, she was able to get the shot that Johnny was looking for.
Here's how things went at panel:
Kristin: Kelly feels her pictures went up a level this week, Rob says it's high fashion, and Tyra tells her to work her body more. Kristin tries to make the excuse that it was only from the chest up but Tyra argues that modeling is from head to toe. Or H to T, as she calls it.
Judges Score: 8 (Kelly) + 8 (Rob) + 7 (Tyra)
Nastasia: Kelly and Rob don't like her eyes looking up in the photo, but Tyra does. However, Bryanboy says fans were not responding to this shot.
Judges Score: 7 (Kelly) + 7 (Rob) + 8 (Tyra)
Victoria: Kelly says her photo is upsetting and not a fashion shot, Rob says it doesn't work, and Tyra felt her eyes were missing spark. Victoria blames it on girls bullying her and Kelly speaks harshly to them about they way they have been treating her. Really, Victoria? You can't handle people being mean (if you even want to call it that) in the modeling world? Good luck.
Judges Score: 6 (Kelly) + 7 (Rob) + 8 (Tyra)
Kiara: Kelly think the photo makes her look older, Rob says her photos demand attention, and Bryanboy wants to keep defending her but fans aren't feeling her. A low social media score is bad news!
Judges Score: 7 (Kelly) + 9 (Rob) + 7 (Tyra)
Brittany: Kelly doesn't like how she looks, Tyra says she's up and down, and Rob agrees, saying she's falling short. Bryanboy says her fans are the ones keeping her in the competition. Maybe...
Judges Score: 6 (Kelly) + 5 (Rob) + 7 (Tyra)
Laura: Kelly calls it hot and beautiful, Tyra and Rob love it as well, and Bryanboy says people love her but he wants variety. Of course, that sets the judges off and they completely disagree with him - and their scores show it.
Judges Score: 9 (Kelly) + 9 (Rob) + 9 (Tyra)
Best photo goes to Laura, with a combined total score of 41.0. Kristin's name is called next, with a score of 35.8. Not even close. Kiara and Nastasia are next, leaving Brittany and Victoria in the bottom two. Brittany is there because she's been this sweet, Disney type girl, but has let go in recent weeks. Victoria knows how to bring character to a photo, albeit too much at times, but she's inconsistent. Victoria ends up with the higher overall score and Brittany is eliminated from the competition. But not so fast! It's time for Tyra to reveal which previously eliminated girl, including Brittany, will be returning. Unfortunately for us, we have to wait until next time to find out exactly who it is!

America's Next Top Model: College Edition airs Fridays at 8/7c on the CW.
(Image courtesy of the CW)

Follow Gina @ginascarpa