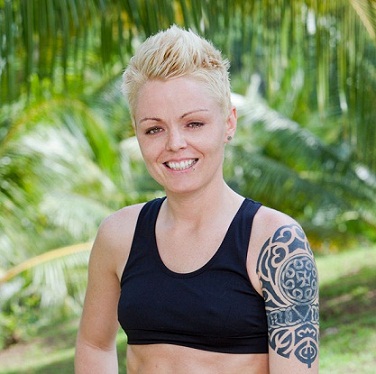 by Gina Scarpa
Survivor players should not have been followed by Kalabaw tribe member Dana Lambert's size. She pitched in around camp and was very competitive during challenges too, all while not feeling one hundred percent. This week, after battling illness since the beginning of the game, she couldn't take the pain and discomfort any more. Medical was called in and cleared her to stay a little longer, but she pulled herself from the game. We talked today to Dana today about whether or not it was the right decision and what she wants people to know about her.
Q. Gina, RealityWanted: Are you a big fan of Survivor? What made you want to try out?
A. Dana: Absolutely! A huge fan of Survivor! Not the kind of fan where I go and look these people up but I've always kept up with Survivor sin the very beginning. I've always wanted to be dropped off somewhere. Can I make it on my own? Can I live off the land? I never wanted to be on tv. Honestly, I was terrified of it!
Q. Gina, RealityWanted: What qualities did you have that made you feel like you'd be good at the game?
A. Dana: I feel like I'm a good team player, a good listener, and I feel like people take to me. I'm usually a pretty likable person and I felt like socially, that could help me. I'm not the most physically fit person but I'm very competitive.
Q. Gina, RealityWanted: Were you interested in the all women alliance from the beginning or did you go along with it after realizing that the men were probably teaming up?
A. Dana: Ever since I watched the show, I would love to go all women in. Women power! I would've loved to see that! I'm a big fan of Penner's anyway, and he's such a sweet guy. I would've never wanted him out but I saw that the men were starting to form an alliance. I guess, you know, the public doesn't get to see a lot of Kalabaw because Matsing kept losing. But if you did get to see us more, we were a pretty happy bunch.
Q. Gina, RealityWanted: When did you find out that Jeff was a former MLB player?
A. Dana: When I got home! Well, no that's not true. Dawson told me later after the show. I found out quite a few other things about Jeff. I had no clue, I'm not a baseball fan, and he was just another guy.
Q. Gina, RealityWanted: Did you learn anything surprising watching the episodes back?
A. Dana: Honestly? I was never surprised that the guys pulled a male alliance, I wasn't surprised that Jonathan and Jeff ended up hooking up. I wasn't too surprised about how it all went down.
Q. Gina, RealityWanted: You looked absolutely miserable out there this week. That had to be hard for you to watch.
A. Dana: This whole season so far, I just cringe at some of my facial expressions. A lot of people don't know that I was sick every single day. Before I started the game, I was sick and I was fighting that sickness. I tried to hide it and felt as long as I competed hard and worked my butt off, they wouldn't take that into consideration to get me out. I was definitely worried about that.
Q. Gina, RealityWanted: When you left the game, did you wish you had stayed or did you know right away that you had made the right choice?
A. Dana: Yeah, I knew I made the right choice. Dr. Turner saying I had 12 more hours... there was no more time for me. I knew it wasn't getting better. There was just no recovering. No tears would even come out, I was so dehydrated. It was the right choice and I hated that because I know a lot of people would die for the show. I love Survivor, but I won't die for the show.
Q. Gina, RealityWanted: You said earlier that you wished we got to see more of the Kalabaw tribe but what do you wish people got to see about you in particular?
A. Dana: I would've liked for people to see me around camp more. I killed a few chickens, made some fire... being sick gave me that even keeled thing the whole time. I wish my personality would've come across a little more.

Survivor: Philippines airs Wednesdays at 8/7c on CBS.
(Image courtesy of CBS)

Follow Gina @ginascarpa