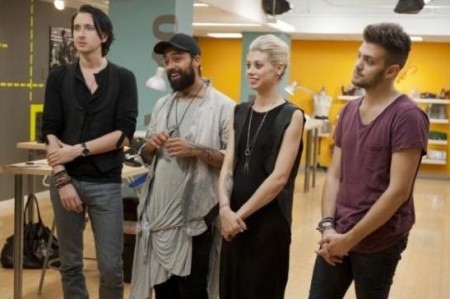 by Todd Betzold

We are down to the Final Four on Project Runway, as the four designers head home to work on their collections in hopes of coming back to New York and earn a spot in the finals and able to show their work at Fashion Week.
We start with Heidi Klum meeting the final four designers on the runway and Tim Gunn joins her. He said he is very proud of all of them. They each will get a $9,000 budget and five weeks to create their collections. She said they all will be making collections, but they are not guaranteed a spot in the final three.
Four weeks have passed and Tim is headed out to check on the designers. Christopher is up first and Tim said he is marveling at how much he has done. His inspiration was the x-ray from his mother's car accident. He used the x-ray to make material. He told him to toughen up the leather bustier. He loved the jacket that he made. Then Christopher showed him a leather skirt he tried to bleach, but ruined and Tim said he loved it and to consider using that on the bustier. Tim said he feels very good with where he is at right now. Tim sits down and eats and has tea time with the family and it is cute to see.
Next up is Fabio, who is feeling very nervous. Tim eats with the family to start before then checking out his collection. His inspiration is creating personas within a tribe. Tim said he loves it conceptually and is really captivated. He said look at this tailoring and draping. He said he is mystified by the pants and it is almost like long johns. He felt the shoes looked like winter. Tim said he had him in his arms, but now he is baffled and confused and wants to know where the innovation is at. He said his collection has the potential for a wow factor, but is undercut.
Up next is Dmitry and he is concerned because he has no time to fix it. He was inspired by geometrical forms that have a fluid form. Tim is loving everything he shows him at first. Tim doesn't like the color of one of his dresses, but sees how it can work. Tim thinks he is very confident, but will the judges think he is doing something different and Dmitry thinks they will. They have a nice moment afterwards over some tea and it was nice to see.
The last designer he checks in on is Melissa and she is feeling good about the collection. Tim is loving the special textiles that she has found and he is really impressed. He said she has an aura about her that she loves the collection and she stands behind it. Tim said the collection could not be more her and it is just a matter of taste and that is not up to her. They then head out on a boat ride with her boyfriend and parents, which was windy!
It is now Fashion Week in New York City and the designers are starting to arrive. The nerves are working overtime for them, because everything is coming to an end. Everyone is happy and in a great mood and glad to see everyone after a few weeks apart. They have some champagne to celebrate getting here, but they still have a lot more to do.
The next day arrives and they head to their new workroom. There are pictures from the season all on the walls and they have a moment together and no one wants to get started. They all walk around and look at each other's collections. Melissa said she was having self-confidence at home, but once she entered the workroom the self-doubt came back.
Tim arrives and tells them they are presenting three looks the next day and they should show range and their best because that is going to determine if they get to Fashion Week or not. Melissa is now freaking out and doesn't know if she pushed herself far enough and is unsure of her place here with the three guys.
Dmitry said he is very underwhelmed by Christopher's collection. He has classy looks and then slutty looks and it is not cohesive. Tim comes back to check in with the designers and their collections. Tim is still not happy with the shoes for Fabio and he said they will either love it or hate it. Christopher is not sure what three looks he is going to go with and is going to wait for the models to try them on to determine, which Tim thinks will make it rushed. Tim tells Melissa to not fill herself with doubts and not over think herself and that these looks are hers and no one else can do them and own them. For Dmitry, he is going with black and white looks for his three looks and Tim is not happy with it. He wants to see color and Dmitry thinks he can explain that on the runway.
Christopher is having a rough time deciding what he wants to show, which is stressing him out. The day ends and they head back to their hotel. They are all nervous, but they only have one more morning to get it together and fight for those three spots.
It is runway day and Tim tells them they have three hours to get their models ready and fitted for the runway. Christopher said he couldn't alter things to fit the models, so it is basically find whatever fits. The designers get their looks on their models and nothing seems to be fitting. Tim comes in and time to head to the runway!
Time for the runway and Heidi comes out. The judges tonight are Heidi, Michael Kors and Nina Garcia...no guest judges tonight. Collections that I liked: Dmitry (the man can tailor and sew and he is good, but I was a huge fan of the see-through shirts) and Melissa (I like the jacket and the cuffs on it and she does a black dress with a cool collar on it, but it is the norm for her and that has gotten her this far). Collections I didn't like: Christopher (it was browns and leather and very plain and he can do better and should have chosen better pieces) and Fabio (the looks were just hanging and just looked weird on the models).
Heidi said there were some things they liked tonight, but also some things that confused them. For Fabio, Heidi said she loves that he has a different kind of appeal and she is intrigued. Michael said it was cool in that he took colors that are normally looked at as sweet, but it certainly isn't this woman and he likes the demented shoes. He likes the cutout of the skirt, but he needs to watch the combinations. Nina said she finds some of the pieces very beautiful, but she wants his pieces to look more luxurious and more sophisticated. For Dmitry, Nina said it looks polished and it looks expensive and the white dress is beautiful and he has worked very hard at the styling. Michael said he has a lot of ideas, so it is turning out to be too much. Heidi said he needs to find his wow piece and partner it with something more boring so it stands out more.
For Christopher, Heidi said she loves the colors and the leather mixed with it, but she wanted to see some major wow pieces. She said the shorts and vest jacket is so boring and doesn't know why he showed it to them today. Michael said to keep trying every possible combination, but he thinks they are beautifully done, but they are normal. Nina said what he has done is great, but they all look so similar and they look identical and she sees very little clothes. She said that she is judging from these three outfits and it worries her, but she is curious to what he has. For Melissa, Heidi said it is very goth and it is very her and the jacket is the hero, but the black dress is too simple. Michael said they are looking for something that is going to be in a fashion show. Nina said you can make a collection in just black and white, but you need to focus on the styling. She said there is a sense of coolness to her collection.
The judges talk and say that Dmitry makes good designs, but they look old. Fabio is unique, but he needs to make them look more expensive. Christopher is a good designer, but does he put on a good show. Melissa needs to style better, but her clothes would be very commercial.
The designers come back to the runway and it is time to find out what they decided. Heidi said if they get to show at Fashion Week, they need to put more styling into it. In no big shocker, Heidi said that they are all going to Fashion Week, but they have the next two days to put their looks together and style their designs and will be headed to the biggest runway ever! Who do you think will win it all? What collection did you like the best?
Project Runway airs Thursdays at 9/8c on Lifetime.
(Image courtesy of Lifetime)
Follow Todd on Twitter @TopicalTodd