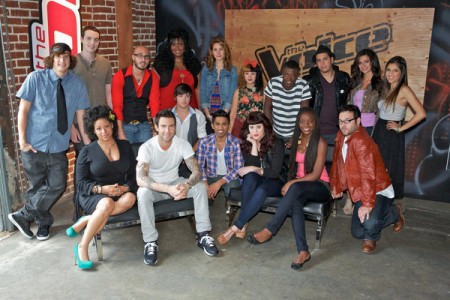 by Todd Betzold
The Battle Rounds kicked off last night for The Voice Season 3 and they started out on the right note, as the singers brought their A-game. Some of the battles were so good that the other coaches just couldn't see that singer go home and stole them away from their coach and team! The steal is an added twist and brings even more fun to this round.
Team Cee Lo: Cody Belew vs. Domo - "Telephone" by Lady Gaga
At first look, this is a very weird battle. We have the big diva Domo and the country soul singer who attacked Cee Lo when he found out he turned around for him. I guess they are both over-the-top personalities, but still awkward. Domo comes out in the rehearsal thinking she owns this and annoys me already. I didn't want her to move on in the Blind Auditions and this confirms it. Cody is concerned about this song being made for her, but I think he is going to own this one. He can sing, but she is worried about the dancing. They put on a very good performance and Domo was all about showing off her sexy moves. I think Cody has a good voice and I just like his personality more. Cee Lo said neither did anything with the arrangement to make themselves stand out, so he is going to go with the one that makes him feel good and that person is Cody!!! No coaches steal Domo, so she is going home.
Team Christina: Aquile vs. Nathalie Hernandez - "You Give Me Something" by James Morrison
Aquile starts out strong in the rehearsal, but Nathalie is struggling as she is not familiar with the song and Christina tells her to pour that emotion into the song. On their second rehearsal, Nathalie improves a lot and Aquile is distracted with everything going on and forgets to sing his lyric, so it could be interesting on stage. Nathalie is only 15 years old, but she works it out on that stage. I love her voice and she has that tone, like Billie Joe Armstrong said, of a Norah Jones. Aquile has a great voice and they sound so good together and this one will be tough. Christina said she loves them both so much, but she goes with Aquile. The coaches all talked her up, but no one stole Nathalie.
Team Christina: Celica Westbrook vs. Lisa Scinta - "Without You" by Kelly Clarkson
Why did we add more singers to their teams and do the steals if we are just going to zoom through some of the auditions and Battle Rounds? This is one and we only see a snippet of their battle and then see Christina pick Celica.
Team Blake: Charlie Rey vs. Rudy Parris - "Bad Day" by Daniel Powter
Another quick look, as the mechanic goes up against the rocker-looking country singer. Blake said that nerves are still getting to Charlie and he beat himself and he has to give it to Rudy.
Team Adam: Caitlin Michele vs. Melanie Martinez - "Lights" by Ellie Goulding
For the first rehearsal, they both start out pretty strong and Mary J. Blige is blown away by Melanie. On the second rehearsal, they both come in and hit a wall. They are having bad days and Adam said they need to be more prepared. The song is not one that will blow you away, but it is very fitting for both of them. They have that Indie feel to them and it sounds real good. Melanie looks like she is about ten years old and sounds so amazing. Adam said he wants them both on his team, but he has to choose and he goes with Melanie. It doesn't end there, as Blake and Cee Lo hit their buttons to steal Caitlin. They fight for her, but she chooses Team Cee Lo!
The Voice airs Mondays and Tuesdays at 8/7c on NBC.
(Image courtesy of NBC)
Follow Todd on Twitter @tbetzold