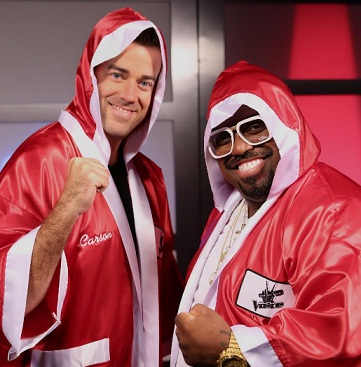 Some of The Voice's most heartbreaking moments occur during its Battle Rounds. During this part of the competition, the show's coaches pit their artists to sing against each other (two at a time) in an epic vocal showdown. The artists often belt their hearts out and create dynamic harmonies - all in hopes of emerging as the victors in their battles. But regardless of how well the teammates work together, each coach can only keep one singer per battle. That is...until now!
We met up with Cee Lo and Carson Daly on the NBC lot to discuss how this season of The Voice plans to maximize the talent that's displayed during the Battle Rounds by introducing steals! After each face-off, the coaches will still have to select one winner, but now, the other coaches will have the option to steal that battle's runner-up by hitting their buttons. If more than one coach tries to steal the same singer for his/her team, the contestant will choose which of those teams he/she wants to join. Each coach can poach two artists.
This clip of Amanda and Trevin dueting from tonight's episode proves that the power of The Steal significantly ups the game's thrill factor!
In addition to explaining how The Steal will work this season, the session with Carson and Cee Lo yielded some revealing highlights. The Season 1 Battle Round between Niki Dawson and Vicci Martinez helped inspire The Steal. According to Carson, "As Niki Dawson walked out of the room [after she was eliminated], I think we all went, 'She has such a great talent. Wouldn't it be interesting if there would be a way to keep her?' And cut to Season 3, The Steal enables us to offer a second shot if another coach is so inclined.'
Cee Lo fans will also be excited to know that he's inviting 19 of his former Voice team members to be a part of his Christmas special - including Jamar, Nakia and Vicci, airing later this year.

The Voice's Battle Rounds kick-off Monday at 8/7c on NBC.
(Image courtesy of NBC)