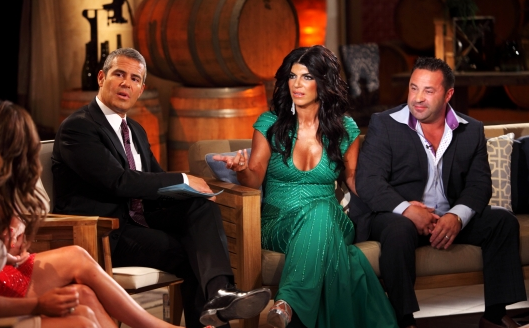 by Jessica Blackwell
It's round 2 at the Borgata Casino! Ding ding ding! Teresa Giudice 5'3, 125 lbs up against well, everyone! 
When we left off, Teresa had made some comments about Kathy and Rosie's father that set Rosie OFF. Lauren Manzo walked backstage to comfort her and  Rosie was able to calm down enough to join the feuding housewives on stage. 
To put a positive spin on something, Rosie described coming out to her niece and nephew and how much she appreciated the fact that they love her just the way she is. Although Teresa tried to throw wrench in Kathy and Rosie's relationship, making comments during the season that Kathy treated her sister poorly when she came out, Rosie clarified it on stage tonight. She made it very clear that she and Kathy's distance had to do with her partner at the time, not her sexuality. And for the record, Rosie is still single. 
Andy wanted to reflect on the train wreck of an RV trip that the ladies took to Napa. He asked Caroline why she didn't accept Teresa's apology and when she explained why, Teresa tried to deny some of the things she said (as usual) but ALL of the other housewives reminded that she did in fact called Caroline a bitch and laughed in her face, so then she blamed it on the wine. 
Another interesting moment was when a viewer wrote in to ask a "bullied" Teresa if she regrets the way she treated Danielle Staub now that she's getting a taste of her own medicine,  and she said yes! Without hesitation! Then again, Danielle isn't on the show anymore and is no longer her competition, so what does she have to lose? Once again, when Teresa was put on the spot (like she was with Napalm), she couldn't answer a simple question.  She couldn't  recall one instance where Caroline bullied her, when asked. That's because it didn't happen! Caroline expressed her hurt over her sister Dina being on the show with Teresa and revealed that she and Dina still are not speaking. I wish someone would tell me why already! 
Melissa is still pursuing her music career and she just shot a music video for her new single "I just wanna". When asked if she thought Melissa could really sing, Teresa said that every time she had heard her sing, she thought she was lip-syncing. So Melissa belted it out, very well I might say, right on stage. It still wasn't enough to satisfy Teresa, who mimicked Melissa claiming she can sing too. Does this woman hear herself? 
Melissa had her crowing glory moment when she screamed to Teresa that she was the victim, not Teresa, but she was visibly upset when she told Andy that she and Joe sold their home in Franklin Lakes because she wants to get away from Teresa and her family. Such a sad situation. Teresa tried to blame the fact that she hasn't spoken to her brother in a year on Melissa but Melissa rightfully told her she has herself to blame. 
A noticeably uncomfortable Joe Giudice joined everyone on stage. When Andy flashed back to the scene at the Vineyard when Joe was purring to whomever was on the phone and calling Teresa his "bitch wife", Joe had the nerve to have a smirk on his face! Joe of course lied about who he was talking to, only admitting to feeling bad for calling Teresa names. He was so clearly lying! He kept his head down as Andy fired question after question basically pleading with him to tell the truth. Joe snidely commented that the garbage that came out of his mouth that day "cost him big". Apparently, we've gone back to the 50's where a man can cheat so long as he makes it up at the jewelry store. How disgusting, great example for your daughters guys. 
Jacqueline, who of course knows the most about the Giudice's relationship stayed mum out of respect for the shred of friendship that she and Teresa have left until Teresa started accusing Chris of cheating on Jacqueline. Then Jacqueline let it all out, telling everyone that name calling between them is rampant, and that Teresa caught Joe with everyone from the babysitter to his secretary. Of course, Frick and Frack denied it all, but I believe her! 
During round 3, all of the men come on stage and it looks like things get a little emotional between Teresa and her brother. They also bring Kim D out who I'm sure can shed some light on what really happened at the Posh fashion show. With Caroline and Jacqueline rumored not to be returning next season, next week may be the last time we see the cast of RHONJ as we know it! As always, stay tuned! 
The Real Housewives of New Jersey airs Sundays at 10/9c on Bravo.

(Image courtesy of Bravo)