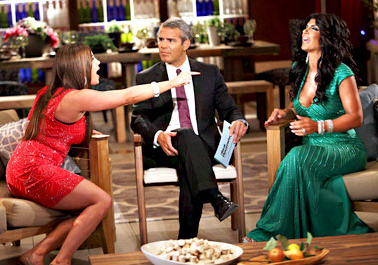 by Jessica Blackwell
Its time to head to Vegas, and this time, what stays in Vegas won't stay in Vegas, because it's broadcast for all to see! All the New Jersey housewives crowded around a brave Andy Cohen to hash out everything that went down this season. 
None of the housewives had seen each other since the Posh fashion show except Teresa and Melissa. Needless to say, tensions were running high and it was barely five minutes into the show before Andy was diffusing cat fights. 
Let's catch up with what's going on with our favorite Jersey ladies. After each brief summary, I will then state how Teresa attacked them, because she attacked each and every one of them. 
Jacqueline
Jacqueline and Ashley are doing better than ever since Ashley now has a paying job and stopped leaving the gas on in her apartment. Her son Nicholas is still struggling with his autism, and he's suffered a setback. During the taping, Andy played some clips of Nicholas and Jacqueline broke down when she heard him say "I love you" to her. He's regressed and is no longer able to tell her he loves her. 
Teresa, true to form interjected during this tender moment and tried to make it about herself. Caroline wasn't having it and shut her down quickly. Teresa and Jacqueline's friendship was front and center for a while, and it was really sad to watch how a seemingly great friendship went down the drain. Jacqueline revealed that she overheard Teresa saying that she hated her from the window of her RV on the Napa trip right after they "made up" and hugged. Teresa of course, denied it. She accused Jacqueline of caring more about the show than her family, and from what I see, that couldn't be further from the truth. 
Kathy
Kathy made some um.. noticeable self enhancements over the course of the past year. Andy noticed right away that she had her nose done and called her out on her lips as well. He rightfully cautioned her not to get any more work done. I don't know why she did it, she looked beautiful as she was. 
For an update on her children, Victoria chose to stay home instead of going away to college which I'm sure was a great relief to Kathy. Kathy's dessert line comes out soon, starting with a Cannoli kit! 
During Kathy's segment, Teresa swore up and down that Ritchie and Kathy almost got divorced over inlay issues. Kathy then countered back that Teresa's mother was a liar too when Teresa brought her up as a source to back her story up.  Rosie who was backstage, flipped out when Teresa said that her own father was there for Kathy and Rosie more than their own deceased father. Rosie threatened to kill her on national TV, which probably wasn't the best thing to say to a sue crazy, bankruptcy ridden woman.  I mean she threatened to sue Kathy if she grabbed her face in the same manner that Teresa grabbed hers at the end of the Napa trip. Although her outburst was short, it looks like we'll hear more from her throughout the course of the reunion. 
Caroline 
Lauren had the lap band surgery and she revealed her new body after a 35 lb weight loss and she looked stunning. A few of the letters from the viewers revealed that Caroline was losing in the court of public opinion this season. Caroline admitted that she was in a bad place this season and that as she watched the episodes, she didn't like what she saw. 
When Teresa tried to make comments about Caroline's children, Lauren went ballistic on her. Teresa tried to say that although Caroline may be a good mom, her children were lazy! Lauren fired back that when she was 9 years old, she wasn't accusing her father of cheating like Gia was. Teresa of course denied it.  One viewer stated that Lauren was a Caroline 2.0 and I think they're right! The funniest part was when Lauren proved that Teresa doesn't write her own blog by asking her to define a word used in it, and she couldn't! Good one Caroline Jr.! In addition to that, Teresa called her an "old hag" counted her rolls (there's three in case you wanted to know), and told her she should have plastic surgery done.  
I'm glad to see the producers shaking it up a bit this time around, allowing spouses and fringe cast members to come on stage during the taping. If you thought tonight was crazy, you ain't seen nothin yet! I can't wait to see how Juicey Joe answers Andy's question about the infamous phone call, and how Teresa reacts to Jacqueline telling the world that she found another woman on Joe's desk! Holy shizz!! Stay tuned! 
The Real Housewives of New Jersey airs Sundays at 10/9c on Bravo.
(Image courtesy of Bravo)