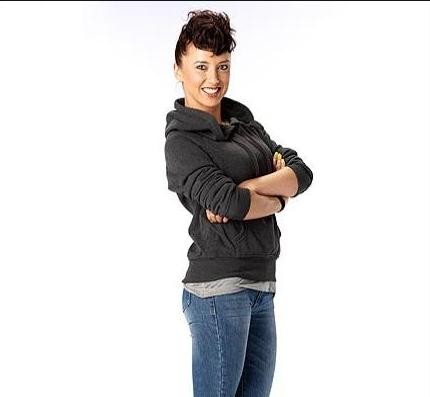 by Todd Betzold
The designers were thrown a couple twists last night on Project Runway. First, they had to design a new look for Heidi Klum's new baby line for Babies R Us and with that came a baby doll that they had to take care of while creating their design. This baby seemed to never stop crying and was annoying as all get up. Second, the designers also were told halfway through the day they must also create a look for the Mom of their client. Designers were stressed and over it all, but in the end Elena Slivnyak was sent home by the judges. Today she spoke to RealityWanted and other reporters in a conference call about her experiences on Project Runway.
Q. Todd, RealityWanted: You mentioned wanting to have celebrities and singers wear your designs onstage. What celebrity would you love to work with?
A. Elena: I would love to work with Lady Gaga and Nicki Minaj. Anyone that seems to have the avant garde style onstage and offstage, those are my favorites. Rihanna, the obvious ones.
Q. Todd, RealityWanted: If you were asked, would you come back and do Project Runway All Stars?
A. Elena: Oh goodness (laughs). I think I would. I'm a believer of second chances and I think doing this a second time and going into it knowing what to expect, I would do a lot better than I did this time.
Q. What were you thinking when you were in the bottom two last night?
A. Elena: I didn't think that I deserved to be at the bottom. I thought there were much worse outfits there and I followed what Heidi Klum's line asked of us. There were designers that didn't really follow that, so I was kind of shocked to be at the bottom.
Q. What's the best piece of advice you received from the judges while you were on the show?
A. Elena: I learned a lot from the show. I'm an avant garde designer and I learned a lot about being more sellable. I don't know if any of the judges really taught me a lot, it was really the whole experience.
Q. Have you been aware that on Lifetime's website, you have been the viewers' favorite, by far, this season? And how does that make you feel?
A. Elena: I am aware. I'm surprised and shocked because there are a lot of people out that don't like me and don't like my personality, but it's a pleasant surprise and I'm trying to take it all in. It's really great.
Q. Why do you think you connected with the viewers so much?
A. Elena: I'm the type of person who speaks my mind and sometimes it's in a good way and sometimes in a negative way. I just speak whatever I am thinking, so maybe the viewers like that. There are a lot of people that wouldn't put out the things I did on TV, but that is the way I was feeling at the time and that's what came out. I'm not going to change who I am for television or for anyone else, so I think that might be it. I'm not sure though (laughs).
Q. You mentioned that you didn't think you should have been on the bottom and looks worse than yours. Who do you think should have gone home in your place?
A. Elena: I honestly think that Dmitry's outfit didn't pertain to the challenge. He made something that didn't really look like it belonged in the collection. I think his was the worse. I don't know if he should have gone home. He was a strong designer and I never won a challenge and I think that's why I went home. I really don't believe mine was the worst from this last challenge.

Q. Did the addition of the dolls throw you off your game a little bit?
A. Elena: Yeah, it made everyone's life more difficult. Working in that environment is already stressful and difficult enough. Then you put the dolls in there and it's just a stress test. It definitely added to everyone's stress level.
Q. What can we expect to see next from you?
A. Elena: I'm working on a lot of thing. I'm going to be working on a sportswear line for my brand. I'm also going to be doing a lot more avant garde work and trying to get more celebrities and singers and stage performers to wear my stuff because that is where it belongs. On the other side of the spectrum, I'm going to be doing an active wear spin-off from my avant garde collection, which is going to be available on my website soon.
Q. Who do you see winning it all?
A. Elena: I would like to see Sonjia or Melissa win. I think those two are the strongest designers left in the competition, but that is just my opinion.
Q. What would you like to say to any of the fans of you and your work while you were on the show?
A. Elena: I want to tell them thank you from the bottom of my heart. I really appreciate every one of them and for being there for me. There were highs and lows from this experience and I wouldn't be where I am mentally without everyone's support.
Project Runway airs Thursdays at 9/8c on Lifetime.
(Image courtesy of Lifetime)
Follow Todd on Twitter @tbetzold