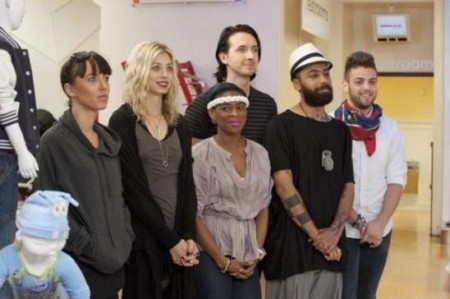 by Todd Betzold

Does it seem shocking to anyone else that there are only six designers left on Project Runway? It seems like the season just started! Tonight, the final six get thrown to the babies, as they are asked to create designs for Heidi Klum's new baby line of clothes and they may have to be babysitters at the same time!
Six designers left and they are all going to claw their way to make it to the final runway and to Fashion Week. The final six head out to Babies R Us to find out about their next challenge. Heidi and Tim Gunn are there to tell them about the next challenge. She has teamed with Babies R Us to design an affordable collection called Truly Scrumptious. For the challenge, they will be making something for Heidi's new line. They have six clients and are between the ages of 12-18 months.
The designers draw their models and there will be two winners tonight: one boy look and one girl look. The two winners will have their designs manufactured by Truly Scrumptious and sold at Babies R Us. Heidi will give them fabrics from her collection to make sure it is cohesive with her collection. They have 30 minutes to consult with their clients and Moms sketch and then have one day to design.
Dmitry is not having fun with this challenge and over the babies. Melissa's client's Mom wants feminine, so baby pink for her and Melissa has never worked with baby pink. Elena is planning on making a cute blazer for her girl and the Mom loves it. Christopher's client's Mom is very picky and he is worried about working with her.
The designers get back to the workroom and they have a surprise from Heidi. They are each given their own like-baby, which will cry, need to be changed and fed while they are designing. The designers are over it as the babies are all crying non-stop!
For the girl outfits, it is Christopher, Elena and Melissa and for the boys it is Dmitry, Fabio and Sonjia. They are working away and trying to keep their babies quiet as well. It is so funny watching these designers. The babies keep crying and they are freaking out. I am dying laughing. Anyone else?
Tim comes in for his critique and joining him today is Heidi! For Elena, Tim said it is good, but is it able to be cleaned easily. Heidi said they want something special, not basic and she likes it. They tell Fabio to inject a little bit more baby into it. They tell Dmitry he is on the right track, but figure out how to make it more cute. They tell Sonjia the more detail she puts in it, the more Mom is going to like it. Christopher seems to be designing a jacket for his client the same way that Melissa designed recently, so she is upset. For Melissa, they are not liking it and she has no fun fact involved with it.
Before they leave, they throw a wrench in it. They must also design a companion look for the Moms as well! They will have another day to work though, so it is a relief to them all. They have 15 minutes to design a look for Mom and $150 budget. Heidi said the focus will be on the baby and they will be judged mainly for that, but the Mom needs a look as well. They head out to Mood to get fabrics for their Moms, with the baby dolls in hand.
Melissa is now changing her course of action and doing a dress for the little girl, instead of the leggings that Tim and Heidi did not like. The end of day one arrives and the designers head home. They are awoken the next morning by crying babies.
They head to the workroom and Tim greets them and said he is going to give them the day off with the babies and take them to daycare! The designers are ecstatic and now have the whole day to focus. Christopher said Melissa is putting her baby in a cocktail dress. He said she is way behind and needs to focus.
The Moms and babies head in for their fittings. Christopher's Mom does not like the dress at all. She puts on her dress and she feels like she has on her Mom's 1970s tablecloth. This is not going well for Christopher. The Moms leave and Sonjia convinces Christopher that this is a challenge more for Heidi's line and they aren't focused on the clients so much. He agrees and will do what he wants as day two ends.
It is runway day and Melissa has a million things to do and is freaking out. The babies and Moms come in to start getting ready. Melissa is so far behind that she asks the Mom to help her sew on a button. Christopher's Mom comes in and apologizes for saying what she said and they start out on a better page today. As they all head to the runway, Melissa is still sewing and Tim comes in and calls time on her and must put it on her client. She said she is dead woman walking and will be heading home tonight.
Time for the runway show and out comes Heidi. The judges tonight will be Heidi, Michael Kors, Nina Garcia and guest judge this week is actress and new Mom Hilary Duff. For the boy looks: I enjoy Fabio's look, but I think I will enjoy all of the looks...they are baby clothes! Dmitry's design looks like a costume and crayon, not a regular outfit. I like Sonjia's look and it is fun, but I like Fabio's the best. For the girls looks: Melissa got a look down the runway, but it was a little plain dress. Christopher did a great job with the dress and it is super cute. Elena did a great job and the blazer is super cute. I like hers the best.
Since only six designers left, they will talk to all of the designers tonight. For Sonjia, Heidi said he looks sharp and like a little man and he looks comfortable in it. Hilary said he can move it and you can dress it up and down. Michael said he looks polished and modern. Nina said it is no-fuss, but it looks really smart. For Melissa, Heidi said she loves the jacket and it fits well with what she already has, but she doesn't like the dress underneath. Hilary said she doesn't like the exposed diaper and doesn't like the zipper, but she likes the look. Michael said her mistakes are with the fabric choices, but the vest is fabulous. Nina said the vest is adorable, but the dress is too serious for a kid. For Fabio, Michael said it is a modern take on nautical and it is very practical. Heidi said she loves the look and it is a one-piece, so it makes it easy. Nina said she liked both and smart to pick a onesie. Hilary said the cut is so cute.
For Elena, Michael said the jacket is very well-crafted, but it is a lot going on and looks like a sample sale. Heidi said she did a great jacket. Nina said the jacket is the problem and no practicality to the jacket. For Dmitry, Michael said he likes how graphic it is and it is borderline costume for him. Hilary said it is borderline costume, but she likes that. Heidi said they both look modern and it is not very commercial, but a lot of Moms would like that. For Christopher, Nina said it looks adorable, but not very practical. Heidi said it is one of those outfits you can't resist. Michael said the jacket isn't working well, but the special occasion dress works.
The judges discuss the designs and remember, we have two winner tonight. I think it will be Fabio and Christopher winning and as far as going home, I am not sure. It might be Melissa going home. Who do you think? The designers head back to the runway and Sonjia wins for the boy look and Christopher wins for the girl look. Dmitry and Fabio are safe, so that leaves us with Melissa and Elena. We get right to it and Melissa is safe, so Elena is headed home! That shocks me big time, how about you guys?
Project Runway airs Thursdays at 9/8c on Lifetime.
(Image courtesy of Lifetime)
Follow Todd on Twitter @tbetzold