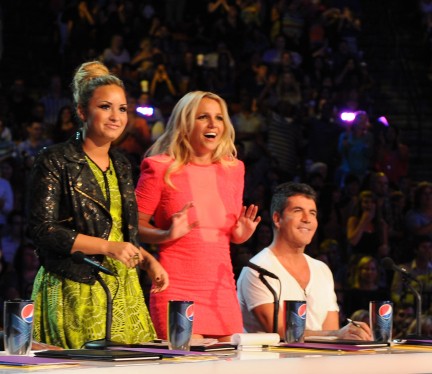 by Todd Betzold
It's been a week. Who is ready for some more auditions on The X Factor? The mentors are back on FOX and we get to see more of the acts that move on to the next round. Is anyone else sick of auditions and ready for Boot Camp?
The auditions kick off in Providence, RI tonight. We first meet Adonis and John, who are the OG's or the Original G's. They are kind of ridiculous and flirting with girls and stuff, but we shall see. They are, of course, hideous and sound so bad. Why they allow these singers through it beyond me? John said nothing during the whole performance, except like one word. Just when the judges thought things couldn't get worse, the bad auditions continued. How long before we find a good one tonight?
Dinah Jane Hansen is a 15-year-old high school student who lives in one house with about 20 people. Time to look for a new place family members! This is her first audition and she is ready to make her family proud. We were due for a good one and she nails this audition. It was good. L.A. said it is tough to take a Beyonce song and do it justice, but she did and she didn't copy her. Britney said she made her day and she really delivered. Demi said she got the chills while she was singing and that doesn't happen a lot. Simon said this is why we came to Providence.
Another youngin', as Arin Ray hits the stage. He is a 16-year-old student and he is back after being on the show for Season 1. He made it through last year, but they put him in a group called Intensity. You remember them. How can he come back and try out if he was on the show last year??? Does this tick anyone else off? A big shocker: he sounds good, but they knew that last year when they put him in a group. This is a waste and he makes it through again.
Apparently they need to get through a lot of people tonight, as we take very short looks at auditions and it is yes after yes after yes. Apparently these people are good enough to make it to Boot Camp, but will they make it any further? I don't think so since they moved through them so fast.
Time for the next hot mess, there were too many yeses. Next up is Changyi, who is 52 years old and looks about 12 years old. She is wearing a little sailor/nurse outfit and just looks so silly. She sings "My Heart Will Go On" and I want to stab my own ears. It is so bad I must fast forward through this madness!
The judges are back in Greensboro to see what they can bring us tonight. First up is Austin Corini, who already has fans in two little girls who ask for his autograph. They think he is so cute, but he has some weird Mohawk thing going on and I want to fix it. The 16-year-old hits the stage and sings some country, which is surprising. He does sound good and he has the girls screaming in the audience, so I bet those first two girls are jealous. Britney said he has an amazing voice and she loves his hair. Demi said he is so cute and he has a great voice, but she wasn't jumping out of her seat for him. L.A. said he thinks he has seen someone like him a lot of times. Simon said he only saw 80% and in this competition he needs to give 110% and needs to be remembered for his voice, not his hair. He gets four yeses, but they are hoping votes from Simon and L.A. and were not that impressed.
Nick Youngerman, who cleans toilets for a living, comes out singing "Ice, Ice Baby" and he has the whole place pumping and even Britney gets up and dances, even though she looked a little awkward! The judges all say yes and he is on his way to Boot Camp.
Is your stomach feeling okay? It is about to be upset a little and I am holding back some puke as I write this. Jaime is a duet that can't stop kissing. They both need to be slapped and they think they will win and then get married and Simon officiates, L.A. is the best man and Britney and Demi are bridesmaids. They come out and they sound alright, but they sing an original song and it is a mess. Simon said it is cabaret and they need to be on a cruise line, so they are heading home and no wedding with The X Factor.
David Correy said he is here and he is leaving with something. He feels he was meant to do this and he drove 13 hours with his brothers to prove it. His birth mother is from Brazil and had him when she was 14 years old and gave him up for adoption. He is hoping by winning The X Factor he is able to reconnect with his birth mother, which is very cool when you think about it. He sounds good and does a good job up there, but nothing that blew me away. Britney said he was great and had amazing stage presence. L.A. said there is something charming about him. He gets four yeses and he is moving on.
The judges are in San Francisco now. The judges do sure get around. And now for the audition everyone is talking about. Up next is Sophie Tweed-Simmons, the daughter of Gene Simmons. Mom and Dad are with her and waiting in the long line for her to get onstage. She wants to not be known as Gene Simmon's daughter, so she comes out and they ask her name and she says Sophie Tweed-Simmons and Demi recognizes her right away. If you didn't want to be known, then just say your name is Sophie! She is a very good singer and has a nice tone to her voice. She has a little country to her voice. Demi said if she got more control she could be really great. L.A. said he didn't get the chill bumps he wanted from her. Britney said she has an amazing voice. Simon said she has an interesting tone to her voice. L.A. says no, Britney and Demi say yes. Simon gives her the third vote she needs and she is headed to Boot Camp.
Tara Simon is a hot mess and doing pushups backstage because it brings blood to the vocal cords. She said she is the Simon Cowell of her studio, which she owns and is a vocal coach. She keeps babbling on when she hits the stage and Simon tells her to shut up and get to singing. She has some good moments when she sings, but seems to be doing runs that never end and are not necessary. She annoys me, so I am not a fan. Simon said we haven't tapped what you can do, but you have the talent. L.A. said he is very happy about that audition.She gets four yeses and I have to bare seeing more of her during Boot Camp.
The next singer is Daryl Black, who is 37 years old and a musician living in San Fran. He is married with five children and said there have been some rough times, but they deserve more and better. He seems funny and is joking with his sons. I am liking him. He has a great voice and it has a smooth tone to it. His song choice might not be the greatest, but he can sing. Demi said he has an amazing voice. Britney said he had great stage presence and his voice was smooth. Simon said he reminds him of Nat King Cole. It is four yeses and Boot Camp time for Daryl.
Trevor Moran is next and he is 13 years old. He makes videos for the Internet and as he makes one in the holding room, he makes a friend and they shoot a video together. An hour later he cannot be found. They finally find him and he is laying on the ground with his mother and pale. They call the paramedics and it looks like he is not going to audition, but it ends with To Be Continued...
Find out how Trevor makes out and see the last night of auditions tomorrow!
The X Factor airs on Wednesdays and Thursdays at 8/7c on FOX.
(Image courtesy of FOX)
Follow Todd on Twitter @tbetzold