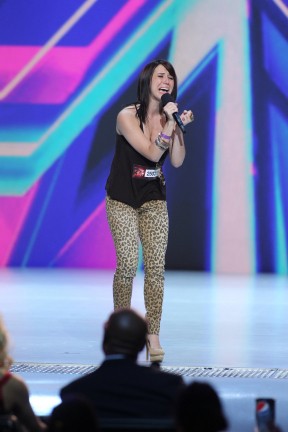 by Todd Betzold
These shows like The X Factor love to show the auditions that they know are going to make people cry. Jillian Jensen's audition was definitely one of those auditions that brought a tear to your eye if you were watching, even Simon Cowell shed a tear. Jillian put all her emotions from being bullied in school and put it into her performance and everyone loved it and she moved on to the next round. Today, she talked with RealityWanted in an exclusive interview about her special moment with Demi Lovato after her audition, making Simon cry and much more.
Q. Todd, RealityWanted: What made you initially try out for The X Factor?
A. Jillian: I had found out about X Factor last year. I was in Florida on vacation. I was actually doing the American Idol Experience at Hollywood Studios and a bunch of people from the audience came up saying X Factor was doing auditions and I should audition. I actually missed the audition by a month or two, so I said I always loved Simon, so next year I'm gonna do it and I stuck by my word and did it.
Q. Todd, RealityWanted: There wasn't a dry eye in the place during your performance, including Simon. What was it like bringing Simon to tears?
A. Jillian: I didn't believe it. I saw that the crew got very emotional and that made me even more emotional, just knowing that I touched so many people. My parents said Simon was crying and I said nah, Simon doesn't cry. I didn't believe them until, honestly, I watched the show for myself. I couldn't believe it because, like I said, I love Simon and I've followed Simon on all these shows throughout the years and I've always been a huge fan, me and my Mom and to make Simon Cowell cry. I'm still in awe. I can't believe it.
Q. Todd, RealityWanted: What was it like seeing your audition on TV?
A. Jillian: I was crying again (laughs). That sounds so strange, but I've taken myself out of the situation and just watching it as an audition itself. I was once again in tears watching myself. My house was full of people watching it, so I was quite embarrassed. It was very, very surreal and probably one of the coolest experiences of my entire life.
Q. Todd, RealityWanted: You showed a lot of emotions during your audition. What was going through your mind when you were on stage?
A. Jillian: I always told myself if I ever got the opportunity to do an audition in front of the actual judges for any show, I wanted to dedicate my performance to those that have been through what I've been through. It's something that is still so fresh for me that I was still so scared, but I kept promising myself, "You're gonna do this. You're gonna help a lot of people and help yourself heal." It was probably one of the scariest things ever to just be so vulnerable and to open up because I really haven't. Unless you were really close to me in my life, you didn't know. I didn't tell people because I didn't want to tell people. I was extremely embarrassed by everything that I have been through and kept it to myself as much as I could, so I was really, really scared. I was petrified beyond words.
Q. Todd, RealityWanted: Demi came up and gave you a hug. What was it like to share that moment with her?
A. Jillian: I saw her waving me over and it was kind of like a moment where I was in shock it was happening. Obviously you saw, I broke down even more when she hugged me because it was someone I had got to watch go through it. All of us know her past and her story and her being an advocate for anti-bullying and for me to have gone through it, it meant so much to me to have that moment with her and for her to tell me, "I got through it and I know you can too." I felt a warmth come over me when she said that. It was such an amazing moment and I'm very grateful for it.
Q. Todd, RealityWanted: If you could, is there anything you would say to all those bullies now?
A. Jillian: I made a tweet about this and I'll say it again. They've been the fuel for my fire. They pushed me to pursue music more and more, so honestly I don't have much to say besides that. They got me to where I am today. I have always been passionate about music, but when I was going through what I was going through I turned to it more than ever. It literally, in so many ways, saved my life. I can't look at those who have made me more passionate and say that I hate them or that I am mad at them. I can only say thank you for being the fuel to my fire.
Q. Todd, RealityWanted: If you were to make it past Boot Camp, what mentor would you like to work with and why them?
A. Jillian: It's not even a question (laughs). I would probably want Demi, just because she is my age and she gets me in a way that I don't think the other judges understand. I think I would benefit a lot from her mentoring just from a personal standpoint and as a musician.
Q. Todd, RealityWanted: Anything to say to your fans?
A. Jillian: I just want to say thank you to them. I am so extremely grateful for all the tweets and Facebook messages. I can't even express how humbled I am by their support and their love. It means the world to me.
The X Factor airs Wednesdays and Thursdays at 8/7c on FOX.
(Image courtesy of FOX)
Follow Todd on Twitter @tbetzold