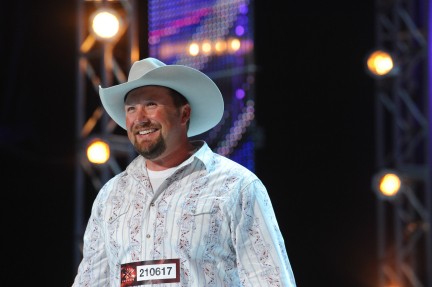 by Todd Betzold
There was not a country singer on The X Factor during Season 1, but we may just have a country singer win it all during Season 2. Tate Stevens came out and blew the judges away with his voice and his talent. Britney Spears said he was her favorite so far and she loves him. He is strong and confident and at 37 years old, he is ready to make his dreams happen. Today, he talked with RealityWanted in an exclusive interview about his audition song, auditioning without Simon Cowell there and much more.
Q. Todd, RealityWanted: What made you initially try out for The X Factor?
A. Tate: It wasn't my idea. It was my wife's and my kids' idea. I normally wouldn't do that thing, the reality show kind of thing, but since it was in Kansas City, my wife was like you gotta try and see what happens. So, we went down and so far so good.
Q. Todd, RealityWanted: What made you choose "Anything Goes" as your audition song?
A. Tate: It's just a great song. I'm a big Randy Houser fan and it fits me. It fits what I do and when I'm doing my own shows and I really like his style and it just kind of fit.
Q. Todd, RealityWanted: What was it like seeing your audition on TV?
A. Tate: It was a little weird just watching myself. I don't know a lot of people that like looking at themselves in pictures or listening to themselves on tape, but it was weird. It was pretty cool, but at the same time it was kind of weird too. It was kind of awesome and kind of strange (laughs).
Q. Todd, RealityWanted: You seemed very confident on stage and you were cracking jokes. What was going through your mind when you were up there?
A. Tate: Just be myself. Just do what I do and they like it, they like it and if they don't , we'll go to work tomorrow and keep on, keeping on.
Q. Todd, RealityWanted: Simon was out sick for your audition day. Did that relieve some stress for you not having him there?
A. Tate: No, not really. I was actually looking forward to him being there. Honestly, if they didn't like it, I just wanted him to absolutely beat me up with those cool British things: it's rubbish, but just give it to me and let me have it. If you don't like it, don't be nice. Let 'er rip.
Q. Todd, RealityWanted: What was your strategy heading into Boot Camp?
A. Tate: Just to continue to be myself and working hard and trying to get the yeses to keep going. The whole goal is to win $5 million and that's what I'm going to try and do.
Q. Todd, RealityWanted: If you were to make it past Boot Camp, what mentor would you like to work with and why them?
A. Tate: That is a toss-up between Simon and L.A. Reid. Simon because he has such a big outlook. He kind of sees things that maybe other people don't see and he can kind of make things happen in that way. L.A. Reid for the fact that his list of accolades is longer than anyone probably in music history.
Q. Todd, RealityWanted: You are getting a lot of love from everyone out there. What has this whole experience meant to you so far?
A. Tate: It's just been amazing. The outpour of people who have said such great things and wonderful things, that means a lot. I've done this a long time and it's kind of all been validated. It's awesome and I can't thank people enough for being nice.
Q. Todd, RealityWanted: Anything to say to those fans?
A. Tate: From everything that is me, thank you so much and keep it going. Let's keep this ride going. If I get voted off tomorrow, let's just keep going and look for me out there touring because I'm coming.
Q. Todd, RealityWanted: Is there anywhere they can find you?
A. Tate: I have a Facebook page and there is an official fan page now and Twitter. I'm just learning the Twitter thing. It's kind of weird. Wednesday after the show, my son, he is 15, so he is all up on the social media thing. He was on Twitter and he told me I was trending five and I had no idea what that meant. He said you're the fifth most popular thing talked about on Twitter. So, I thought maybe I should learn how to do this (laughs). Like I said, it's been a cool experience so far and I hope it continues, so follow me on Twitter and Facebook and join the Fan Page.
The X Factor airs Wednesdays and Thursdays at 8/7c on FOX.
(Image courtesy of FOX)
Follow Todd on Twitter @tbetzold