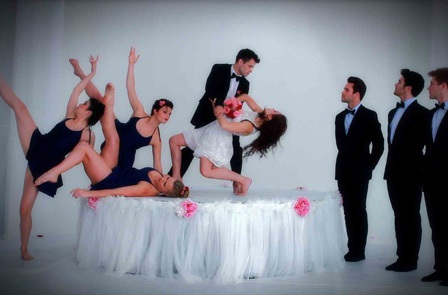 by Gina Scarpa
The Shaping Sound show finished to a standing ovation and rave reviews. After seeing the clips of it on last week's episode of All The Right Moves, are any of us surprised?! I'm still shaking my head over Sing Sing Sing! At the after party, Gil Stroming (who runs major dance conventions such as Nuvo) can't stop raving. Alana, Robert Ulrich's assistant, watched the show on his behalf and tells Kyle that they feel he has what it takes to be a star. She seems interested in him for more than his dancing, and the two end up going on a date! Good to see him moving on after TeddyGate.
There's no rest for the weary in this bunch! Teddy goes right into rehearsal for the Misery Loves Company documentary, which Kyle and Alison are also a part of. After a demanding routine, set to "The Alphabet" by David Guetta, Teddy informs the group that rehearsal will take place for the next six days, and run eight hours a day. Yikes! That would be exhausting to anyone, never mind a group of people that just finished a show. Kyle decides to drop out, saying that he's exhausted but it seems like there's more behind it...
Travis meets up with Adam Shankman (love!) to talk to him about his dreams of being a director. He wants to focus on his solo career, but it's kind of a weird time to decide this, with Shaping Sound just taking off. Adam advises him to make a short movie displaying his ability as both a choreographer and director, and also tells him to talk to the guys as soon as possible about this.
Teddy and Nick don't seem to take the news too hard that Travis is planning on focusing on himself, though it could just be all in the editing. Kyle, on the other hand, is a different story. He came to L.A. under the impression that he was a founding member of the company, only to find out he would just be a dancer. Teddy has already broken his trust and just as the company is taking off, Travis seems ready to walk away. It seems Kyle was hoping this would be his source of income and the thing to help launch his career - time to look at Plan B!
The YouTube channel DanceOn meets with Nick to look at him for hosting, but it turns out Mr. Personality isn't so good with scripted lines. He stumbles over and over, but the people at the channel like what they see and give him a second shot at the job. In his second audition, he's much more relaxed, he's funny, and it doesn't hurt that he has company member and friend Melanie Moore to interview as part of it.
Travis works with Ingrid Michaelson, who fell in love with his work after she saw one of his pieces set to her song last season on SYTYCD. He has bigger plans than just choreographing so he uses her song, "Black and Blue", to submit a video for directing. All four guys perform in the piece and Jaimie lands a starring role as a bride whose relationship is crumbling. After being injured and sidelined all season, it's awesome to see her back!
Though Travis has submitted Shaping Sound for Dancing With The Stars, he's now thinking of moving to New York for a few months to work on the Off-Broadway show Bare. The show, about two high school boys who fall in love, seems perfect for him to start taking his career to new heights, especially if it goes to Broadway. And speaking of, did anyone know little Travis was in The Music Man with Eric McCormack?
I can't believe it's already time for the season finale... do we have to say goodbye yet?!

All The Right Moves airs Tuesdays at 10/9c on Oxygen.
(Image courtesy of Oxygen)

Follow Gina @ginascarpa