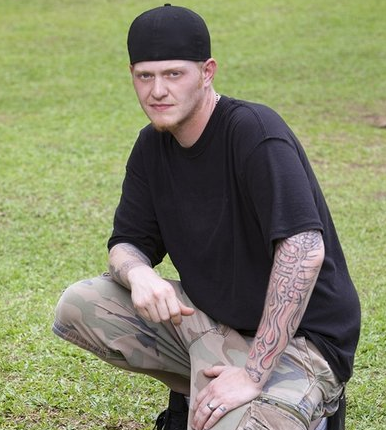 by Gina Scarpa
Zane Knight started playing big from the minute Jeff Probst said "go" this season on Survivor: Philippines. He made alliances with everyone in his Matsing tribe, asked people to vote him out after losing the challenge, and then tried to blindside returning player Russell Swan. Let's just say things didn't go his way, but it's too bad because Zane is definitely a player with heart - and an entertaining one at that! We talked to Zane today in an exclusive interview about his short-lived time in the Philippines and about why he has no regrets.
Q. Gina, RealityWanted: What made you decide to audition for Survivor?
A. Zane: I don't think anybody, even if you've only watched one or two episodes, isn't a fan. It's one of the most awesome game shows with one of the best prizes. It was a joke between me and my wife. We were watching South Pacific and she said I should try out. I had like four hours before the deadline. I recorded a 28 second video on my cell phone and sent it in. The next day, I was on a plane to L.A. I think if you overthink anything, you're probably going to mess it up! I've watched a lot of audition tapes on YouTube and these people spend an hour and a half showing how to build a fire or pick berries. That's not Survivor! You gotta know in the back of your mind that you can take anything but I feel like at the same time, this game is a social game.
Q. Gina, RealityWanted: How did you feel about three small tribes, and having returning players in the game?
A. Zane: Returning players sucked! You can have ten tribes if you wanna, that doesn't bother me. I knew I was coming in to take over. The returning players... I hate to see them come in. I would love to watch Survivor strictly on the basis of newbies. The emotion that's in it, you can tell these people are really trying to survive. When you get someone who's been in two or three times, they already know the blueprint. They can run the game or be eliminated from jump. Russ has that about him. He's your best friend but you're scared of him at the same time.
Q. Gina, RealityWanted: You were making deals with everybody in your tribe but who were you the most interested in working with?
A. Zane: Jeff Probst! Whoever signs that million dollar check! At the end of the day, I never really picked anybody. I grabbed people as they came to me. No alliance was ever any bigger than another.
Q. Gina, RealityWanted: Russell obviously rubbed the Matsing tribe the wrong way initially. What did you think of the way he entered the game?
A. Zane: Like I said, he's your best friend and you're scared of him at the same time. He's every sense of the word "survivor". After you attach those four letters to your name... and those letters are B-O-S-S... it's hard to let them go. You can't ever let go of that! My mama's been a boss for 20 years and the company laid her off and she needed another boss job. You can't go back. That's Russ's character. He came in being the boss. I don't think it was meant to be like that. He knows the best way to build a fire, where to put the shelter at, how to run the challenge, it's just the way you do things. Seeing him in the challenge saying "You're gonna do this and that's the way it is"... the thing that got me was that everybody just did it! He was thinking, "As long as I can win, they're gonna love me!" That's why I wanted to go for Russ. My whole basis was if I get rid of Russ, I got everybody locked.
Q. Gina, RealityWanted: Alright, let's get to the question I'm sure everyone is asking. Why did you tell your tribe to send you home?
A. Zane: Because man, that's the bravest move ever! I'm gonna tell you like this. I would rather be voted out because I tried something crazy then get voted out because they didn't like me or something like that. This is a pivotal moment. If it works, I'm the man. If it don't, how many people can leave this game being happy with what they saw on tv? You see what I'm saying? I loved every second of it!
Q. Gina, RealityWanted: So you weren't bitter about your elimination...
A. Zane: Oh no ma'am! If you were playing chess and someone beat you, you wouldn't say, "I'm never playing chess again!"
Q. Gina, RealityWanted: There are a lot of people who would love a season full of Survivor players who were voted out first during their original season. I assume you'd go back then.
A. Zane: Oh my goodness! I'd come back today! Ya'll can put me on a plane this evening! I'm young, I'm resilient, I can roll. We can go again!

Survivor: Philippines airs Wednesdays at 8/7c on CBS.
(Image courtesy of CBS)

Follow Gina @ginascarpa