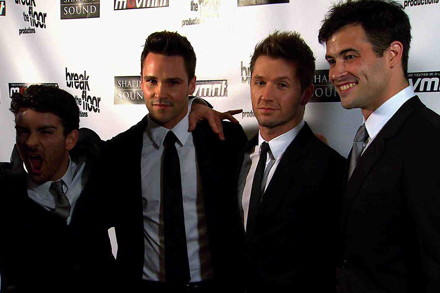 by Gina Scarpa
The premiere performance for Shaping Sound is only three days away and the guys still have a lot to do in order to put it together! Travis and Nick go costume shopping, bringing company dancers Kayla and Alexa along with them. It's tough for Travis and Nick to not only be in charge of the company, but raise the money and make all of the decisions about the performance, plus put the entire show together. Oh wait, isn't Teddy part of this too?
Once again, Teddy has an opportunity that pulls him away from Shaping Sound. He'll be filming a documentary for Misery Loves Company, and tWitch and Kyle will be a part of it too. Nick is starting to get annoyed, understandably, because Teddy is late to rehearsals and doesn't seem that focused on the company. It could be that Nick is just stressed out about his solo. It's not that he can't dance it, but he's just nervous about choreographing it. As he puts it together to "Brutal Hearts" by Bedouin Soundclash, it seems like it's going to be a standout moment in the show.
Kyle gets another shot in front of a casting director - this time, with Glee's (and The Glee Project's) Robert Ulrich. He seems to like Kyle's personality a lot, but I'm not sure he was totally sold on the acting just yet. He's definitely interested in seeing him dance, so Kyle invites him to the Shaping Sound show. Definitely a good sign!
Going into the dress rehearsal, Travis doesn't feel right but he tends to get worked up before things he's performing in. It doesn't help matters, though, when Kyle hurts his wrist and Melanie goes down with a knee injury. The second injury really pisses Travis off since rule number one in dance is that the guy always goes down before the girl. The guy should never let the girl fall. Someone needs to tell that to Melanie's partner.
With just hours before the show, the dancers run into all kinds of problems from the dance floor not being what they wanted, to unanswered questions about choreography, to a chair that won't slide. Teddy tries to warn everyone saying that the chair would break but Nick gets a major attitude when it's suggested that he change his choreography to avoid using the chair as much.
Finally, the performance has arrived and after a pep talk backstage, Shaping Sound takes the stage. Piece after piece, everything looks amazing but during Nick's solo, instead of breaking, the chair slides too much and Nick falls to the ground. Somewhere I feel Teddy is saying, "I tried to tell you..." to himself. Sing Sing Sing closes Act 1 and Travis collapses afterwards, feeling dizzy and completely out of breath. For a few scary minutes, it seemed like Travis wasn't going to recover but of course, he does, and the show finishes to thunderous applause. If only those audience members knew what it took to get here!

All The Right Moves airs Tuesdays at 10/9c on Oxygen.
(Image courtesy of Oxygen)

Follow Gina @ginascarpa