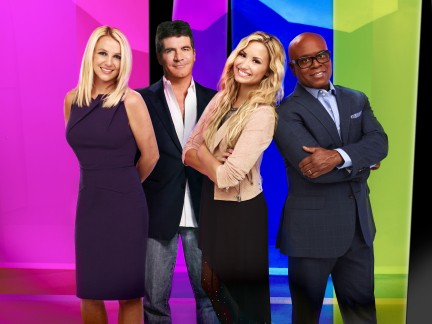 by Todd Betzold
Despite the low ratings last season, The X Factor is back for Season 2 and I would not be any happier. I loved this show and thought it was fun to watch, but I am even more excited for Season 2. Why you might ask? It's Britney, bitch! Britney Spears and Demi Lovato join Simon Cowell and L.A. Reid on the judge's panel, so this should be fun to watch.
Season 2 kicks off in Austin, TX and they came out big time to try out for the $5 million prize! As much as I love Britney, I think I am going t love Demi and her sarcasm that she is going to be dishing this season...anyone else? We get a look at Paige Thomas, 21 and a nursing student. She said she is most excited to see Britney because she is a sexy Mom and so is she. Kaci Newton, who is there with her older sister, started talking smack about Paige and her daughter and Paige had a run in her nylons. Then they share a mirror and Paige's daughter gets some grease on Kaci's outfit, which they start freaking out over. This is how it will go: Paige will sound amazing and Kaci (the big diva and thinks she is great) is going to sound horrible! Kaci and her sister are so annoying and if possible, I'd slap them through the TV!
Paige makes her way to the stage and she tells her emotional story and starts to cry, as Kaci rolls her eyes backstage. She sings "I'm Going Down" by Mary J. Blige. Oh yeah, Paige rocked it out! She owned that stage and gave me chills. I love this one and Kaci was looking a little nervous in the back, as expected. Britney said she is bright and beautiful on stage and she is flawless. L.A. said he doesn't know why she keeps avoiding the inevitable because she is a star and she reminds him of Rihanna. Demi said her stage presence is amazing and she is a super star. Simon said her whole story is the reason why this audition is one of his most favorite. Four yeses from the judges and she is moving on.
Kaci and Kaylee then move on to the rest of the holding room and said that Kaci is prettier than most in the room. Oh FOX, you know how to edit to make me very angry! The next singer is Shawn Armenta, who is 50 years old and an Airline Baggage Handler. He said he is a singer and a dancer and been working seven days a week for four hours a day for a year and a half, so he is serious about this. He looks like a creeper and maybe like he would take you home and rape you! The practice hasn't helped because he is a hot mess! Simon said he is a mouse trying to be an elephant. Demi said a lot of people work hard for their dreams, but it is not meant for everybody. Shawn then tells her that is why she uses auto tune. Britney then said she feels uncomfortable with him on the stage.
We get a look at Britney being not such a sweetheart and giving out some not so nice reviews for the contestants and it is quite funny. Up next is the Justin Bieber lookalike, as 13-year-old Reed Deming who sings "It Will Rain" by Bruno Mars. He sounds great to me, but Simon cuts him off and said he wants to hear him sing a different song and focus on his vocals. He then sings "Grenade" and I think he is great. Simon said he seems like a hard worker, but he wants better vocals from him, but we could be looking at a future pop star. Demi said he shines on stage. L.A. said he reminds him of Bieber and his personality is larger than this building. Britney said he is completely and utterly adorable. Four yeses from the judges, so he is through.
Can Kaci go audition so I can stop hearing her talk??? Finally, Kaci Newton hits the stage and this should be annoying as all get up. She started alright, but it just got worse and no applause from the audience and her sister didn't look happy backstage. Simon said it sounded like she was dying. She tries to sing again and it is just as bad and the judges send her on her way. Amazingly, the sisters are not as vocal after that performance!
The judges head over to San Francisco to see what they have to offer. It did not start well for San Francisco and it is about to get worse as we meet Quatrele Da'an Smith, who is a 21 year old cake decorator. He is wearing lipstick, and slutty version of a wedding dress. Of course, he sings "Born This Way" by Lady Gaga. He is not great, but not as terrible as I thought he would be. He is a hot mess, but he is entertaining. Britney said he was off-key a little bit, but he is really entertaining. Demi said she loves him and she loves his lipstick color. Simon said if Madonna, Bobby Brown and Dracula had a child it would be him, but in a weird way he liked him. L.A. said no, but then Britney, Demi and Simon said yes and he makes it through.
Next up is the first group of the night, which is Emblem3 who are between 15 and 19 years old. They are skater boys and look ridiculous, but we shall see. We also meet Vincent Thomas, who is 22 and he looks like a boy band member. He gives the boys tips on how to perform as a boy band and they are not having it and look over him. Vincent takes the stage first and sings "Sorry Seems To Be The Hardest Thing" by Elton John. He sings it's a sad, sad, sad situation and it is so true! Simon said there used to be boy bands and there was always one that couldn't sing and that is him and says no.
Emblem3 takes the stage and they sing an original song called "Sunset Boulevard" and they think it is a hit. It is amazing and the crowd loves it, especially since they are cute boys. They do some rapping in it and it is very enjoyable. L.A. said he doesn't like them, he loves them. Britney said they are very funky and their voices are smooth. Demi said they are so cute and so much fun to watch. Simon said he loved everything about this audition and he predicts big things from them going forward and of course they all say yes.
Up next is Don Philip, who did a duet with Britney a few years ago and he said he wasn't ready for it then. He said he has been working hard since then with his producing and writing and he said this has to be it for him. Britney remembers him and Simon asks what has happened in the last ten years and he starts crying. He sings "Halo" by Beyonce, which can be hard to sound good at being compared to Beyonce. He has some good moments and you can feel the emotion in the song, but I think it was just average. Simon said he doesn't have a good singing voice, honestly. Don looks to Britney and she said that through the years he has gone through some hard times, but his voice isn't what they are looking for on The X Factor. The judges vote and they all say no and he looks hurt that Britney said no.
The judges head to Providence, RI for the next set of auditions and up first is Jennel Garcia is next and she is 18 years old and she is freaking out about going on stage and she is doing this for her family. She hits the stage and those nerves go away because she looks very confident during her performance and sounds really good, but stop flipping the hair girl. L.A. said she is feisty little fireball and he is feeling her. Britney said she was not expecting that and that was incredible. Demi said that she has this cute face and likable and then all of a sudden she is on fire. Simon said that she is right on the money and what is missing in the pop industry is a young Pat Benatar and he likes her a lot and the judges all say yes.
On a sidebar, Britney brought out the hot red dress for the Providence auditions and her girls are rocking in that dress! Up next is Jillian Jensen, who is a 19-year-old part-time piano teacher. She said she is a fan of Demi and she was also bullied in middle school and didn't know how to deal with it and would cry herself to sleep at night. Her Mom told her she can't wait for her to do it. This girl better rock it or I am going to be upset. L.A. said he doesn't know where the bullies are, but she is up on The X Factor stage. Demi said we are on TV and they are at home watching us. She is really good and you can feel that emotion in her voice and I just want to see what else she can do. The crowd comes to their feet and she breaks down on stage after her performance. Demi heads up there and gives her a hug. L.A. said he has never heard anyone take their pain and experiences and pour it into a song like she did and she's got it. Britney said she shouldn't be crying because she is amazing and her voice is raspy and sexy. Simon said that was incredible (with some tears in his eyes) and it was sang with so much pain and it is a time for her to stay strong because she is incredible. Demi said she can't believe how amazing that was and when she sang she broke her heart. The judges all vote yes and she is moving on and her family all come out to celebrate.
The X Factor airs on Wednesdays and Thursdays at 8/7c on FOX.
(Image courtesy of FOX)
Follow Todd on Twitter @tbetzold