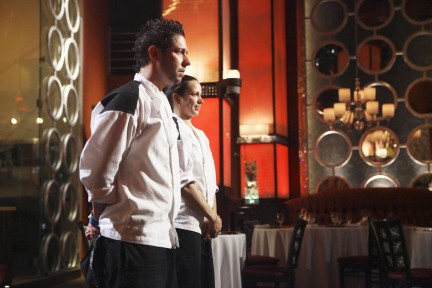 by Todd Betzold
We found out last week on Hell's Kitchen that Christina and Justin would be cooking in the final dinner service and one of them would be crowned the winner of Hell's Kitchen Season 10! With Christina winning the final challenge, it looks like she could be a stronger chef then Justin, but it all comes down to this last dinner service we will watch tonight.
We get back with Clemenza looking like he may walk out, but after Justin and him did some talking, Clemenza decided to stay, but will he be an asset or liability? The morning of the final dinner service and Christina and Justin are freaking out and they all head down to get prepared for the biggest dinner service of their lives.
Justin is very focused and yelling orders to his brigade so he makes sure that everyone is focused and not slowing down. While Justin is a drillmaster, Christina is taking a different approach and more laid back and wants everyone to have fun in the kitchen.
Chef Ramsay wants to taste both of their menus before the dinner service and sign off on them. Clemenza burns his dish and must make a new one, which Chef Ramsay is not happy about waiting. Clemenza gets it fixed and Chef Ramsay tastes Justin's dishes. He said too much salt on the first, the second one looks awkward to eat and the third one is great. For Christina, the scallops are nice, her salad needs to be sexier in the plating and less collard greens in the last dish, but he said her best job so far. They did the changes he requested and he is impressed by both of their dishes.
Christina and Justin meet with their teams one last time before dinner service and give them a pep talk before James opens Hell's Kitchen for the 140th time! Guests are coming in and drinks are heading out. The family members of Christina and Justin are both diners in Hell's Kitchen. The appetizer orders start coming back and the teams get started. Robyn says she has three minutes on risotto and Christina is pushing her on the time and monitors her time, but they get the risotto out to the dining room. For Justin, Royce sends up a cold crab cake and Justin sends it back. He tries again and this time they are dried out.
Royce finally sends up some good crab cakes, Justin's team is finally sending out some apps. For Christina, Dana sends up bad scallops and Robyn sends up bad risotto. They try again and Robyn brings up the risotto and they are still waiting on the scallops. The second time is the charm and their apps are now done and the guests seem to be enjoying their food. Justin is now working on his last table of apps and Clemenza is falling apart. He sends up raw salmon and Chef Ramsay asks if he is trying to sabotage Justin. He gets the salmon sent up again and the last of the apps are sent out.
Time for the entrees for both teams and Christina is trying to get her first order of entrees out. Dana and Christina are having a lovers' quarrel and Dana thinks she is sending up good halibut, but Christina wants new ones and Dana isn't backing down. Chef Andi comes over and tells Dana to do what Christina wants and Dana is still certain the halibut is fine.
An hour into dinner service and Dana is trying again with the halibut. Christina is giving her one more chance on the fish station. Meanwhile, Justin's team is sending out entrees quickly. However, James brings back a dish from a diner who said his food is cold. Justin sends it back to Royce and tells him to get it right. Back to Christina, they are all ready and waiting for Dana to get the halibut up and she is successful and food is flying out of the kitchen.
Justin is checking all his food and he keeps sending it back to them, so no food is going out for his team. Brian's food needs more salt, Royce is bad, Barbie is sending up two different cooked meats. Now Christina is working on her final ticket and everyone has their food up except Dana and she has raw pork yet again. She decides to pull all the food and re-do the entire ticket! Dana is messing this up big time for Christina.
Now Justin is back on the road to the finish line and has food heading out to the dining room, but then Barbie sends up some ribeye that is overcooked and Justin sends it back. He is on his last ticket and Barbie runs out of ribeye to cook. Justin talks to James and they switch the ribeye for filet. Now Justin and Christina are both working on their final ticket and trying for that final push to get it out. They both get the final ticket done and now it is out of their hands.
Justin and Christina gave it their all and now it is time for Chef Ramsay to decide the winner. Chef Ramsay said it was an amazing dinner service and he sends them back to the dorms and will call them back when he makes a decision. Chef Ramsay reads all the guests comment cards and thinks of how they have fared all season and Chef Ramsay is having some trouble figuring out who the winner will be. He calls and Christina and Justin head to his office. He tells Christina he has never met a more passionate chef and Justin has an extraordinary pallet and they will both have great careers. They head to the doors to find out who the winner will be. And the winner of Hell's Kitchen Season 10 is...Christina!!!!
(Image courtesy of FOX)
Follow Todd on Twitter @tbetzold