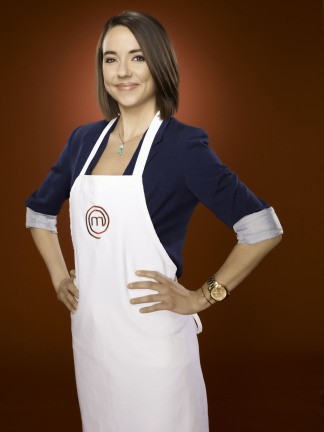 by Todd Betzold
With only three homecooks left on MasterChef, the stakes were very high on last week's episode. You either made it to the finale or you walked away one step away from the big prize. Becky Reams was a strong contender all season, but it seemed she was letting her nerves get to her the past few weeks and her nerves and the frog legs got to her and the judges sent her home. Today, we got an exclusive interview with Becky as she talked about her experiences on MasterChef, those frog legs and much more.
Q. Todd, RealityWanted: What made you want to try out for MasterChef?
A. Becky: It was almost a dare from some of my friends, who were almost peer pressuring me into doing it thinking I could do it. I was very much on the fence, like I'm definitely not professional cook material. I love to cook, but who knows. I went out and it was great and they kept calling me back and kept calling me back. I kept thinking the whole time how surreal it was and what a dream this would be, but I was trying not to get my hopes up. The next thing you know I'm in the Top 100 and then I make it to the MasterChef Kitchen and it's just this crazy, crazy path I've been on getting there. It was amazing.
Q. Todd, RealityWanted: You were given frog legs for the Elimination Test and nailed them, even though you've never cooked them before, but then you messed up the potatoes. Why the struggle with the potatoes?
A. Becky: This is going to sound crazy, but the potatoes weren't that bad, they just weren't perfect. Some of that is because I actually started them earlier within the hour. I usually cram everything into those 60 minutes, but this challenge none of my dishes took a long cooking time. I probably could have done the whole dish in like 35 minutes. So what ended up happening was when I was finished with the potatoes there was still like 20 minutes left, so they ended up sitting and as they were sitting they started to lose their crispness and then they started to get a little bit soggy. So, they weren't as crisp as when they were first ready. I probably should have waited to start those at the end.
Q. Todd, RealityWanted: What were you thinking when it was you and Christine in the bottom two?
A. Becky: When I was standing there with Christine, I was squeezing her hand so tight. She was standing there saying, "You're not going to g home. I'm definitely going home." I was like, no way. I think we were both in disbelief and I remember being the most nervous than I've ever been and kinda thinking I was going to go home just because they would want to keep Christine around. I have so much respect for her, so having to go and getting in the bottom with her, I probably couldn't have chosen a better competitor to be sent home by.
Q. Todd, RealityWanted: When you were eliminated Chef Ramsay said the doors at his restaurant were always open for you. Have you taken him up on that offer?
A. Becky: Pretty much, yeah. We have been in talks and he is opening a new restaurant in Los Angeles called The Fat Cow and I think I'm going to go work there. I have the opportunity and it'll be great because I'll be in Los Angeles and I can do other things as well. Being able to learn from him and work with his awesome crew at his restaurant will be great. I've already met the executive chef there and talked with him, so I'm looking forward to it.
Q. Todd, RealityWanted: What was it like working with all the time constraints of the challenges and food ingredients given to you?
A. Becky: The experience, in terms of cooking time, was definitely one of the biggest learning experiences for me. From the beginning Mystery Box Challenge and we had 60 minutes, we all create our food and I remember running around like crazy and trying to do all these things. By the end, I was probably able to create three times as much food in the same amount of time because you really learn how to maximize every second that you have, every burner, doing three things at once. It really teaches you how to think on your feet and how to be extremely good at multitasking, which I'm all about that. Working with ingredients that may have or haven't seen before, it also teaches you to be creative and to take risks, use sauces that you used with other things before and present those in new ways and think outside the box (pun intended) and just get creative. It really teaches you about cooking and trusting yourself.
Q. Todd, RealityWanted: What was your favorite challenge or Pressure Test you took part of this season?
A. Becky: I would say the Marine Challenge was huge for me. I have such a deep respect for the Marine Corps and my brother is a Marine and just military in general and getting to go out there and having these helicopters fly over us and we are cooking out in the field. It was such an unbelievable experience. I've never experienced anything like it and probably never will for the rest of my life. Cooking for Paula Deen for sure was my other favorite because Paula Deen is such an inspiration to me. She came from nothing and she built her empire up. She never went to culinary school, just like me. She's from the South, like me. It was just so awesome to meet her and for her to tell me that I made really good biscuits was like pat on the back I'll never be able to replicate, which is cool.
Q. Todd, RealityWanted: What's the biggest thing you are going to take away from this whole MasterChef experience?
A. Becky: The biggest thing I'm going to be taking away from the experience is the confidence and the validation that cooking is something I will be doing for the rest of my life and that I need to be doing for the rest of my life. When I came into this, I liked to cook but I was afraid to make that leap or attempt to move into the culinary field as a career. After having Graham, Gordon and Joe tell you to you face this is really good, you are a really good cook, you deserve to be in the kitchen, I've never seen anyone work in a commercial kitchen without having been there before that that you have and you're a leader. All of these things, it is just crazy to hear from someone that is such an icon in the industry, so because of that it is what I am doing now and I'm never going to turn back.
Q. Todd, RealityWanted: We have the finale tonight. Are you personally rooting for either of them to win this season?
A. Becky: No, not really. I'm so biased because I'm so close to both of them. We have been through so much and even up until that night before the last challenge and just staying up late studying and talking, They are both such extremely talented cooks and extremely strong competitors and great friends. I think that their cooking styles are so different, but great in their own way and because of that I think it is going to be a really intense challenge.
Q. Todd, RealityWanted: Anything to add?
A. Becky: I am doing my cooking show, which is going to be on WhiskedFoodie.com and it is going to be called Foodie Next Door, so that will be really fun. Just check my blog, The Delicious View, for pop-ups. I'm in Kansas City right now cooking at a restaurant called Julian. Then I am going back to LA for some cooking demos and then I might be back around doing another one.

MasterChef Finale Part 2 airs tonight at 9/8c on FOX.
(Image courtesy of FOX)
Follow Todd on Twitter @tbetzold